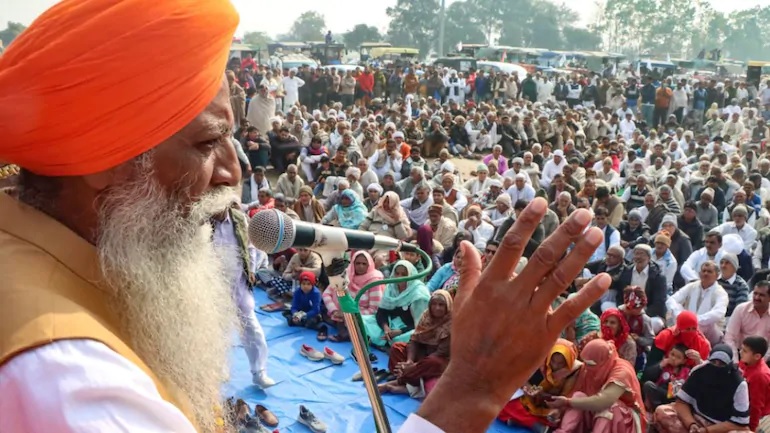 Image courtesy: PTI

Members of the Samyukt Kisan Morcha (SKM) will soon head to West Bengal and Assam to urge citizens not to vote for the "anti-farmer" Bharatiya Janata Party (BJP), said farmer leaders in a press release on March 9, 2021.
"This program will be spread over three days starting from March 12," said SKM leader Darshan Pal after the group's declaration on March 2 that the ruling regime only cares about votes, seat elections and chair. On arriving in the states, an SKM delegation will hand state farmer leaders the appeal.
Meanwhile, a group of peasants working in the interest of the on-going struggle under the title of 'Kisan Mazdoor Jagriti Yatra' crossed Bijnor district in Uttar Pradesh and entered Jaspur in Uttarakhand on March 8. The group covered more than 300 kilometers and went through over 200 villages and towns so far. Members were to reach Dineshpur on Tuesday.
Responding to claims that the farmers' group planned to form a nine-member committee to talk with the government, Pal clarified that no such committee will be formed by the SKM.
Similarly, leaders raised concerns about the growing number of casualties in the farmers' agitation against the three farm laws: the Farmers (Empowerment and Protection) Agreement on Price Assurance & Farm Services Act, the Farmer's Produce Trade and Commerce (Promotion and Facilitation) Act, and the Essential Commodities (Amendment) Act.
"The number of farmers who have had to sacrifice their lives in this agitation so far has crossed 280. On Tuesday, a 50-year-old farmer Radheshyam from Jind district of Haryana got martyred at the Tikri border," said the SKM. Aside from these deaths, some farmers are still missing or imprisoned in Delhi's jails.
Further, the SKM condemned the alleged attack by ABVP members on labour rights activist Nodeep Kaur when she went to Delhi University on International Women's Day for an event called 'Let the Women Speak.'
Related:
Mahila Kisan Diwas: A sea of dupattas Centre's decry farm laws
Adivasi Mahila Kisan: the unsung voices of Indian agriculture
Anti-farmer laws ending mandis of Karnataka: Yogendra Yadav
Pass the no-confidence motion against Haryana gov't: SKM leaders
Farmers observe special meeting to honour martyrs of the movement
Karnataka farmers ask: Where is MSP Modi ji?
Farmers focus on assembly election stating "govt only understands votes"
India's farmers and workers to commemorate Anti-Privatisation Day on March 15