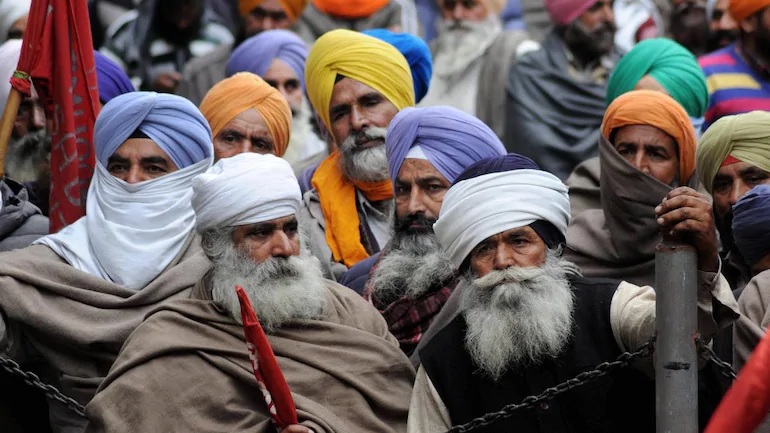 Every day the central government comes up with a new narrative to taint the nationwide farmers' struggle, but fails to listen to farmers' grievances, said farmers leaders during a press conference on December 18, 2020.
"The government has been playing a blame-game since the first day of farmers' movement. First it claimed the movement was instigated by Khalistani elements, then Maoist elements and so on. Now, they claim that farmers are trying to obstruct the food supply sent to Indian soldiers. This is nonsense! Farmers are observing peaceful protests," said All India Kisan Sabha (AIKS) General Secretary Hannan Mollah.
Regarding Prime Minister Narendra Modi's recent speech to Madhya Pradesh farmers, Mollah dismissed the talk as "tiring repetitions" of increased Minimum Support Prices (MSP) and increased procurement thanks to the ruling regime.
"Paddy is selling at Rs 900 per quintal against MSP of Rs. 1,870. But Modi is unconcerned. The government should give technology to farmers, not sell them to companies. The central government has allotted Rs 1 lakh crore to help companies to invest in agriculture infrastructure. The Prime Minister must answer how their land and crop will be saved with these pro Corporate laws," said farm leaders in a press release.
Further, they said that assurances on MSP and government procurement fall flat on the face with Niti Ayog experts openly saying that the government has excessive food stocks with no place for storage and no money to buy. The Union government is outrightly dismissing public procurement as a legal requirement.
Accordingly, they also expressed disappointment in the central government's failing as executive machinery. Regarding Union Agriculture Minister Narendra Tomar's letter to farmers, leaders said the document focuses on political parties and his understanding of history which are not farmers' issues. They intend to issue an open reply to Tomar on December 19.
They condemned claims that farmers will not lose their land because they contradicted Section 9 under the Farmers (Empowerment and Protection) Agreement on Price Assurance & Farm Services Act that allows mortgage of farmer land and for recovery of dues from farmer as arrears of land revenue for advances taken from the company under section 14.2 of Acts.
Similarly, on other assertions of farmers rights and timely payment, the Acts say to the contrary, said leaders. The Acts say crop will be taken on a receipt and payment made after three days or after receiving payment from the person who it is further sold to. Farmers asserted they will continue to oppose the three laws.
Meanwhile participation at the Singhu border, the Tikri border and the Ghazipur border is gathering pace. In other areas, dharnas, hunger strikes, torch light rallies, panchayat sabhas, are increasing. A massive rally at Mumbai is scheduled at Ambani and Adani's office in Kurla Bandra Complex on December 22.
Farmer leaders also condemned the Uttar Pradesh government for imposing a bond on six farmer leaders for speaking the truth and inspiring farmers to join the struggle.
"While Modi refuses to listen to the farmers, Yogi is imposing a bond of Rs 50 lakhs, It has threatened a country wide campaign against this fascist move," they said.
Related:
Maharashtra farmers to leave for Delhi on December 21
Exclusive: The farmers movement is here to stay: Rakesh Tikait
Karnataka's peasant organisations to go on strike till December 31
Gurudwara priest sacrifices life for farmers' struggle
Are the new farm laws constitutional?
Engage in talks instead of implementing the three farm laws: SC to GoI