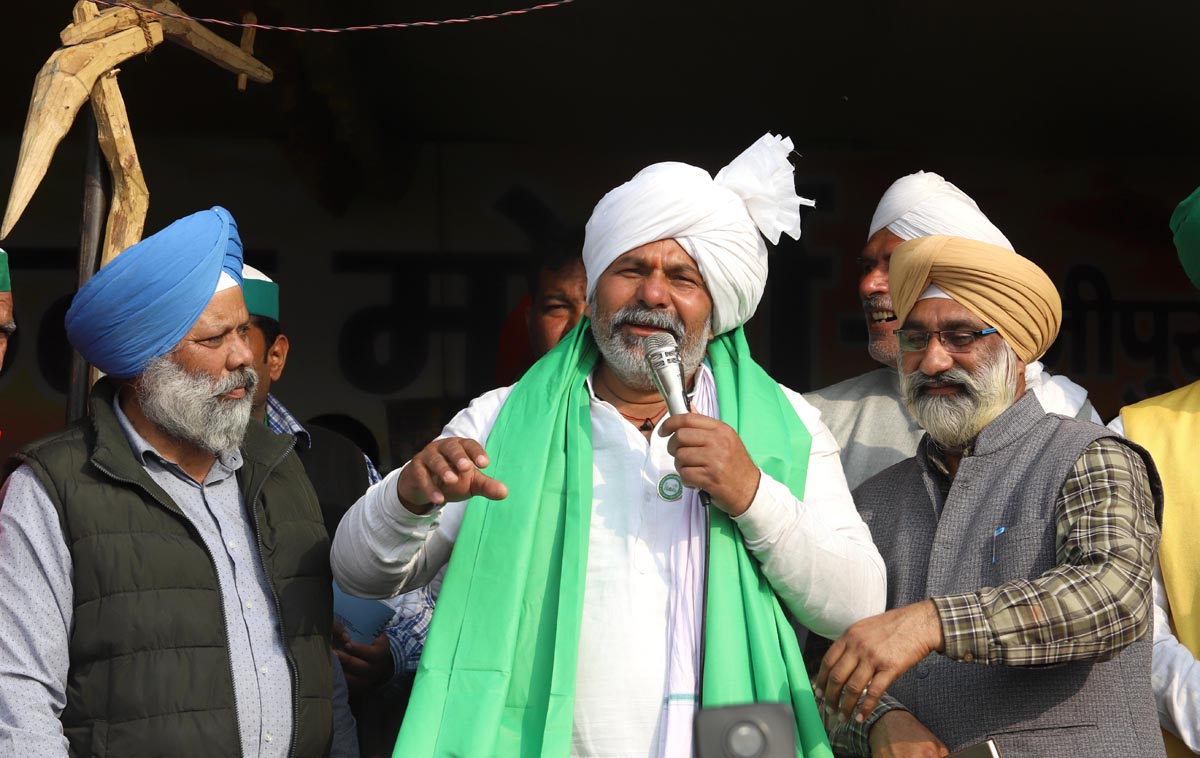 Image: Vijay Pandey

Amidst the ongoing farmers' nationwide agitation against the three contentious agriculture legislations, the National Investigation Agency (NIA) has summoned around 40 protesters for their alleged involvement in raising funds under the banner 'Sikhs for Justice'.
In its First Information Report (FIR), the NIA has accused Sikhs For Justice and other alleged Khalistan outfits of entering into a conspiracy of collecting huge funds for an on-ground propaganda against the Government of India. The NIA has claimed that the funds are also being used to stage demonstrations outside the Indian missions at United Kingdom, Canada, America and the donations are being sent through certain NGOs to pro-Khalistan elements based in India to undertake acts of 'terror' and create fear in the minds of the people.
Sikhs for Justice is a foreign-based group banned by the Ministry of Home Affairs in 2019 for advocating secessionist and pro-Khalistani activities in India. Summons have also been sent to members of Khalsa Aid, an international social organisation that has set up food stalls and provided foot massage machines and geysers to farmers protesting at Delhi borders since November 26. Khalsa Aid, interestingly has recently been nominated for the Nobel Peace Prize by Canadian politicians Tim Uppal and Patrick Brown.
Khalsa Aid's sterling work includes offering tea and food to students protesting the citizenship laws in 2019, aiding the Rohingya refugees, supplying essential packs, tarpaulin sheets, mosquito nets, medical kits and clothing to Kerala during the floods and arrangement of buses and vans to get nearly 600 Kashmiri students to Punjab first, and then to Kashmir under the protection of Punjab police when they were targeted following the Pulwama terror attack.
While speaking to Livemint, Khalsa Aid India's director Amarpreet said, "We derive inspiration from him (Bhai Ghanaiyaji, a disciple of Sikh guru Tegh Bahadur) and his principles which are enshrined in our holy books and that is our driving force. For us, humanity is the topmost religion. We serve irrespective of caste, class, religion or gender".
The FIR registered by the central agency calls Sikhs for Justice (SFJ) as an "Unlawful Association". It goes on to say that SFJ and other Khalistani terrorist outfits including but not limited to Babbar Khalsa International, Khalistan Tiger Force along with their frontal organisations, have entered into conspiracy to create an atmosphere of "fear and lawlessness" and to cause "disaffection" in people and to incite them towards rising in rebellion against the Government of India.
The FIR further claims that SFJ and other pro Khalistani elements involved in this "conspiracy", through their incessant social media campaign and otherwise, are "radicalising and recruiting impressionable youth to agitate and undertake terrorist acts for creation of separate nation of Khalistan after secession from Indian territory".
Who all have been summoned?
Baldev Singh Sirsa, the President of the Lok Bhalai Insaf Welfare Society, one of the unions taking part in the talks with the government over the new farm laws was summoned for questioning. Punjabi actor and activist Deep Sindhu, journalist Jasbir Singh, and activist Gurpreet Singh have been issued notices too.
Balwinder Pal Singh, a journalist with the UK-based Punjab Times, Karnail Singh and Nobeljit Singh of Hoshiarpur, Surinder Singh Thikriwal of Barnala, Hardeep Singh, Gurpatwant Singh, Inderpal Singh and Pardeep Singh of Ludhiana, Palwinder Singh of Moga, Paramjit Singh and Ranjit Singh of Amritsar have been asked to appear before the NIA. Baltej Pannu, a Canada based journalist, Jaswee Singh Mukhtar, another journalist supporting the farm struggle have been issued summons by NIA for interrogation.
GoI cannot deny farmers their constitutional right to march in Delhi on Jan 26. Farmers have declared that their march will celebrate the Constitution's spirit for which we observe #RepublicDay. The march will reiterate that India is a democratic Republic & not an autocracy. pic.twitter.com/mnRuFmLKnU

— Sukhbir Singh Badal (@officeofssbadal) January 18, 2021
All the alleged accused persons have been booked under the stringent Unlawful Activities (Prevention) Act (UAPA) for unlawful activities, raising funds for terrorist acts, recruiting people for terrorist acts and being a member of a terrorist gang or organisation. Under Indian Penal Code they have been booked for sedition, promoting enmity between classes, committing acts against national security and criminal conspiracy.
It seems like the calculated NIA summons are pushing the bogey of Khalistan and anti-national narratives to malign the farmers' agitation that began in September last year. While Sikhs for Justice, that has an amply clear separatist agenda, and receives no support in Punjab, as documented by a Caravan report, does not have terror links. But our Government has claimed ignorance of this and continue to regurgitate pressure tactics to derail the protests.
NIA Act's constitutionality?
The NIA Act, enacted ironically in December, 2008 under the United Progressive Alliance government that has been unleashed against the farmers has a sinister impact on the federal principles of our nation. The Act, its provisions, the intent not only takes away a state's power to conduct investigation through its own police but also confers unfettered discretionary and arbitrary powers on the Centre.
'Police' falls under Entry 2, List II, Schedule 7 of the Constitution rendering it a State subject. But this Act empowers the Centre to form an agency for "investigation". In effect, it envisages a concept of a National Police, leaving State Police otiose. Section 6(6) of the impugned Act states that if the Centre deems fit, it shall direct the State Government to transfer all relevant documents of a particular case to the Agency and call for a stop of the investigation by the State machinery.
How is this not a breach of division of power laid down in the Constitution? The imbalance compelled the State of Chhattisgarh to move the top court against it. Soli Sorabjee Committee submitted a similar point that the fight against terrorism, interstate or trans-national organised crime cannot empower the Centre to usurp the State's power and must only assist them.
The Statement of Objects and Reasons of the NIA Act displays the inherently political calculations involved in defining the ambit of "terrorism" when it chooses to highlight "Left Wing Extremism", without elucidating what Left-Wing Extremism is without paying heed to the consequences of "Right Wing Extremism".
The legislation also focuses more on the investigative powers rather than any preventative measures. Section 3 (2) demonstrates that the Central Government shall have all powers to investigate offences under the Act. It doesn't mention any preventive powers to be given to NIA to battle crime. For any law enforcement agency, investigation takes centre stage post a crime. But aggressive data collation, receiving intelligence reports and its analysis, should be the foremost aim, that the drafters forgot.
Taking hint from what happened in the United States, the Federal Bureau of Investigation reinvented itself after the 9/11 attacks to a national security organisation that not only solved crimes but also prevented attacks as reported in a study by some Harvard and Behavioural professors.
Scope of misuse
The track record of the functioning and application of anti-terror laws does not inspire confidence despite our Home Minister's promise that the law will not be misused at the event of passage of National Investigative Agency (Amendment) Bill, 2019 in Lok Sabha.
By introducing the 2019 amendment, NIA was empowered to investigate and prosecute additional offences under the Act's Schedule such as human trafficking, offences related to counterfeit currency or bank notes, manufacture or sale of prohibited arms, cyber-terrorism and offences under the Explosive Substances Act, 1908. Originally, the NIA Schedule covered the Atomic Energy Act and the Unlawful Activities Prevention Act, 1967.
The amendment also broadened the scope of law for NIA as it allowed the Centre to investigate offences committed outside India, subject to international treaties and domestic laws of other countries. For offences outside India, investigation would be subject to cooperation with the foreign states which could be difficult to achieve as Sarim Naved, a Delhi based lawyer told The Wire that no foreign State would appreciate a full-fledged investigation of their citizens by the NIA. Allowing NIA to take up such a large number of cases inside and outside the territory of India further blurs the concept of federalism.
The convenient allegations against the farmers and supporters of their struggle and subsequent charges under the draconian UAPA does not reflect observance of such promises. Two pertinent amendments that were brought in through the amendment to UAPA in August, 2019 was that one, it allowed the National Investigation Agency much greater leeway to take control of cases that would otherwise fall under the domain of the police in individual states.
Second, the amendments allow the Centre to declare individuals and not just organisations as "terrorists" without conviction or even a fair trial. As per Section 35 of the amended UAPA, the Government can notify any organisation as terrorist organisation "if it believes that the organisation is involved in terrorism". Without following due process, a person can be unilaterally branded a terrorist by the Government and can be exposed to extra judicial penalties.
The power to brand people and organisations as terrorists without due process, is dangerous to say the least. In a country like India that follows restorative justice, such labels will lead to ostracisation, accelerating integration issues. For the purpose of a good grist, the Chief Metropolitan Magistrate (Delhi court), recently directed the media outlets to publish only verified news reports as the reputation of a person is a key facet of his/her dignity. This direction was issued in Dr. Umar Khalid's case who has been booked under UAPA.
This amended section surely contravenes and operates in blatant disregard of the judicial pronouncement in Sukhwant Singh vs State of Punjab (2009) 7 SCC 559, where the top court had held that the reputation of a person is his valuable asset, and is a facet of his right under Article 21 of the Constitution.
The amendment to UAPA also does not specify the grounds of terming an individual as a terrorist. This just confers discretionary, unfettered and arbitrary powers upon the Central government which is antithesis to Article 14. Any degree of power, given to any executive branch must come with certain checks and balances but the cocktail of these amendments to both NIA Act and UAPA is difficult to gulp down.
Examining the unbound powers given to such central agencies also raises eyebrows about possible political affability. NIA categorically does not have a good track record. Post the Malegaon Blast of 2008 against Hindu extremists, Special Public Prosecutor (appearing for NIA) revealed to The Hindu that she was told to "go soft" in the case after the new Government took over at the Centre. In the terror attack on the Ajmer Sharif Dargah on October 11, 2007, the public prosecutor Ashwini Sharma told Scroll.in in 2015 that the NIA could have done a great deal more over the years to build a case against Swami Aseemanand and seven others charged with setting off bombs that killed three people.
In 2018, the NIA court in Hyderabad had also acquitted all five men accused of the Mecca Masjid blast case that took place inside the mosque on May 18, 2007, leaving nine people dead and nearly 60 severely injured. Even 7 years was not enough for the agency to prove any person's guilt and as reported in the media, the abrupt removal of Pratibha Ambedkar, the officer-in-charge of the case who was transferred two weeks ago before the verdict, raised further suspicions about NIA's conduct.
The construct of UAPA is so broad, that it does not even define terrorist literature and theory. Siddique Kappan, a Kerala based journalist booked under UAPA has been languishing in jail since October last year for carrying literature that 'could have an impact on peace, and law and order in the state'. Since the Act doesn't define the boundaries of what literature could be, it is safe to say that the NIA and the Police has the power to interpret it to the best of their knowledge.
Similarly, section 2 (o) (iii) of the UAPA makes any action a crime if it causes "Disaffection against India" but does not define this crime. So, farmers have now become the new target of this vicious propaganda after journalists, activists, lawyers, student leaders, academicians, priests- all who have been silenced by the regime.
The NIA has claimed that many of the farmers are part of terrorist organisations and hence the links need to be investigated thoroughly. Arup Bhuyan v. State of Assam (2011) 3 SCC 377 has made that stand clear that "mere membership of a banned organisation will not make a person criminal unless he resorts or incites people to violence or creates public disorder by violence or incitement to violence".
The Supreme Court in State of Kerala vs Raneef (2011) 1 SCC 784, relied on the American precedent of Elfbrandt vs. Russell 384 US 17-19 (1966), which held that those who join an organisation but do not share its unlawful purpose and who do not participate in its unlawful activities surely pose no threat, either as citizens or as public employees. These cases do not rest on the doctrine of "guilt by association" and has no place in the farmers' protests as well.
Khalistan conspiracy
The dubbing of Sikh farmers as Khalistanis to tarnish the movement is once again being played by the government that has already driven Punjab to disaster once. A former Research and Analysis Wing Officer GBS Sindhu's book The Khalistan Conspiracy reveals the grotesque details of how the Indira Gandhi government played to a similar tune in the early 1980s, leading first to Operation Bluestar after extremist elements took control of the Golden Temple, the revulsion against this army action, the prime minister's assassination on October 31, 1984 and the all-out state sponsored pogrom against the minority Sikh community under the watch of the Congress party in 1984.
He also provides first hand material on how the then ruling Congress government had ample opportunities to settle with the Akali leadership who had challenged her authoritarianism but failed to come through with it, preferring to play footsie with the hardline Bhidranwale. Sindhu admits in his book that there was no Khalistani movement as such but just a tactic used by the Congress party to instil fear in the minds of Hindus that their security was in danger.
The party's plan was that at the end, towards the 1985 elections, Congress would come out with a solution to the so called "Khalistan problem" and that the Hindus would feel relieved. All of this just to destabilise opposition in Punjab!
In a recent interview, Sindhu told India Today: "I'm from a village, I know their (farmers') psychology. They are not bothered about Khalistan. In the Independence struggle they decided to go with India and have a future with India. Lots of people who have sacrificed their lives in that struggle were Jat Sikhs—Bhagat Singh, Udham Singh, Kartar Singh thousands of Sikhs were sent to Cellular Jail. Then there was the Ghadar Movement which started in 1913 in San Francisco and Vancouver—3,000 families in Canada and the US sold everything they owned and came back to India to participate in the struggle. Unfortunately, that did not succeed. This is the background of the farmers. Their contribution toward the Independence struggle was immense."
Our Attorney General KK Venugopal had also remarked in open court before a Bench headed by the Chief Justice that "certain Khalistani" elements have infiltrated the protests to which he was directed to file an affidavit. No such affidavit has been placed on record for the courts to peruse. So, were those just casual statements made by the AG because it is easy to make them?
Decades later, the same plot is moving the country along a similar path by labelling the protesters as Khalistanis, as it also perfectly suits the narrative, geographically. The undemocratic repression and overbearing authoritarianism are compelling us to swim in such waters. The unreasonable and overutilised imagery of anti-national activities and people is aggressively fashioning itself as a cult that has begun to awash the innocent.
Only yesterday, the chief minister of Punjab, Captain Amarinder Singh, raised concerns about the building anger against the central government in Punjab stating that 'a threat from Pakistan' could not be under-estimated. He also said that prolonging negotiations of essentially a political deadlock leads to an impasse and then breakdown.
The FIRs filed by the NIA against farmers may be read here:
Related:
The Khalistan conspiracy makes startling revelations about the state complicity in Sikh Genocide
Go ahead, call me a Khalistani!
Why is NIA seeking to question Khalsa Aid, other volunteers now?