Farmers at the Singhu border held a special prayer meeting on March 7, 2021 for the 270 and more martyrs of the farmers' movement against the three farm laws passed by the central government.
Farmers also paid respect to the 19 people who died by suicide, and blamed the central government for their deaths. Most recently, a 49-year-old farmer from Haryana died at the Tikri border leaving behind a note that blamed the three laws – the Farmers (Empowerment and Protection) Agreement on Price Assurance & Farm Services Act, the Farmer's Produce Trade and Commerce (Promotion and Facilitation) Act, the Essential Commodities (Amendment) Act – for his demise. Before this, a 29-year-old also died by the same cause after dealing with his debt and the uncertain future of the farmers' struggle.
In light of this growing worry among farmers, the peasant group's website appealed to all supporters to reach out to any friend or family member managing similar concerns. Farmers also provided telephone numbers of various suicide prevention helplines such as Aasra – 9820466726 – and SAHAI – 080 25497777/ 9886444075. People can also be referred to the nearest hospital for professional assistance.
Further, farmer leaders formed a special portal Atampargas.org to provide help to families of the deceased through a funding trust and other activities.
Similarly, Bharatiya Kisan Union (BKU-Chaduni) had earlier promised to financially help the families as well.
"If you know anyone from Haryana on this list, ask them to contact 9896409460 (Jagdeep Singh Aulakh), Karnal District head," said the Human Cost of Farmers Protest blog website.
Farmer organisation Samyukt Kisan Morcha (SKM) stated that farmers will not rest until the three laws are withdrawn by the government. To this end, farmers across India continue to demonstrate in different ways.
For example, Haryana's Farmana Chaubisi farmers organised a mahapanchayat on March 6 to demand the repeal of the three laws, legal guarantee of Minimum Support Price (MSP) and other agendas. Effigies of Prime Minister Narendra Modi were also burnt in Turkiawas and Dahina districts. In Narayanganj village of Mandla district of Madhya Pradesh, farmers submitted a memorandum demanding the repeal of the laws. Saundara farmers of Uttar Pradesh held a panchayat under the leadership of the National Alliance of People's Movement (NAPM).
Similarly, following completion of 100 days of the farmers' movement, peasants in various parts of southern India protested by making human chains. Farmers and concerned citizens made a human chain at Gunpark in Hyderabad city. A farmers' conference was also held in Nalgonda, Telangana on March 5.
On March 8, women farmers took the lead at all farmer protest sites to demand their rights from the central government. By Monday afternoon, thousands of women had gathered at Tikri and Singhu borders alone.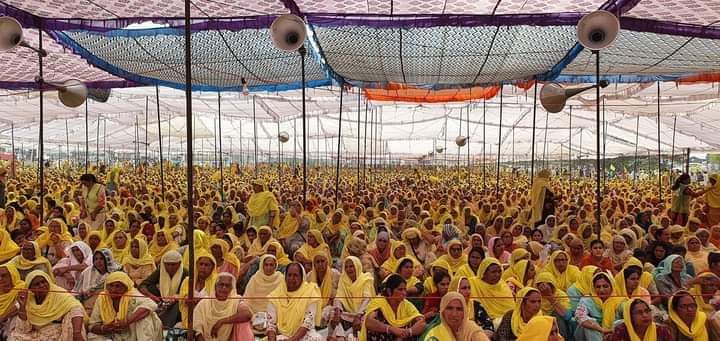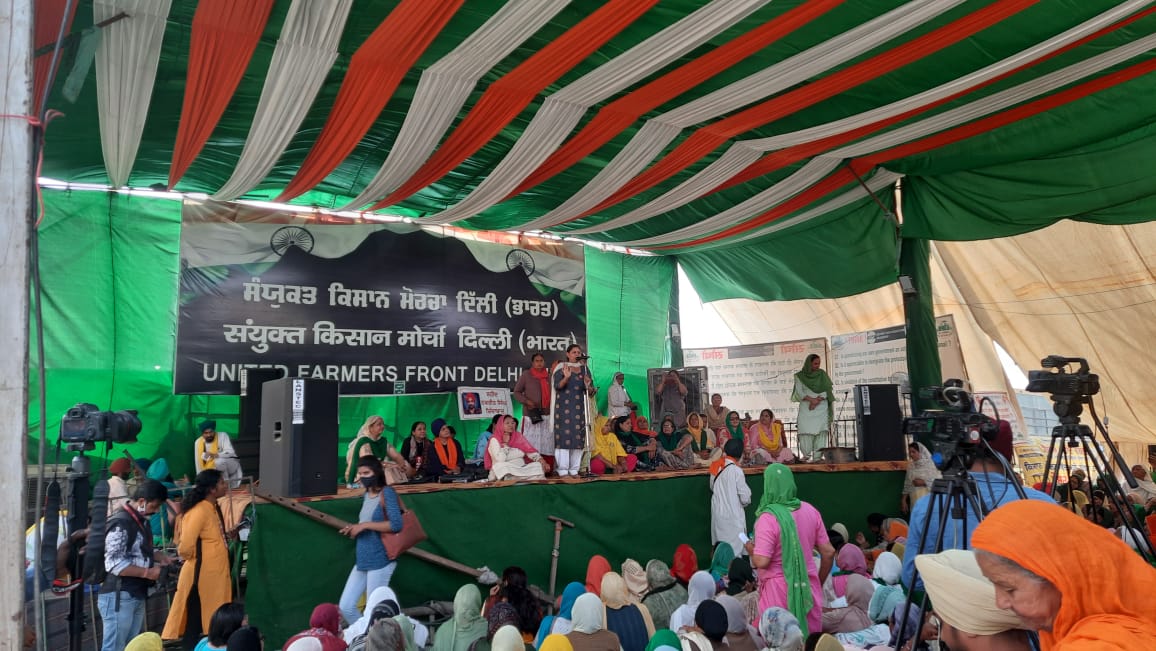 Related:
Pass the no-confidence motion against Haryana gov't: SKM leaders
Adivasi Mahila Kisan: the unsung voices of Indian agriculture
Anti-farmer laws ending mandis of Karnataka: Yogendra Yadav
100 days of farmers' struggle: Agitation evolves and grows stronger
Karnataka farmers ask: Where is MSP Modi ji?
India's farmers and workers to commemorate Anti-Privatisation Day on March 15
Nodeep Kaur case: NHRC seeks report from Haryana Police over alleged custodial torture
Farmers focus on assembly election stating "govt only understands votes"