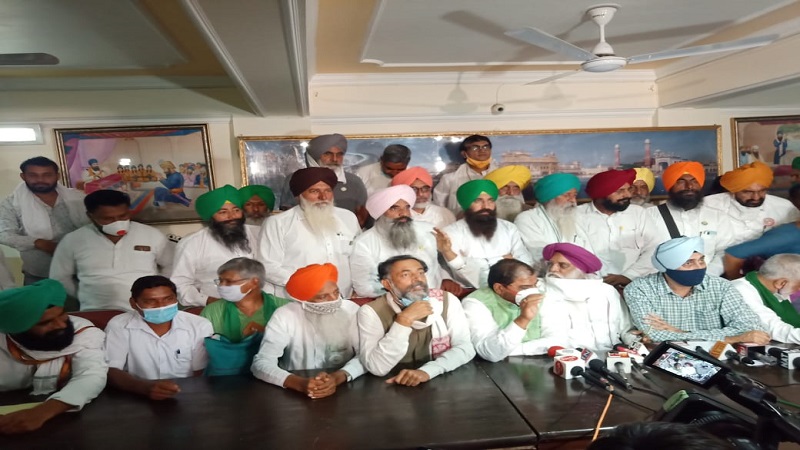 Major farmer federations announced a nation-wide road blockade on November 5, 2020 and a march towards Delhi from November 26 to November 27 to protest the three anti-farmer laws and the Electricity Bill of 2020.
During a physical press conference at Gurudrwara Rakabganj, New Delhi, as many as 500 constituent organisations, including the All India Kisan Sangharsh Coordination Committee (AIKSCC) and led by farmer leaders Sardar Balbir Singh Rajewal and Gurnam Singh Chanduni announced the itinerary for November on October 27.
The coalition shall organise a Program Coordination Body Committee that will include leaders V. M. Singh, Balbir Singh Rajewal, Gurnam Singh, Raju Shetty and Yogendra Yadav. The Committee shall coordinate the all-India road blockade on Thursday and the 'Delhi Chalo' protest near the end of the month.
During these days, farmers will demand the withdrawal of recently passed farm Acts – the Farmers Produce Trade and Commerce (Promotion and Facilitation) Act, the Farmers (Empowerment and Protection) Agreement on Price Assurance and Farm Services Act and the Essential Commodities (Amendment) Act – and the Electricity Bill 2020.
"The protests will include huge state-wise/region-wise build-up of mass mobilizations and movements focussing on these demands. All over India, farmers will protest before government offices including central government offices and offices of BJP leaders and their allies, corporates, as well," said the press release.
During the meeting, members condemned the Union government's decision to stop the operation of goods trains to Punjab unless passenger trains start plying. Leaders alleged the government was blackmailing people and Punjab's famers.
"Farmers have not destroyed any railway track or any carriage. This stoppage by the Union is most unbecoming of a democratic government," they said, alleging that the Bharatiya Janata Party was scheming against Punjab's farmers.
Punjab and Haryana farmers have been most vocal in their dissent against the new laws over the past months. However, leaders asserted that the agitation had spread to all farmers' organisations in the country and not just two states in North India.
Related:
Farmers resolve to continue dissent continues on Dussehra
Punjab BJP Kisan Morcha President resigns!
Punjab CM introduces three bills in state assembly to counter the centre's farm laws
Unsatisfied farmer union leaders tear Acts, walk out of meeting with Agriculture Secretary!