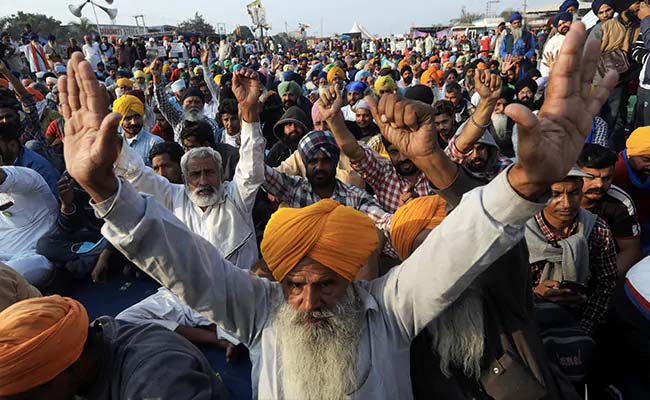 State-level and national farmers organisations condemned Chennai's DAV Boys' school Gopalapuram for labelling protesting farmers as "violent maniacs" acting under "external instigations" in an English language examination paper.
During a written English exam on February 11, 2021, the renowned school asked its class 10 students to write a 100-to-200-word letter to a daily newspaper Editor condemning farm law protesters for the Republic Day violence and for failing to "realise that country comes before personal needs and gain."
Responding to the wording of this question, All India Kisan Sabha (AIKS) General Secretary Hannan Mollah wrote to the Principal, "The AIKS strongly feels that the way in which the question is framed is extremely prejudiced against the just, legitimate and peaceful farmers' struggle that has been going on at Delhi borders for the last three months."
He told the school, run by the Arya Samaj Educational Trust, that the question's general tone is loaded against protesting farmers and will poison young minds against the on-going farmers' struggle across India.
"We demand that this question be either dropped or it be re-drafted in an objective manner," he said.
Mollah said that mainstream media had already reported that the incident at Red Fort on January 26 was engineered by the Bharatiya Janata Party (BJP) central government and Delhi police using provocateurs like Deep Sidhu and others. Further, the Samyukta Kisan Morcha (SKM) of over 500 farmers' organisations, strongly condemned the violence on the same day and during its nationwide press conference on January 27 as well.
Images of the question paper circulated on social media. Kerala MP commented on the exam paper by tweeting, "Is this an English language examination paper or do we now have exams on 'How to Write Propaganda'? DAV School Gopalapuram pls clarify…"
In response, the DAV Group of schools published a statement on their website.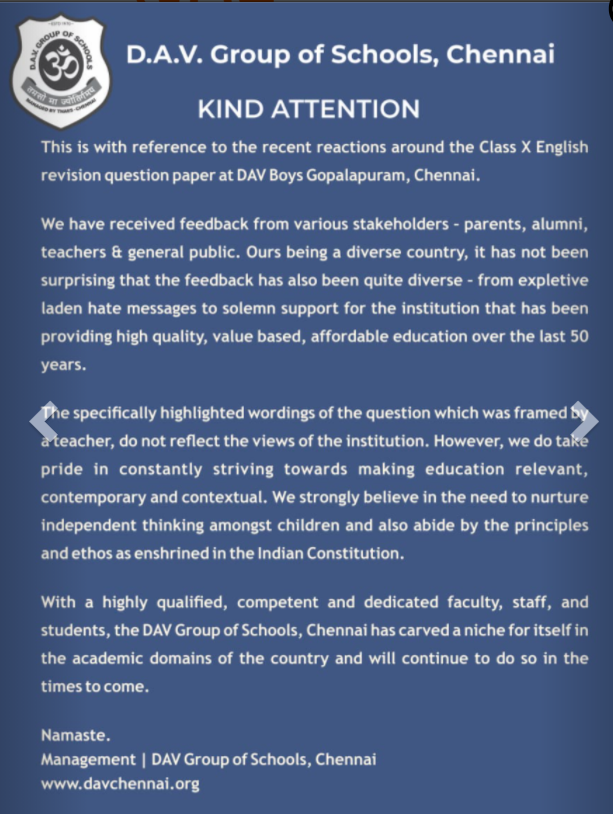 However, the 'justification' further incensed farmer leaders, particularly the Tamil Nadu All India Kisan Sangharsh Coordinating Committee (AIKSCC) members who declared a massive protest against the school administration in coming days.
It condemned the school slandering the struggle with claims of damaging public property, insulting the national flag and attacking the police, and more. Regarding the school's "arrogant statement " that "the position of the teacher who prepared the question paper is not the position of the administration, but we are proud to take the current contemporary issues to the students", the AIKSCC asked:
1. Will the administration release whatever questions a teacher prepares?
2. Is calling farmers 'violent maniacs,' the contemporary subject that the DAV school wants to tell students under educational matters?
3. How did these "so-called academics" not know that fighting for rights is a fundamental right?
Farmer leaders denounced the administration for sowing poisonous ideas among students against farmers and for "favouring corrupt corporates."
Related:
Jailed labour rights activist Shiv kumar has multiple injuries: Medical report
Amritsar women present farmer leaders with Jallianwala bagh soil
Dismiss false charges against farmers: SKM to President on Daman Pratirodh Diwas
Falsely implicated, as I was successful in generating support for farmers: Nodeep Kaur
Family of Bhagat Singh participates in Pagdi Sambhal Diwas