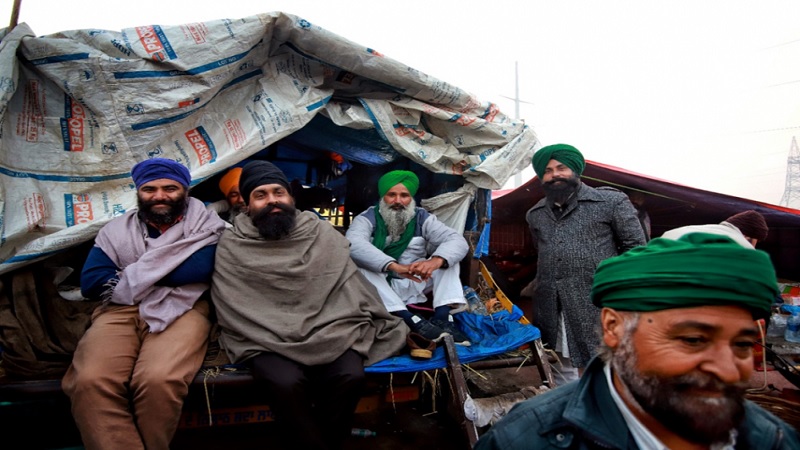 Image courtesy:outlookindia.com
Farmers at the Singhu border ran for cover on January 2, 2021 morning, not because of tear gas attacks or lathi-charge, but to protect themselves from the ice-cold rain pouring down in Delhi and nearby areas.
All India Kisan Sangharsh Coordination Committee's (AIKSS) media person Ashutosh accepted that farmers ran helter-skelter on Saturday morning to save themselves from the shower that lasted a few minutes.
"People ran for cover although they have returned now that the rains stopped. However, we are still concerned about the weather forecast because people are living in open areas. We also cannot risk mobilising such a large crowd so we are considering what to do. We certainly won't vacate the area until our demands have been accepted," he told SabrangIndia.
Ashutosh's words were repeated by other protesters at border areas who asserted that they will not leave until the three farm laws of the central government – the Farmers (Empowerment and Protection) Agreement on Price Assurance & Farm Services Act, the Farmer's Produce Trade and Commerce (Promotion and Facilitation) Act and the Essential Commodities (Amendment) Act – are repealed.
Meanwhile, Delhi weather dropped to single-digit temperatures coupled with strong winds and wet ground in border areas. A quick internet search would report the city temperature at 16 degree Celsius on Saturday morning but residents described severe cold due to the light rain shower. These showers may very well worsen in the coming week according to Indian Meteorological Department (IMD.)
and adjoining areas of Raya, Sadabad, Firozabad, Shikohabad (U.P.), Gohana, Safidon (Haryana), Mahandipur Balaji, Laxamangarh (Rajasthan) during the next 2 hours. pic.twitter.com/GMvyhFyRZY

— India Meteorological Department (@Indiametdept) January 2, 2021
Moreover, border areas – the unofficial protest points of farmers' agitations – pose an extra threat of poor drainage.
"People have put up tents for cover but the rainwater still leaks in. This morning, people had to stop making langar for some time because the open area was wet," AIKSCC member Lovepreet told SabrangIndia in the midst of a coughing fit.
Stationed at the Singhu border, manning a 'kitaabon ka langar' (book langar,) Lovepreet said that many farmers who travelled to the protest site from Punjab came with trolleys-full of food and warm clothes. However, as the days went on, clothes got drenched and winds got stronger.
The situation is especially dangerous for elderly farmers who spend their days inside trucks, or worse, below the vehicle amidst the freezing slush dirt. According to Lovepreet, people were mentally prepared to brave through the cold. Help also came from nearby villages whose residents distributed warm blankets and food. Local hospitals, the Medical Practitioners' Association Punjab and Gurudwara managements even set up medical camps and sent 12 ambulances to the Singhu border for emergencies.
However, even the warmth of humanity cannot deny the drastic effect of hypothermia at the border of Delhi in January.
Farmer Jaswinder who is nowadays protesting at the Tikri border said, "Of course, we suffer because of the cold. Even people in concrete houses complain about the weather. Here, the water has seeped in from the ground."
Talking to SabrangIndia with a hoarse voice, Jaswinder said that many people at the border had fallen sick although no one had been diagnosed with Covid-19 so far.
"At home we at least had heaters. Here, we do not even have that. However, people have refused to go back. This is a do or die situation they say. Another woman recently suffered a leg injury. However, even she said that she will not return until the laws are repealed," he said.
To live through the cold, protesters had brought in a geyser per trolley to provide locals with heated water. The water till now provided relief to farmers however, the forecast of persevering rains has literally cast a shadow over the farmers' agitation that won't even allow the land to dry itself.
During this entire time, neither the central government nor the city administration offered any assistance to farmers. Jaswinder said that at this point, farmers refuse to accept such help even if it comes their way.
"We only want the three laws to be repealed. The weather is a problem but people have not lost hope. We either fight or die at this point," he said.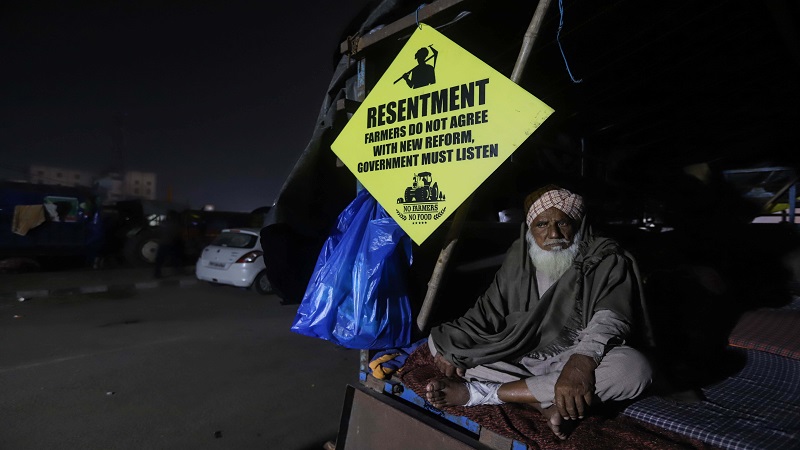 Image: Vijay Pandey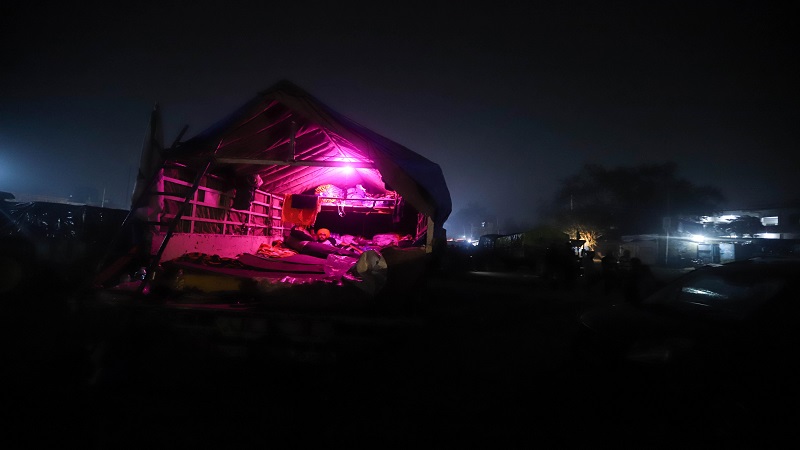 Image: Vijay Pandey

Image: Vijay Pandey
Related:
Karnataka: Youth groups visit villages to spread awareness about anti-farmer laws
Exclusive: G. T. Ramaswamy dismantles government's claims about South Indian farmers
Centre blinks, agrees to two of the four farmers' agenda points
Peasant supporters call for creation of Save Farmers, Save Nation committees
Are the new farm laws constitutional?
Farmers chart out January protest plans with a tractor march, Mahila Kisan Diwas and more!
CITU calls for farmers' protests in over 1 lakh locations in India
Hearts full of scepticism, farmers agree for talks with Centre on Dec 30