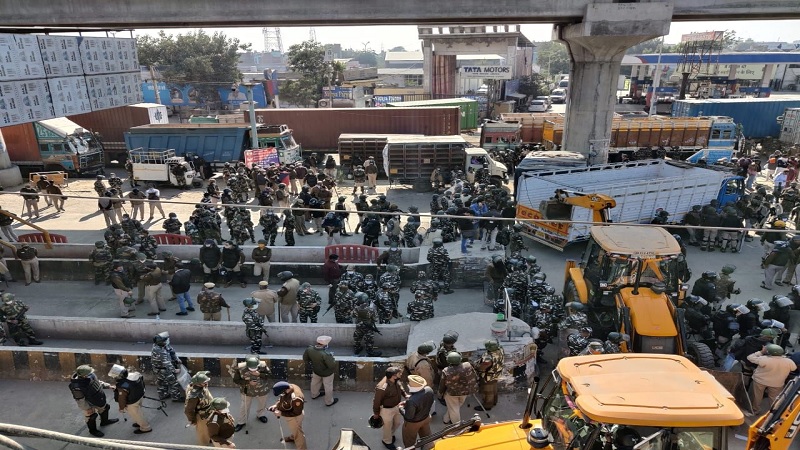 Image Courtesy:india.com
On Wednesday, December 16, the key Delhi-Noida Link Road was closed for commuters owing to the Farmers Protest that is said to be gathering steam at the national Capitals border with Uttar Pradesh. More farmers are now reported to be gathering for a sit in protest at the Chilla border, and heavy police deployment, reported NDTV. Barricades have been set up on the road, prohibiting vehicular movement from Noida (Uttar Pradesh) towards Delhi, however the Delhi to Noida route was still open, Noida Traffic Police officials told the media.
According to NDTV, Delhi-bound traffic was diverted from Dalit Prerna Sthal (which is another site of the farmers' protests), onto the Delhi-Noida-Direct (DND) flyway "in the wake of the situation at the Chilla border".
This is beyond a mere traffic update, as it is in fact a sign of more farmers from Uttar Pradesh joining their brothers from Punjab and Haryana. Significant, because Uttar Pradesh is a Bharatiya Janata Party (BJP) stronghold now, and thus it dismisses the theory that the Farmers' protest is only being fuelled by Punjab, or that it is a politically aligned one.
Farmers have again blocked the Delhi-Noida Chilla border demanding the repeal of the new Farm Laws pic.twitter.com/38K82QrxT8

— Ashlin Mathew (@ashlinpmathew) December 16, 2020
The Chilla route had remained obstructed since December 1, when the Noida to Delhi route was closed to traffic. It was only on December 12, that protesters agreed to move to the side and open the road for commuters. The protest had continued peacefully, however there were reports of a "disagreement" between some groups of farmer unions on opening the road and it was shut down Tuesday as well.
Farmers at Chilla border pic.twitter.com/Ez1BY2fexQ

— TOI Noida (@TOINoida) December 16, 2020
According to reports, protesting farmers, affiliated to the Bharatiya Kisan Union's (BKU) Bhanu faction are staging demonstrations at the Chilla border, and those belonging to the Lok Shakti faction are at the Dalit Prerna Sthal. Protestors who gathered at the Noida-East Delhi border wanted to cross the city and to join the bigger stir called by farmers from Punjab and Haryana, which is on the other end of the Capital.
While the participation at the Delhi-Haryana Singhu and Tikri borders, and at at Shahjahanpur and Palwal is rising, the All India Kisan Coordination Committee (AIKSCC) has said a "a massive increase is expected Ghazipur tomorrow" that is December 17. The AIKSCC added that over 1000 members of Ekta Parishad from Maharashtra are also expected to reach Palwal, and 100 will come from Gujarat to Shahjahanpur soon.
Reading the signs of placing multi-level barricades, and deploying additional security personnel on the city's border make it evident that the farmers' protest, now a pan India movement is only going to intensify.
Related
Stop defaming peasant movement: Farmers reject latest gov't proposal
Farmers call the peasant struggle a national patriotic movement
Farmers are being misled about agriculture reforms: PM
Farmers catch trouble mongering infiltrator at protest site, hand him over to police