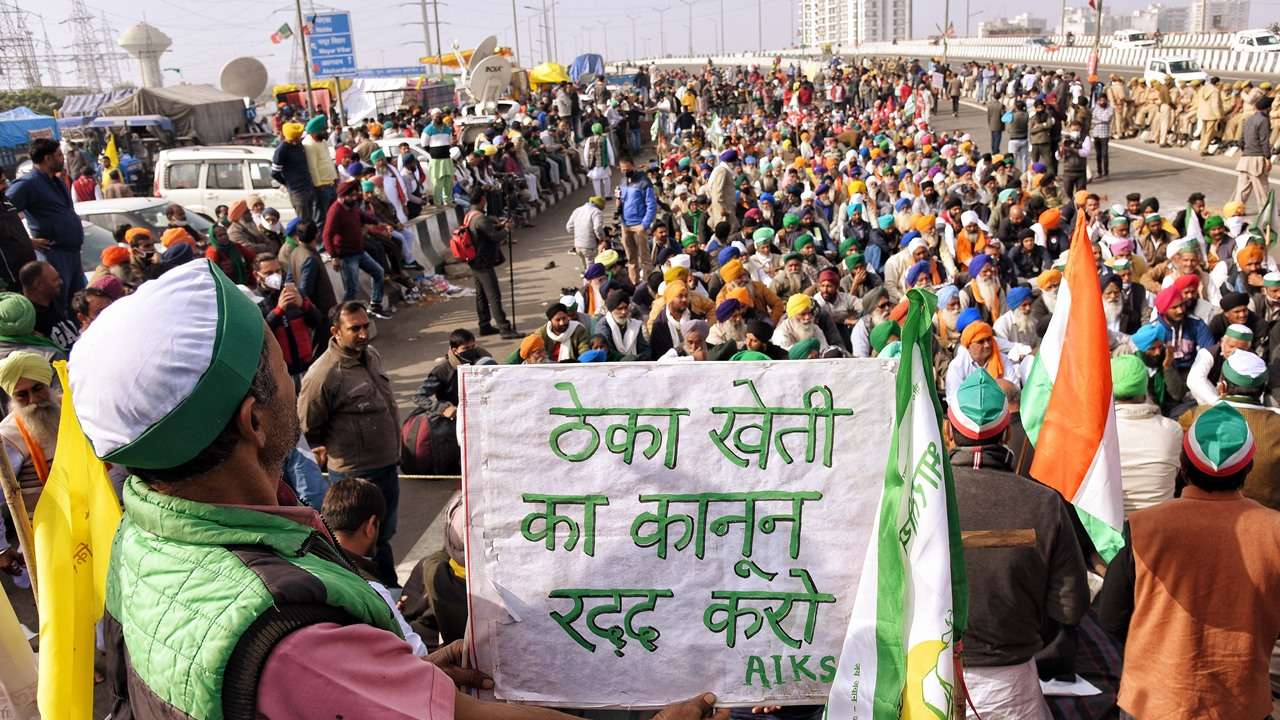 Farmers' protest in Karnal district, Haryana on September 30, 2021 compelled the ruling Bharatiya Janata Party (BJP) to cancel its program, said farmers group Samyukta Kisan Morcha (SKM).
The meeting was to be attended by District Chief Yogendra Rana and former MLA Bakshish Singh Virk in Indri city. However, farmers broke through the police barricades in the area to decry the ruling regime for not accepting farmers' demands after a year of protest. They burnt effigies of Chief Minister Manohar Lal Khattar and Virk.
Earlier, the SKM announced that farmers will oppose all programs of BJP and its allied parties. However, the Tribune India reported City MLA Ram Kumar Kashyap said farmers should protest in a "democratic way" and not obstruct law and order.
The tension in the area dissipated after a few hours when farmers ended their demonstrations.
Meanwhile, Punjab completed a year of "pakka morchas" on September 30. By Thursday, the state recorded over 108 active morchas. Farmers' demands remained the same as those voiced by the SKM: repeal of the three farm laws and the Electricity (Amendment) Bill and the law related to Delhi air pollution and a legal guarantee to Minimum Support Price (MSP).
"The movement continues to grow stronger, will not die out, and will continue until all its demands are fulfilled," said SKM.
Supreme Court lashes out on farmers
On Friday, the Supreme Court said farmers have "strangulated the entire city [Delhi]" by blocking national highways for their protest. Addressing the Kisan Mahapanchayat, a bench led by Justices AM Khanwilkar and CT Ravikumar criticised farmers' plea to hold a 'satyagraha' at Jantar Mantar, when they already have protest sites at Delhi borders.
Further, the Bench said that there is no point in protesting against the laws once farmers have approached the court.
"Once you have approached courts challenging the laws, what is the point of continuing the protests. If you have faith in courts, pursue that for an urgent hearing instead of protesting," said the court, scheduling the matter for hearing on October 4.
During the second wave of Covid-19, farmer leaders opened and cleaned one side of the Singh border road on April 25 to allow safe passage for oxygen, ambulance and other essential services.
Related:
Historic Bharat Bandh draws response from millions
Farmers appeal to police to open Delhi border roads in face of Covid-crisis
Bharat Bandh: Massive preparations on, countrywide
No confidence in the Modi regime: Kisan Sansad