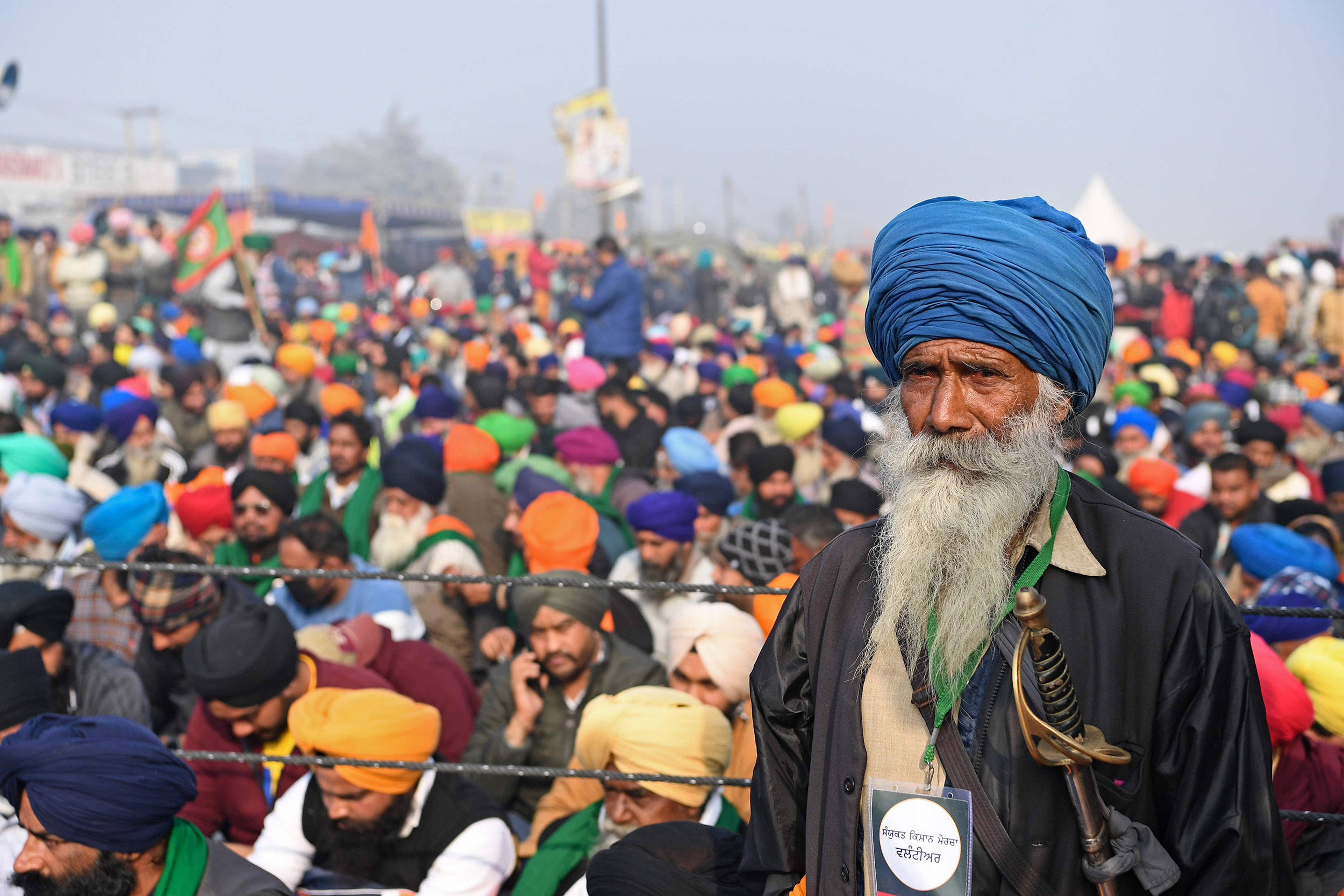 Image courtesy: Sajjad Hussain / AFP – Getty Images

Farmers, traders, ahrtiyas, workers and shopkeepers gathered at the Abohar grain market in Malout town of Punjab for an 'Ekta rally' on April 4, 2021 shortly after an assault on local Bharatiya Janata Party (BJP) MLA Arun Narang.
According to the media, farmer leaders from various organisations who have come together under the banner of Samyukt Kisan Morcha (SKM) members displayed a sense of unity on-stage. Bharatiya Kisan Union (BKU-Sidhupur) President Jagjit Singh Dallewal told the attendees that the farmers movement has become a battle against a political party, spreading communal thoughts, rather than an opposition towards three farm laws. Peasants across India have united against these thoughts, he said.
He emphasized that the movement will succeed in its cause when the laws – the Farmers (Empowerment and Protection) Agreement on Price Assurance & Farm Services Act, the Farmer's Produce Trade and Commerce (Promotion and Facilitation) Act, the Essential Commodities (Amendment) Act – are completely repealed. Meeting the central government "midway" will compromise the duration for which the government is delaying the farm laws.
"Youngsters have to fight this war as we have lived more than half of our life," said Dallewal.
He referred to the General Agreement on Trariffs and Trade (GATT) and later the World Trade Organisation (WTO) agreement and said that the three laws should be understood with these documents in mind. Accordingly, every political party members' role in the making of such policies – like that of Dr. Manmohan Singh and P. V. Narsimha Rao – must be understood.
Adding to this, BKU (Rajewal) President Balbir Singh Rajewal recalled a 2017 NITI Aayog meeting wherein participants talked about taking large areas of land under contract for farming. Rajewal remembered that despite strong objections, the meeting only offered cold storages as a compromise. Further, Rajewal condemned Prime Minister Narendra Modi as "the image of the biggest liar and most unbelievable politician."
"Modi boasted of having a 56-inch chest but dared not to face media and was not ready to have a single meeting with leading farmer organisations to discuss the contentious farm laws. Modi was fast losing image and respect across the world for attempts to harm the federal structure and anti-constitution, anti-human attitude," Rajewal told The Tribune.
In light of all this, Dallelwal warned that the struggle against the farm laws is a fight to remove India from WTO membership. This will ensure the true independence of India, he said.
With regards to the Malout incident, the farmer leader called it a BJP tactic to disrupt Punjab's peace and restrict state farmers from participating in the Delhi morcha. Dallelwal called upon people to show black flags and raise slogans against the BJP rather than resorting to violence. Following the incident, 21 BKU (Sidhpur) members were courted arrest.
"This fight is for our zameen [land] and for our future generations. If the youngsters get hit by such incidents, for whom will we fight in Delhi? We need to understand this," said Dallelwal.
Later, BKU (Ugrahan) President Joginder Singh Ugrahan said that farmer unions' unity against the three laws as of Sunday, also extended to labourers and shopkeepers.
Speaking at the event was also Punjab Kisan Union President Ruldu Singh Mansa who faces 28 FIRs while his son is charged with 18 cases. Mansa said that two days ago his grandson was arrested as well for objecting to kurki (attachment of farmers' land by banks or other money lenders) of a farmer.
Related:
Protection of FCIs, a matter of food growers' future: AIKMS
Farmers to commemorate Samvidhan Bachao Diwas on Babasaheb Ambedkar's birth anniversary
Assam's rice farmers express fears concerning government's free rice scheme
Farmers may lose nearly Rs. 5,000 crore this season: MSP Loot Calculator