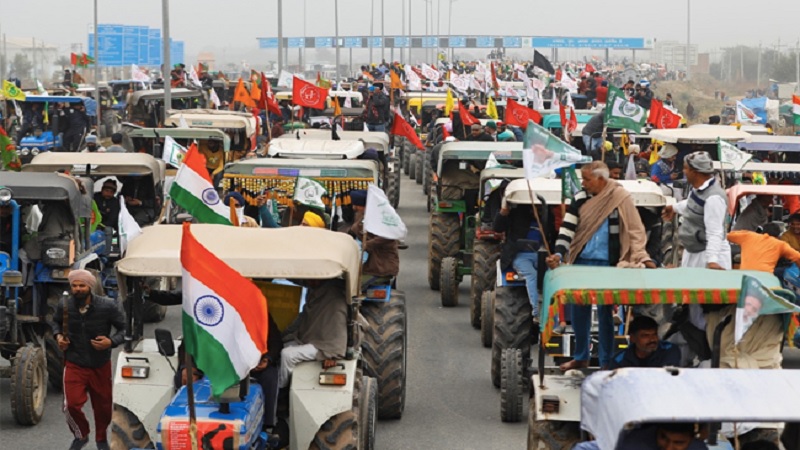 Image Courtesy:ndtv.com
The farmers of India will soon take out a massive tractor parade, to mark Republic Day on January 26 2021. The proposed 'Tractor March' has been approved by Delhi police, reported NDTV in a news break on January 23. According to initial information, going viral on social media, the Delhi Police have allowed the farmers to parade on their tractors for around a 100 kilometer long route. It is being reported that the farmers will be allowed to march on three different routes, each starting from the major borders of Singhu (Delhi-Haryana border), Ghazipur (Delhi-Uttar Pradesh border), and Tikri (Delhi-Haryana border)
Farmers' Republic Day Tractor Parade Cleared By Delhi Police https://t.co/yxQsDtRbL0 pic.twitter.com/MLSd9PYJTY

— NDTV (@ndtv) January 23, 2021
This is yet another win for the lakhs of farmers who are preparing to take part in the never seen before Republic Day tractor march. Those who have been peacefully sitting in protest against the three farm laws for two months now will soon be joined by more farmers from across the country, and together will celebrate the Republic of India, and honour the Constitution of India, and the rights it empowers all citizens with.
Tractor parades likely to start from Ghazipur, Tikri, Singhu border points; details to be finalised tonight, say protesting farmer leaders

— Press Trust of India (@PTI_News) January 23, 2021
The proposal for the farmers tractor march has come a long way since January 18, when the Delhi Police had filed a plea in the Supreme Court seeking a ban on the rally by farmers citing security issues. That day the Supreme Court Bench had directed the Delhi Police that it was at liberty to decide whether protesting farmers can be granted entry into the national capital or not for the Republic Day tractor rally. The Chief Justice of India was hearing an application filed by the Delhi Police seeking an injunction against the tractor rally proposed to be carried out by farmers on the Republic Day to display their resentment against the contentious three farm laws. The CJI then had reportedly said, "The question of entry into Delhi is a law-and-order situation that is to be determined by the police. We have told the AG (Attorney General) and SG (Solicitor General) before that whether who should be allowed and who should not be allowed and the number of people who can enter are all matters of law and order to be dealt with by the police. We are not the first authority. You are at liberty to invoke all powers under the law."
Now, while the final route will be discussed by the farmers unions, it is confirmed that the tractor rally is expected to go as planned. The dress rehearsal on January 7 had been a resounding success and the All India Krishak Khet Mazdoor Sangathan (AIKKMS) farmers rode hundreds of tractors from the various borders and conducted a parade on the Western Peripheral expressway or the Kundli–Manesar–Palwal (KMP) highway. On January 26, 2021, over one lakh tractors and 10 lakh farmers and supporters will be in Delhi for the Republic Day parade, said the All India Kisan Mazdoor Sabha (AIKMS). "Preparations of all farmer Unions are in full swing. It is the responsibility of the Central Govt to make proper arrangements and avoid chaos," said AIKMS General Secretary Ashish Mittal.
आज साबित हुआ कि हमारे कबीलों के बुजुर्ग सही थे।

एक रहो।
एक साथ रहो।
हाथ में लठ रखो।

ये जीत हमारी इस लड़ाई का पहला पायदान मात्र है, ध्यान रखना किसान भाइयों।

— Sangha/ਸੰਘਾ/संघा (@FarmStudioz) January 23, 2021
Related
At least 10 lakh farmers will march on Republic Day: AIKMS
Thousands of tractors set off along the KMP highway …
Farmer's tractor march: Over 10000 vehicles flood KMP highway!
Delhi Police file plea against farmers causing 'national embarrassment'