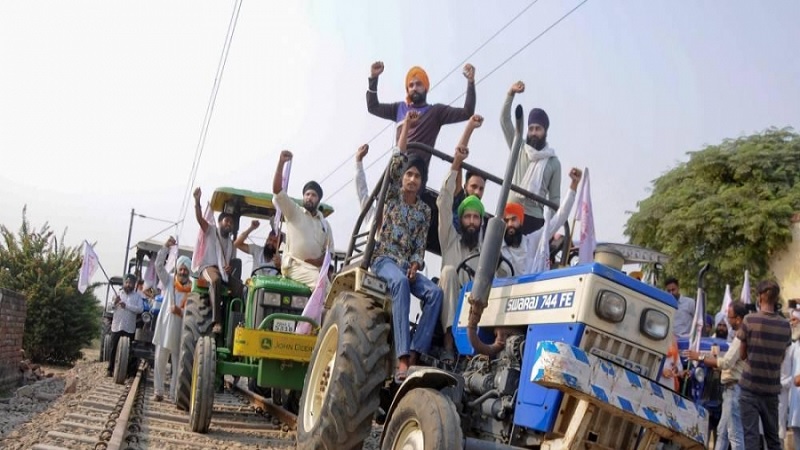 Image Courtesy:newindianexpress.com
Workers, farmers gear up for the nationwide protests on November 26, 2020 to decry the anti-people-dubbed laws passed by the central government in recent months.
Central Trade Unions have declared a General Strike across the country to denounce labour codes undemocratically passed by the government as well as to stop the privatisation of public sector undertakings.
According to All India Trade Union Congress (AITUC) General Secretary Amarjeet Kaur, banks and insurance companies, coal sector, power sector, steam sector, oil sector, various central government employees, several state governments have all served their notices to go on a strike on Constitution Day. Even private transport sectors such as auto drivers, taxi driver unions promised to abstain from work. Public transport in several states has also taken up the cause due to which some buses may not arrive early morning on Thursday. The defence and railways sector also promised to heavily mobilise their employees.
Similarly, scheme workers like anganwadi workers, ASHA personnel shall protest on the streets in both rural and urban areas following the government's failure in providing adequate relief during lockdown. Hawkers and vendors, bidi workers, agriculture workers and construction workers will also join the strike.
"During the last strike, 25 crore workers came out on the streets. This time we estimate a larger number because workers due to the sheer anguish of workers regarding the insulting manner in which the labour codes were formed," she said.
Kaur reminded the manner in which the central government recently passed new laws wherein Opposition members were not present in the assembly to challenge the Bills.
"That's why not only trade unions and farmers but political parties have also come forward in support. The government has made a mockery of the democratic system," she said.
In fact, workers and farmers have formed a united front for Thursday with each side promising to support the demands of the other.
Following the arrest of as many as 31 farmer leaders in Haryana, Kaur condemned the state government's act and once again voiced the workers' support for farmers' demands.
Just as trade unions have been conducting press conferences at the state level, national-level and state-level coordinators of the All Indian Kisan Sangharsh Coordination Committee (AIKSCC) also discussed the plan-of-action on November 24 the nationwide protest march.
As many as 13 states declared bandhs at the local level in support of farmers while lakhs of farmers will march towards Delhi intending an indefinite agitation.
Farmer leaders stated that masses would travel to Delhi to stay although the finer details of how many entered the city depended on what happened at Delhi's border.
According to reports, the ruling government was preventing farmers in and around Delhi-border from entering the place.
Punjab convener of AIKSCC Darshan Pal said that he estimated a conservative number of 1.5 to 2 lakhs people who would march from Punjab to Delhi.
"In Punjab, preparations have reached a climax. Haryana Chief Minister Manohar Lal Khattar has planned to obstruct Punjab farmers from visiting Delhi via Haryana. Similarly, nine routes to visit Delhi have been barricaded. Yet we will approach the barricade and if they do not let us enter, we'll sit there and hold protests," he said.
Pal said that farmers had started for Delhi with ration, bedding, clothes. People adjacent to Punjab have prepared gurudwaras and villages for the gathering. Every tractor leaving the state would have two trolleys – one for farmers, the other for supplies.
Similarly, thousands of tractor trolleys are to begin from Haryana. According to Pal, this is an apt response to Khattar's repressive actions.
He further mentioned that the central government had invited Punjab farmers for talks on December 3. However, he said farmers would now continue with the protest march regardless.
Regarding preparations in Delhi, AIKSCC member Dr. Sunilam said city police was willing to allow 100 people to enter Jantar Mantar but had given no further update regarding the matter.
Similarly, AIKSCC Working Group Member Ashish Mital said people are assembling in Bijnor, Moradabad, Agra and similar areas near Delhi. He estimated that about 4,000 to 5,000 people will march towards the city from West Uttar Pradesh alone. However, the duration of the protest is unsure due to the central government's hostility towards the farmers movement, he said.
Further, 16 newly elected MLAs in Bihar said they planned to protest near the legislative assembly on Thursday. Similarly, thousands of farmers also planned to march to the central office in Jharkhand.
Meanwhile, many states had planned protests at the village level. For example, protest marches have been organised in all villages of Andhra Pradesh. Villagers also plan to express solidarity with trade union associations and have planned dharnas in front of district headquarters.
Tamil Nadu convener K Balakrishnan said that the Southern state which has denounced the three agriculture laws and the electricity Bill since July has decided to observe road blockades and rail blockades in more than 500 places on November 26. Similar to Andhra Pradesh, the state also expressed solidarity with the workers' General Strike.
Earlier, Tamil Nadu had hoisted black flags and sent signatures of villagers from various districts to Prime Minister Narendra Modi to demand the withdrawal of the laws. On September 25, 12,000 people in the state were arrested.
Karnataka convener Byyareddy said at least 1000 centres will observe road blockades on the day of the march. On November 27, central government offices will be picketed. Telangana also announced a gramin bandh and road blockades at the district level.
The leaders announced that the final meeting would be held on November 25 on the eve of the protest for final confirmations by the Sanyukta Kisan Morcha Coordination Committee.
Related:
At least 30 farmer leaders in Haryana arrested!
Stoke the fire in your hearts! Rise in protest! Workers, lawyers, Unions stand with India's farmers
We stand in solidarity: Trade Unions oppose Centre's anti-people laws
Centre's plan to privatise PSUs an anti-people policy: AITUC