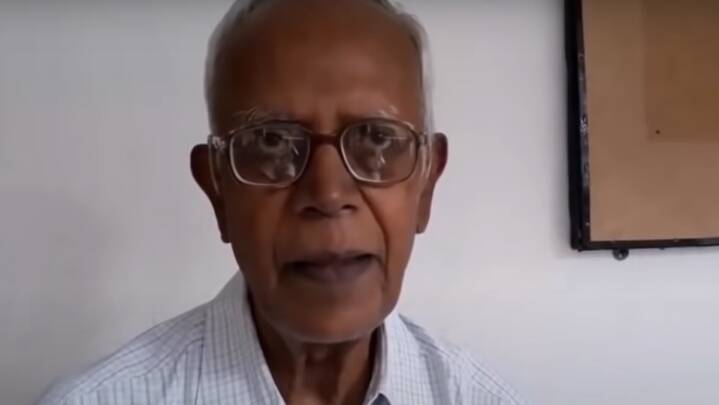 The oldest person to be arrested for terrorism related offences, Father Stan Swamy has filed a bail application before the National Investigation Agency, Special Court in Mumbai to be released from Taloja Jail. His application has been filed through Sharif Shaikh.
The primary ground for seeking bail is that he is 83 years old and suffering from Parkinson's disease. The bail plea states that he was shifted to the prison hospital. It further contends that there is no risk of flight or jumping bail.
"…he was not arrested during the long investigation lasting more than 2 years itself shows that he was never seen as a flight risk or someone who would tamper with evidence. It was a malafide arrest", the plea reads as per Bar and Bench.
The bail application further states that he was not arrested despite having been interrogated twice in July and August of 2020, until he was arrested finally on October 8, 2020. Nothing was found after two raids were subsequently conducted in Swamy's residence. In fact, the Pune Police had also stated on record in a plea filed by Swamy in Bombay High Court that the "they had no intention of arresting him, as he was not an accused."
Further, the application argues that his name was not even a part of the original FIR. His name was claimed to have been added in a remand application in 2018 by the police as a suspected accused.
The bail plea also mentions that the NIA had allegedly not claimed that Father Swamy was present close to the site of Bhima Koregaon when the incident took place. Swamy apprised the court that the evidence allegedly relied upon by the NIA was correspondence with various people to seek legal aid for Father Stan's organisation, Persecuted Prisoners Solidarity Committee (PPSC), which works for undertrial Adivasis and Dalits falsely accused as Maoists.
Father Stan had requested the court to provide him with a sipper mug on November 6 and the National Investigation Agency (NIA)'s lawyers had sought a good 20 days' time to file a reply to Father Stan Swamy's application.
The NIA yesterday, on November 26 expressed their inability to provide a straw and sipper mug to the Parkinson's inflicted Priest. Father Stan then contended before the special court that he required a sipper or straw to drink liquids due to vigorous shaking of hands and some warm clothes for the winter.
The court has now directed the medical officer to reply to the requirement of straw and sipper along with winter clothes. The matter will now be heard on December 4.
Fr. Stan Swamy was arrested from Ranchi by the National Investigation Agency (NIA) on the night of October 8 for his alleged involvement in a conspiracy to instigate caste violence in the Bhima Koregaon village near Pune in 2018. He has been booked under the draconian Unlawful Activities (Prevention) Act.
Related:
Taloja Jail may soon get a deluge of 'sippers', but will they reach Fr Stan Swamy?
Adivasis and the Society of Jesus have taught me to lead a simple life: Fr Stan Swamy
NPRD petitions NHRC to provide Fr Stan Swamy 'reasonable accommodations' in jail