We, the undersigned women's organisations and concerned individuals take serious note of the fierce opposition to women's reservation of 33% seats in Nagaland Municipal Councils by male dominated tribal bodies in Nagaland in the name of protecting their tradition and customary practices that bar women from participating in decision-making bodies. We strongly condemn this anti-woman position of Nagaland Tribes Action Committee (NTAC) that has been formed supposedly to "protect" Naga tribal practices. While NTAC quotes Article 371(A) of the Constitution to assert that they are empowered to make their own laws, they choose to ignore Constitutional principle of equality before law, thus denying the Naga women their electoral rights.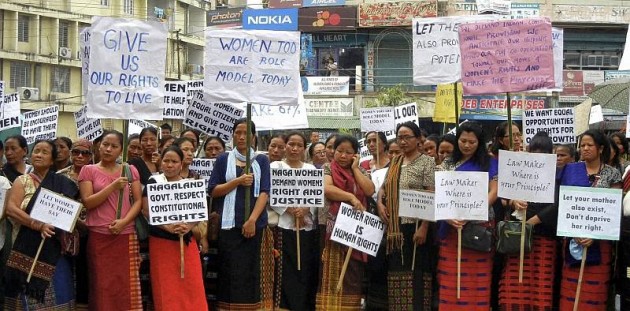 Time and again women's movements in India have confronted issues of community identity vs the rights of women. In almost every instance, communities and their leaders have chosen to sacrifice the rights of women to safeguard patriarchal practices in the name of tradition and custom. In the present imbroglio NTAC has used threats and violence to prevent women from filing their nominations, or even to withdraw their papers. Through all this, the State government has remained silent spectator and tried to wash its hands off on the issue of women's representation in local bodies by cancelling the elections to local bodies under pressure from these tribal bodies by merely citing law and order concerns. In the process, the State has become complicit in protecting patriarchal traditions to the detriment of principles of gender equality. What is not being asserted is that Urban Local Bodies are not traditional Naga institutions recognised by Article 371(A) of the Constitution but rather, Constitutional bodies under Part IX of the Constitution over which the traditional Naga bodies have no mandate.
We strongly condemn the unconstitutional demand of the NTAC and the succumbing of the state government to the pressures of this body. We stand strongly with the struggle of Naga Mothers Association and others who have consistently been fighting for peace, jusice and the rights of Naga women for political representation in local bodies since 2006 when the Nagaland Municipal (First Amendment) Act was enacted granting 33% reservations to Naga women in local bodies.
We demand:
• Immediate resumption of the electoral process for Nagaland Municipal Councils.
• The state government must stop colluding with powers that promote anti-women practices of communities.
• The state government must implement the 33% political representation of women in local bodies with immediate effect.
• The state government must uphold the rights of women, in this and other areas of law and governance.
Signed by over 150 women and women's organisations:
Organisations
1. Saheli Women's Resource Centre
2. LABIA – A Queer Feminist LBT Collective
3. Forum Against Oppression of Women
4. Zubaan
5. Stree Mukti Sangathan
6. Anhad – Act Now for Harmony & Democracy
7. NAPM – National Alliance of Peoples' Movements
8. Sappho for Equality
9. Pennurimai Iyakkam
10. Pann Nu Foundation
11. All India Progressive Women's Association
12. Olakh
13. Akshara
14. North East Network
15. Paryavaran Suraksha Samiti
16. Nirantar
17. Kosi Navnirman Manch
18. Joint Women's Program
19. Bebaak Collective
20. Matu Kan Sangathan
21. Sangatin Samooh
22. CASAM
23. SANGRAM
24. Feminism in India
25. Partners in Law Development
26. Women Power Connect
27. Gender, Livelihoods and Resources Forum
28. Food Sovereignty Alliance
29. IRDSO Manipur
Individuals
1. Aarthi Pai
2. Abha Bhaiya
3. Ammu Abraham
4. Anomita Sen
5. Anita Ghai
6. Anjali Sinha
7. Anupama Potluri
8. Anuradha Banerji
9. Anuradha Kapoor
10. Anuvinda Varkey
11. Alana Golmei
12. Arun Bhurte
13. Ashima Roy Chowdhury
14. Ashley Tellis
15. Bishakha Datta
16. Chayanika Shah
17. Deepa Venkatachalam
18. Deepti Sharma
19. Devaki Jain
20. Dhruva Narayan
21. Dunu Roy
22. Gabriel Dietrich
23. Gargee Baruah
24. Gayatri Sharma
25. Geeta Seshu
26. Geetha Nambisan
27. Govind Kelkar
28. Hasina Khan
29. Imrana Qadeer
30. Indira Jaising
31. Janaki Abraham
32. Japleen Pasricha
33. Jashodhara Dasupta
34. Jhuma Sen
35. Kalpana Mehta
36. Kalyani Menon Sen
37. Kamayani Bali Mahabal
38. Kamini Tankha
39. Kamla Bhasin
40. Kavita Krishnan
41. Kavita Srivastav
42. Khyochano Ovung
43. Kiran Shaheen
44. Krishnakant
45. Lata Singh
46. Laxmi Murthy
47. Madhu Mehra
48. Madhu Bhushan
49. Mahendra Yadav
50. Manasi Pingle
51. Mary Beth Sanate
52. Mary John
53. Medha Patkar
54. Meena Seshu
55. Meera Sanghamitra
56. Mihira Sood
57. Mini Mathew
58. Mira Shiva
59. Mohan Rao
60. Monisha Behal
61. Mukul Mangalik
62. S Maya
63. Nalini Vishwanathan
64. Nalini Nayak
65. Nandini Sundar
66. Nandita Shah
67. Nasreen Habib
68. Neeta Hardikar
69. Neera Javed Malik
70. Nimisha Desai
71. Nisha Biswas
72. Nonibala Narengbham
73. Padma Deosthali
74. Padmini Kumar
75. Pamela Philipose
76. Panchali Ray
77. Parul Sethi
78. Patricia Mukhim
79. Pramada Menon
80. Pooja Bhatia
81. Pushpa Achanta
82. Radhika Desai
83. Ratna Appender
84. Renu Singh
85. Richa Singh
86. Rina Mukherji
87. Ritu Dewan
88. Rohini Hensman
89. Roshmi Goswami
90. Runu Chakraborty
91. Sadhna Arya
92. Sagari Ramdas
93. Sana Contractor
94. Sarojini N
95. Saswati Ghosh
96. Satnam Kaur
97. Savita Sharma
98. Seema Baquer
99. Sejal Dand
100. Shabnam Hashmi
101. Sharanya Nayak
102. Shewli Kumar
103. Shoma Sen
104. Sonali Udaybabu
105. Sophia Khan
106. Soma K P
107. Subhash Gatade
108. Subashri Krishnan
109. Sujatha Gothoskar
110. Sumi Krishna
111. Suneetha Dhar
112. Surajit Sarkar
113. Svati Joshi
114. Svati Shah
115. Swarnlatha
116. Teena Gill
117. Ujwala Kadrekar
118. Uma Chakravarti
119. Uma Chandru
120. Urvashi Butalia
121. Urvashi Sarkar
122. Vahida Nainar
123. Vandana Prasad
124. Vani Subramanian
125. Vibhuti Patel
126. Vimal Bhai
127. Vipin Krishna
128. Virginia Saldanha
131. Nivedita Menon