This morning's newspapers carried the news that the BJP would launch yet another Gujarat GauravYatra before the upcoming state assembly elections. The Indian Express that carried the PTI feed also said that "this will be the second edition of "Gujarat GauravYatra," as the then chief minister NarendraModi had taken out a yatra with the same name before the 2002 state assembly elections."
The GauravYatra of 2002, launched after the 'symbolic' garba dance in which then MLA, Maya Kodnani had also participated had become not just controversial but, the then chief minister, Modi's speech had been roundly criticised for the content of the speeches he made, en route.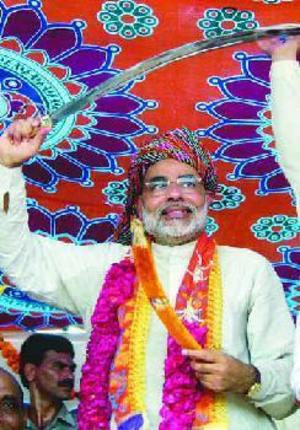 Modi had undertaken the yatra after his government faced criticism at the time from various quarters for its handling of the 2002 carnage. This time, according to central ministers, the yatra will be in the first half of October. Needless to say, state and central resources will be deployed to 'make it a success.' None less than Modi's confidante, BJP President, Amit Shah will inaugurate the yatra and then the baton will be carried forward by present chief minister Vijay Rupani.
In 2002, it was the speech made by Modi himself at Becharaji in his home district of Meshana that had not just drawn flak, but also been rated as 'communal' by the Gujarat state's own intelligence.

The speech made byNarendra Modi, at Becharaji (Mehsana district of Gujarat State) was on September 9,2002. What did he say? Here is a verbatim translation:

"What brother, should we run relief camps? (referring to relief camps for riot affected Muslims). Should I start children producing centres there, i.e., relief camps? We want to achieve progress by pursuing the policy of family planning with determination. We are 5 and ours are 25!!! (Ame panch, Amara panch, referring to the claim that every Muslim family produces five children)."

Field officers of the SIB notings on the speech had clearly found the speech fit to "incite hatred". The National Commission of Minorities (NCM) had requested a copy of the speech, an audio of which had been aired on television. The then Director General of Police, K. Chakravarthi had forwarded the request to then Additional Director of Police (Intelligence) R.B. Sreekumar with a written noting "there is no need to respond." Sreekumar had however responded and sent the details of the speech as also the response of field officers who found this 'communal' to NCM, Delhi. In response, he was transferred out of his post on September 17, 2002.

The matter of incitefulspeech(es) used by the then chief minister of Gujarat is the subject matter of the ZakiaJafri criminal revision application (205/2014), presently pending judgement in the Gujarat High Court. This particular speech of the then chief minister as also others made by him on February 27, 2002 and around that time, it has been argued attract penal provisions of the law. (Sections 153A (1) (a) & (b), 153B (1) (c), 166 and 505 (2) of the Indian Penal Code.)

The case law relied on are:Babu Rao Patel Vs. State (Delhi Administration) (1980) 2 SCC 402 and State of Karnataka and Anr. Vs. Dr. Praveen Bhai Thogadia (2004) 4 SCC 684