In just a few days, the northern desert state will go to polls on April 29 and May 6. Rajasthan has approximately 4.89 crore voters and Both Congress and BJP have given a mix of candidates from all prominent castes in the state — Rajputs, Meenas, Gujjars and Jats for 25 Lok Sabha seats.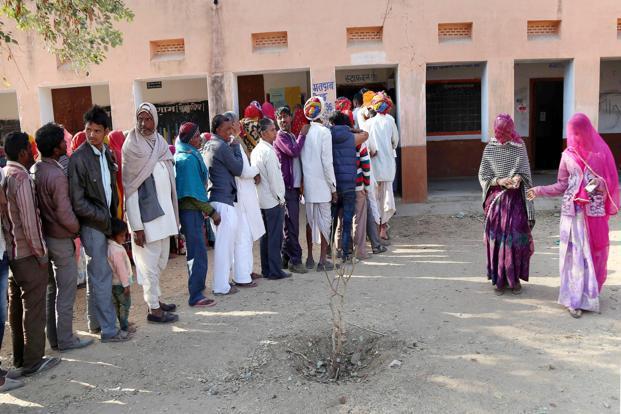 Jaipur: The desert state of Rajasthan elected Bharatiya Janata Party (BJP) from all its 25 constituencies in the 2014 Lok Sabha Elections. It was for the first time since 1989 that Congress failed to win even a single seat.

In 2018, Congress dethroned BJP from power after it won 100 seats in 200 constituency assembly. The BJP which was in power secured 73 seats and couldn't retain the state. Going by the 2018 results, if anti-incumbency wave continues against the BJP, then it will affect BJP's tally.

https://twitter.com/iyersaishwarya/status/1120991800586641408

In just a few days, the state will go to polls on April 29 and May 6. The 25 constituencies that will go on polls are Tonk-Sawai Madhopur, Ajmer, Pali, Jodhpur, Barmer, Jalore, Udaipur, Banswara, Chittorgarh, Rajsamand, Bhilwara, Kota, Jhalawar-Baran on April 29 and Ganganagar, Bikaner, Churu, Jhunjhunu, Sikar, Jaipur Rural, Jaipur, Alwar, Bharatpur, Karauli-Dholpur, Dausa, Nagaur on May 6.

The Hindi belt of Rajasthan has historically voted for their caste in almost all elections. Rajasthan has approximately 4.89 crore voters and Both Congress and BJP have given a mix of candidates from all prominent castes in the state — Rajputs, Meenas, Gujjars and Jats.

Casting Votes but Voting Caste
Caste overrules all else in Rajasthan. The party with the best caste combinations ultimately wins with the state's voters who come from a tribal patriarchal society.

In some villages, the Sarpanch decides who the women will vote for.

"Wo hamara neta hai. Usko pata hai kon hamara kam karega or kisko vote dena sahi hoga. (He is our leader and he knows who will do our work and voting for whom will be right)," said a woman when asked why the sarpanch should decide their choice in a report by Hindustan Times. The woman didn't want to be named. Some other women, who spoke to HT, said on condition of anonymity that they will follow their husbands' decision.

In Jodhpur, Ashok Kumar, an icecream seller outside Chamunda Mata mandir, told Economic Times that "I am a maali. I will vote for Gehlot ji's son. This is a given." In Udaipur, Pradeep, an autorickshaw driver said, "I will vote for BJP. I am a teli. My caste always votes for BJP."

Aware of this over-riding factor, both parties have made obvious choice of candidates, the report said. Vinita, who was attending a public meeting at Ambedkar Park in Barmer said, "We are SCs. We have always voted for behenji and BSP. But in the Lok Sabha elections, we vote for the Congress as it has done a lot for our caste."

In Kota, the youth say they are Meenas and will vote for the Congress. "We vote the way our community decides," said Devender Meena of Godalyaheri village in the report.

Right before the elections, the BJP has managed to cobble up alliances with prominent community leaders like Hanuman Beniwal, who had been alienated after numerous showdowns with Vasundhara Raje. The BJP has agreed to leave one seat for him to contest from Nagaur. Seeing his clout, the party even went with his recommendation on a BJP candidate in Barmer.

Key constituencies for April 29 polls
Ajmer

Muslims, Jats, Vaishyas and Scheduled Castes and Scheduled Tribes dominate the Ajmer Lok Sabha seat. Brahmins, Gujjars, Rawats, and Rajput communities also play an important part in electing the candidates.

The Congress has won 11 times since elections were held for the first time in 1951 and the Bharatiya Janata Party six times. Congress' Rajasthan unit president Sachin Pilot won in the 2009 Lok Sabha election but lost to Sanwar Lal Jat of the BJP in 2014. After Jat's death, Raghu Sharma of the Congress won the by-poll in 2018.

The MP candidates for 2019 this time are Bhagirath Chaudhary (BJP) and Rijju Jhunjhunuwala (Congress.) There are 1,156,314 voters in this constituency and roughly 68% voted in 2014.

In 2014 general elections, BJP candidate Sanwar Lal Jat, who got 637874 (55.16 per cent) votes, outperformed Sachin Pilot of Congress who secured 465891 (40.29 per cent) votes. Around 69 per cent turned up to exercise their franchise. The other key leaders who contested in 2014 from Ajmer seat were Sanwar Lal of Nationalist Congress Party (NCP) Jagdish of Bahujan Samaj Party (BSP).

Jodhpur

The Jodhpur Lok Sabha seat, from where chief minister Ashok Gehlot's son Vaibhav is up against sitting MP and Union minister Gajendra Singh Shekhawat, has emerged as a high-stakes battle for Congress and BJP as the outcome will send a strong political message.

Jodhpur MP Gajendra Singh Shekhawat, who is contesting against Vaibhav this time, had won in 2014 with a margin of over 4 lakh votes.

Although Ashok Gehlot held the Jodhpur Lok Sabha seat for most of the 1980s and 90s, ever since he became the CM of Rajasthan for the first time in 1998, Congress has managed to win it only once, in 2009. The BJP won the seat in 1999, 2004 and 2014.

The Jodhpur constituency, which has nearly 5 lakh OBC and 2.5 lakh Rajput voters among others, has eight Assembly segments.

Barmer

Congress's Manvendra Singh is contesting from the constituency against BJP'S Kailash Choudhary. Singh has represented Barmer in the Lok Sabha in 2004. Choudhary has been an MLA from Baytoo assembly segment.

Barmer is the second largest parliamentary constituency in India in terms of area. It comprises Barmer and Jaisalmer districts (minus Pokaran Assembly segment).

This is the fourth time Manvendra is contesting the Lok Sabha polls. Though he has been in the fray since 1999, he tasted victory only in 2004. In 1999 he lost the election to Congress's Sonaram Choudhary and in 2009 lost to Congress's Harish Choudhary.

This is also the first time in several decades that Congress is turning to a Rajput leader to win the seat. The last time the party had banked on Rajput leadership was in 1962 (Onkar Singh) and 1977 (Khet Singh), though both the candidates were defeated.

Following this, the party changed its strategy and focused on an alliance of Jats-Muslims and Scheduled Castes/Scheduled Tribes. The strategy worked with the party winning the seat in 1991, 1996, 1998 and 1999.

In 2014, the BJP had fielded Sona Ram Choudhary, a former Congress leader, denying ticket to party veteran Jaswant Singh. Jaswant had unsuccessfully fought as an Independent candidate.

In the state election held there in December 2018, the Congress had won seven out of the eight Assembly segments in the constituency. The Congress is hoping to clinch this seat banking on Manvendra's popularity there.

Udaipur

Reserved for Scheduled Tribe candidates, Udaipur is a former royal city. It has not brought back the same party since 1998.

Arjun Lal Meena of BJP had won from this constituency in the 2014 Lok Sabha polls.

In the 2014 Lok Sabha polls, Arjunlal Meena bagged 660373 votes and defeated Raghuveer Singh Meena of the INC who got 423611 votes.

In 2009, Raghuveer Singh Meena had won from here.

Raghuveer Singh Meena had won the Udaipur seat against the BJP's Kiran Maheshwari in 2009. Before that, Maheshwari had contested successfully against three-time MP Girija Vyas of the Congress in 2004. Vyas is the only leader to hold the seat three times.

Arjunlal Meena and Raghuveer Meena are up against each other once again in the Lok Sabha election 2019.

There are 1,193,202 voters in this constituency and about 65% of them had turned up in 2014.

Rajsamand

BJP's Diya Kumari and Congress' Devkinandan Gurjar will be contesting this constituency on April 29. Rajput, Jat and Brahmin voters have mixed strength in this constituency, therefore, community vote wouldn't be a big issue in the election, rather, other issues like farm distress, welfare schemes will be more on the agenda to decide the mandate.

Diya Kumari belongs to one of the Royal families of Rajasthan in the Rajput community. In her poll rallies, she spoke to women voters who according to her are more conservative in a state like Rajasthan and prefer women candidates in governance so that they can approach them easily.

In the Merta area, BJP's tie-up with the Rashtriya Loktantrik Party (RLP) has helped the party. At Diya's rallies, the posters have photos of Modi, RLP president Hanuman Beniwal, Diya and RLP MLA from Merta City, Indira Devi Bawri.

In 2014, BJP's Hari Om Singh Rathore won the seat. He defeated Gopal Singh Shekhawat of the Congress.

In the December 2018 assembly elections, the BJP won four assembly seats under the Rajsamand LS constituency; Congress won three and the Rashtriya Loktantrik one. In 2013 assembly elections, the BJP had won all the eight assembly seats. BJP leaders said the party's performance in the 2018 assembly polls could be a reason for denying ticket to Rathore.

Kota
Congress and BJP have won the Kota seat seven times each in the past.
BJP's Om Birla and Congress' Ramnarayan Meena will be up in the key contest in 2019.

Despite belonging to Scheduled Tribe (ST) Ramnarayan Meena has never contested elections from a reserved seat. Given that Kota constituency has a considerable population of people belonging to Meena community, Congress candidate definitely has an upper hand in the upcoming elections.

Ramnarayan Meena was first elected to Lok Sabha in 1988 but lost the seat in 1999 when Atal Bihari Vajpayee government fell.

While Congress is banking upon Ramnarayan Meena, BJP is keeping in its sitting MP Om Birla who won 2014 election after defeating Congress' Ijyaraj Singh by a margin of over 2 lakh votes.

There are nearly 1,154,960 voters that will choose their MP for this seat on April 29. About 66% of voters had turned up in 2014 for polling.

Alliances
The BJP is contesting polls in alliance with Rashtriya Loktantrik Party (RLP) in the 2019 Lok Sabha elections. Led by Jat leader Hanuman Beniwal, RLP won Khinvsar, Merta and Bhopalgarh seats in 2018 Rajasthan Assembly elections.

Congress is going to contest all 25 seats in the forthcoming election. However, in assembly election 2018, it has allied with Rashtriya Lok Dal led by Ajit Singh, Nationalist Congress Party (NCP) and Sharad Yadav's Loktantrik Janata Dal.

Regions and Issues
Rajasthan's landscape and culture are defined by the division of regions into Shekhawati, Mewat, Hadoti, Dhundar, Mewar and Marwar. Economic Times reported on the issues these regions are facing which could cloud the upcoming LS polls in the state.

SHEKHAWATI

(Sikar, Jhunjhunu, Churu)

The region that sends the most number of soldiers to the armed and paramilitary forces are hosting some tough contests where Congress is posing a challenge to BJP, which has always won from here.

MEWAT

(Alwar, Bharatpur)

The Royals are fighting in the belt but BJP still maintains an upper hand. This region could see some seats going Congress' way.

HADOTI

(Kota-Bundi, Jhalawar-Patan, Baran)

The farm distress belt remains a BJP stronghold even though Ashok Gehlot led Congress government has scored brownie points with its farm loan waiver.

DHUNDHAR

(Jaipur, Ajmer, Tonk, Sawai Madhopur, Dausa, Karauli)

This region could see some seats going Congress' way. Jaipur (Rural) is witnessing a class of Olympians with BJP minister Rajyavardhan Rathore taking on Congress' Krishna Poonia.

MEWAR

(Udaipur, Rajsamand, Bhilwara, Chittorgarh, Dungarpur-Banswara)

Whoever wins Mewar, takes the state, is the local saying. In Mewar, Congress has weaned away tribal votes but faces a challenge in Bharatiya Tribal Party which had recently won two seats.

MARWAR

(Barmer, Jodhpur, Jaisalmer, Jalor, Pali, Nagaur)

Nationalism wings through this belt which is witnessing some high-profile contests. Former BJP MP Manvendra Singh, who has switched over to Congress, is taking on a relative lightweight Kailash Chaudhary. Jodhpur would see chief minister's son Vaibhav Gehlot taking on Union minister Gajendra Shekhawat in a battle of prestige. Former Congress MP Jyoti Mirdha is contesting against BJP ally Hanuman Beniwal.

Tough competition
The Indian Express reported that while the BJP is set to retain its grip in crucial areas such as Mewar, pockets of Marwar and Hadoti region (together these have 10 Lok Sabha seats; out of 72 Assembly seats here, the Congress had won 33 in December), the Congress hopes to make gains in Sikar, Jodhpur, Barmer, Dausa and Karauli (5 Lok Sabha seats; the Congress had won 27 out of 34 constituencies here in the state elections). In east Rajasthan, with four Lok Sabha seats, the Congress appears to have the support of Scheduled Caste voters dissatisfied with the BJP.

Gehlot, who wrested chief ministership from Pilot after a bitter and long-drawn tussle will be hoping that his flurry of welfare schemes — farm loan waiver, increase in unemployment allowance and old age and disability pension, free water and pension for farmers — will bring farmers back to the Congress fold, the report said.

He will also hope the Gujjar anger over Pilot being denied the top post doesn't translate into them heading back to the BJP. The Gujjars have been angry with the BJP since quota protests led to deaths under the Raje regime, it added.