Indian Asbestos and Russian Asbestos cannot have different adverse health impacts and the undue influence of asbestos industry lobby makes the govt think so, putting several lives at risk.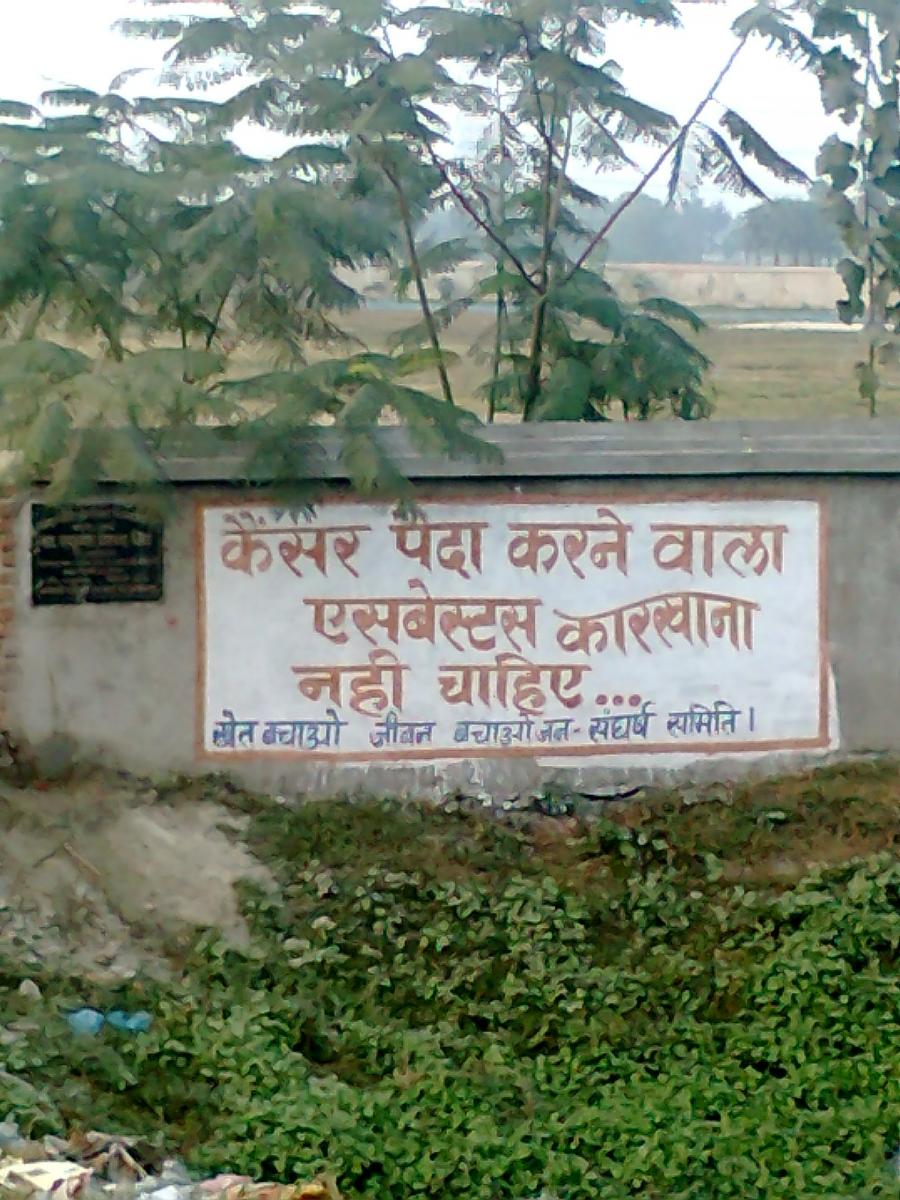 The defamation case against Google involving writings of Ban Asbestos Network of India (BANI) is scheduled for final hearing in the Supreme Court as per Court's website[1].

The case is related to the articles published on www.asbestosfreeindia.org. The respondent, in this case, is Visakha Industries, which is engaged in the business of manufacturing and selling of asbestos cement sheets and allied products.

Asbestos is a carcinogenic mineral fiber banned in some 60 countries. Visakha is a member of the Asbestos Cement Products Manufacturers Association (ACPMA), which represents the interests of the Indian asbestos industry. ACPMA has been spreading the misinformation and falsehood about the possibility of safe and controlled use of chrysotile asbestos.

The world's scientific and medical community has overwhelmingly concluded that chrysotile asbestos causes deadly diseases, such as asbestosis, mesothelioma and lung and other cancers.
The International Agency for Research on Cancer (IARC) and the World Health Organization (WHO) have called for an end to all use of chrysotile asbestos in order to prevent further tragic epidemics of asbestos-related diseases.
Public institutions like the World Federation of Public Health Associations, the International Commission on Occupational Health, the International Social Security Association, the Union for International Cancer Control (representing 770 member organisations in 155 countries, including the Indian Cancer Society and the Cancer Aid and Research Foundation of India), the International Trade Union Confederation (representing 175 million workers in 151 countries), the Collegium Ramazzini, the Joint Policy Committee of Societies of Epidemiology and the Indian Association of Occupational Health have all recommended elimination of the use of chrysotile asbestos because safe use of asbestos is impossible.

It is significant that the Ministry of Mines has informed that "the Grant of fresh mining leases and renewal of existing mining leases for Asbestos are presently banned in the country on Health Grounds".[2] Government had imposed this ban on mining of all kinds of asbestos in 1986.

The core scientific question is: how can Indian asbestos be poisonous but Russian asbestos is not. India is the biggest importer of Russian asbestos. Can Indian Cyanide and Russian Cyanide have different health impacts?

The Terms of Reference (TOR) that is awarded by the Experts Appraisal Committee, Industrial Project, Union Ministry of Environment & Forests to the project proponents for white asbestos based roofing factories states that asbestos based companies should prepare a "Health Management Plan for Mesothelioma, Lung cancer and Asbestosis related problems in asbestos industries." A typical asbestos mineral fibre is about 2,000 times thinner than a human hair. It is believed that smaller, thinner, `respirable' fibres are the ones which do the most damage. These asbestos fibres are invisible to the naked eye. Some of the small fibres remain in the lower parts of the lung for years. Some work their way through the lung lining inducing cancers[3](Perappadan, 2004).

The government agencies like Directorate General, Factory Advice Service and Labour Institutes (DGFASLI) took note of Prevalence of Asbestosis and Related Disorders in an Asbestos Fiber Processing Unit in West Bengal as early as in 1996[4] (DGFASLI, 1996). But unmindful of Supreme Court's order of 1995 no steps have been taken by the central and state governments for complete ban on asbestos despite admitting the "deleterious effect of asbestos on the health" and in spite of imposing ban on grant, renewal and expansion of asbestos mining in the year 1986, sixty two years after the first diagnosis of asbestosis was made in the UK in 1924[5] (Cooke, 1924).

It is noteworthy that the chairman of ACPMA is the Vice-Chairman of Visakha Industries is a medical graduate. Doctors have played both positive negative roles in the "tragic history" of asbestos industry.[6] The company in question acknowledges that there are "various environmental issues connected with the Asbestos Cement Industry"[7] (Visakha website, 2018). It has admitted that asbestos which is "used as raw material, which is hazardous in nature".

Given the fact that mining of asbestos is banned in India because of its hazardous nature, the company in question has informed the government and the public that the chrysotile type asbestos fiber "will be imported from Brazil[8], Canada and Russia."

Chrysotile (White Asbestos), the serpentine variety is 95% of all Asbestos in the global market. It is the only kind that remains to be totally banned in India. Now the fact is that Brazil[9] and Canada have banned asbestos but India has emerged as the biggest consumer of Russian white asbestos although India has banned mining and trade of asbestos waste (dust and fibers). India should learn from the fall of the asbestos empire.[10] In such a backdrop, it is significant that Parmanpur panchayat of Odisha's Sambalpur district took a decision to cancel no objection certificate given to Visakha asbestos company and additional district magistrate approved their decision[11](Moyna, 2015).

This case has emerged in the context of BANI's some 18 years of relentless struggle to ensure that preventable deaths from asbestos exposure and asbestos related incurable diseases are prevented. BANI has been demanding systematic monitoring and reporting of asbestos related diseases in India. BANI's work in alliance with peoples' movements and trade unions has led to current phasing out of asbestos roofs from some 8000 railway stations across the country[12] (Nair, 2018).

Such efforts led to the cancellation of asbestos based factories in Bhojpur[13], Muzaffarpur[14], Vaishali, West Champaran and Madhubani[15] in Bihar[16] and new rules have been framed in Maharashtra as a step to make the state free of asbestos[17].

Its field visits in and around the factories of Visakha Industries Ltd in Vijayawada, Telangana and in Raebareli, Uttar Pradesh, UP Asbestos Ltd. in Lucknow, Uttar Pradesh and the factory of Ramco Industries Ltd in Maksi, Madhya Pradesh and in Bhojpur, Bihar brought to light the status of workers in these asbestos factories in both places.

Following BANI's intervention, Indian railways is beginning to realize that the disposal of asbestos debris requires proper scientific landfilling to avoid harmful repercussions[18] but its practice in general in replacing asbestos roofs with harmless alternative roofing material is exposing unsuspecting passengers to hazardous asbestos fibers because discarded and broken asbestos roofs are lying strewn around on the railway platforms. Following BANI's communication to Chief Minister and Minister of Health & Family Welfare, Delhi Government on the subject of making Delhi India's first asbestos free-state, the government has issued instructions for appropriate necessary action[19] (Gupta, 2017).

The SLAPP case in the Supreme Court must be seen in this backdrop. The Court has sought the assistance of the Attorney General of India in this case. Attorney General can assist the Court by seeking help from Indian Council of Medical Research (ICMR) which has "informed that major health hazards of asbestos include cancer of lung, mesothelioma of pleura and peritoneum and specific fibrous disease of lung known as asbestosis. All types of asbestos fibers are responsible for human mortality and morbidity.

Directorate General Factory Advice Service and Labour Institutes, (DGFASLI) under Ministry of Labour & Employment has intimated data of workers suffering from Asbestosis in factories registered under the Factories Act, 1948.As per the information provided by DGFASLI, it is informed that 21 no. of Asbestosis cases were reported in Gujarat in 2010 and 2 cases in Maharashtra in the year 2012". This has been shared by the Union Minister for Health and Family Welfare in a written reply. The SLAPP case in question is a malicious lawsuit to silence those who are voicing incontrovertible medical findings.

A paper titled "The future of work in the mirror of industrial disaster of Bhopal" points out the unacknowledged public health crisis due to continued use, manufacture and trade of asbestos and asbestos based products.

It is noteworthy that in the USA, Dow Chemicals Company has set aside $2.2 billion to address future asbestos-related liabilities arising out of its purchase of Union Carbide Corporation (UCC), notorious for industrial disaster in Bhopal. BANI has been demanding a compensation fund for present and future victims of asbestos related diseases.

The factsheet of World Health Organisation states that the most efficient way to eliminate asbestos-related diseases is to stop the use of all types of asbestos and specifically states that its strategy is particularly targeted at countries still using chrysotile asbestos.

The asbestos based products include fireproof coatings, concrete and cement, bricks, pipes, gaskets, insulation, drywall, flooring, roofing, joint compound, paints and sealants. Asbestos also exists in electrical appliances, plastics, rubber, mattresses, flowerpots, lawn furniture, hats and gloves. Chrysotile asbestos is often present in a wide variety of products and materials, including Chlor Alkali diaphragm membranes used to make chlorine, Drywall and joint compound (including texture coats), Plaster, Gas mask filters, Vinyl floor tiles, sheeting, adhesives, roofing tars, felts, siding, and shingles, acoustic ceilings, fireproofing and dental cast linings.

Since 1984, environmental monitoring and health surveys have led to in-depth studies in asbestos based industries in India, highlighting an occupationally vulnerable worker population. It was noticed that the workers occupationally exposed to asbestos have a maximum impairment in their pulmonary function test. Workers employed in the cement-asbestos factories suffer from the exposure to asbestos. Asbestos dust can be inhaled while drilling a hole, cutting a pipe, repairing, renovating or demolishing a building. Its effects are far-reaching, affecting everyone from the person mining it to the ultimate consumer.

The incubation period of asbestos-related diseases is long. It takes as long as 10 to 30 years for the fibers to make their presence felt in the human body but by then it is incurable. In the rich countries, insurance companies have stopped covering workers employed in asbestos factories and mines. Even World Trade Organisation (WTO)'s Dispute Settlement Panel on September 18, 2000, and its appellate body on March 12, 2001, accepted that white chrysotile asbestos is an established carcinogen and that "controlled use" is not an effective alternative to a national ban[20] (Krishna, 2004).

A paper presented at World Asbestos Congress, Tokyo argued that consumption of asbestos is sanctioned and encouraged by a government prepared to back powerful commercial interests at the expense of public health. There were some 673 small-scale asbestos based factories in India as of 2004 [21] (Krishna, 2004). The table below provides details of factories and workers employed in asbestos industry till 2010.

| | | | |
| --- | --- | --- | --- |
| S. No. | State/Uts | No. Of Units | No. of workers |
| 1 | Andhra Pradesh | 7 | 1389 |
| 2 | Assam | 2 | 45 |
| 3 | Delhi | 6 | 231 |
| 4 | Gujarat | 13 | 739 |
| 5 | Haryana | 19 | 1300 |
| 6 | Jharkhand | 2 | 153 |
| 7 | Karnataka | 2 | 370 |
| S | Kerala | 1 | 200 |
| 9 | Madhya Pradesh | 11 | 610 |
| 10 | Orissa | 1 | 477 |
| 11 | Rajasthan | 5 | 61 |
| 12 | Tamil Nadu | S | 1677 |
| 13 | Uttar Pradesh | 11 | 711 |
| 14 | West Bengal | 9 | 1200 |
| 15 | Maharashtra | 24 | 1338 |

Source: Union Ministry of Environment and Forests, February 2010

The number of such asbestos based factories has been increasing in the period after 2010 with scant regard for the environmental and occupational health of workers, communities and consumers.

Following a Supreme Court order on October 14, 2003 (Writ Petition (civil) 657/1995), the Union Ministry of Labour constituted a Special Committee under Chairmanship of Director General, Directorate General Factory Advice Service and Labour Institutes (DGFASLI) on the issue of medical benefits and compensation to workers affected by handling of hazardous waste, toxic in nature. This Committee's report, submitted in May 2004, mentions lung cancer and mesothelioma caused by asbestos in all work involving exposure to the risk concerned. "Asbestos related radiographic changes were seen in 36.1 percent workers."[22] This finding was based on a study on 789 asbestos workers.

In general, asbestos workers refer to those who work in asbestos based manufacturing like asbestos cement industry, asbestos textile industry, asbestos mining and milling besides thermal power plants. It also includes the construction industry and the shipbreaking industry because workers have to handle asbestos based products or embedded asbestos in the structure of the ship. Besides this asbestos waste from different industries and end-of-life domestic and foreign ships are also handled by the workers without knowledge of the harmful effects of asbestos fibers[23] (MoEF, 1998).

BANI through its engagement and cases in the Supreme Court in the matter of dumping of foreign asbestos laden end-of-life vessels like French Le Clemenceau[24], Danish RIKY[25], American Blue Lady[26] and American Exxon Valdez[27] which reached Gujarat's Alang beach and American Platinum II[28] which reached Gopnath anchorage in Gujarat's Bhavnagar been instrumental in getting the Shipbreaking Code 2013 adopted by the government. Its case in the Court led to the study of workers who are exposed to asbestos in shipbreaking industry. T

The study "Medical Examination of the Asbestos Handlers" concluded, "The X ray examination by NIOH showed linear shadows on chest X rays of 15 (16%) of 94 workers occupationally exposed to asbestos. These are consistent with asbestosis…"[29] (TEC Report, 2006). This study is consistent with the study that confirmed increased incidence of overall cancer, oesophagus cancer, and trachea, bronchus, and lung cancer which has been found associated with the level of exposure to asbestos among shipbreaking workers[30] (Wu, 2015).

Epidemiological research shows that even in countries where asbestos is banned, earlier exposure could be causing around 30 deaths a day[31] (Krishna, 2006). In its report titled 'Asbestos: The Iron Grip of Latency', the International Labour Organisation (ILO) states that the dumping of asbestos on developing countries will "prove to be a health time bomb in these countries in 20 to 30 years' time"[32] (ILO, 2006).

But the way National Institute of Occupational Health (NIOH) ended up taking the fiscal support from the chrysotile asbestos industry to do a study that is to be used at UN's Rotterdam Convention meeting has made its outputs non-credible. This study in question was partly funded by the Asbestos Cement Product Manufacturers Association. It remains surprising given the fact that this agency had conducted studies in that past that defended workers' health. The study's terms of reference revealed the government's intent.

Here is what the ministry's April 2006 letter demanded of NIOH: "The deliverables will include generation of data which would justify the safe standards of its usage and the reasons justifying its non-inclusion/or otherwise in the pic ambit." The minutes of an April 2007 meeting of the ministry's review committee (half of which comprises asbestos industry representatives) gave NIOH a sharper focus: "It will specifically indicate as to how technology has made working conditions better. The same will include relevant photographs showing protective measures being undertaken."

The minutes of the Review Committee obtained recently through Right to Information Act dated 19 December, 2006 reads: "The report will be finalised after due discussions with the asbestos industry"[33] (Krishna, 2008). It demonstrated that NIOH conducted a questionable study which does not inspire any confidence in the researchers who became complicit in this unethical work.

By the order dated January 23, 2012, Union Ministry of Labour and Employment constituted an Advisory Committee of 13 members to develop control strategies and to review the safeguards in relation to primary exposure to Asbestos by the workers in pursuance of the judgment of Supreme Court. There are four terms of reference (TOR) of this Advisory Committee. Two of these TORs deal with 'ILO guidelines' and 'fresh resolution passed by ILO" mentioned in June 2006 resolution[34] (MoLE, 2012). This Advisory Committee was set up to implement Supreme Court's order since International Labour Organization (ILO) has also made certain specific directions vide its Resolution of 2006 introducing a ban on all mining, manufacture, recycling and use of all forms of asbestos. In compliance of the six specific directions with the order of the Court to maintain the health record of every worker up to a minimum period of 40 years from the beginning of the employment and for 15 years after the retirement or cessation, whichever is later[35] (Supreme Court, 1995).

It has been 23 years since the order was passed but non-compliance with it has become the norm even as some 30 people continue to die every day.[36]

In a recent order, even the National Green Tribunal (NGT) did not deem it fit to refer to the verdict of Hon'ble Supreme Court in the case pertaining to acts of omission and commission by Hyderabad Asbestos Cement Product Limited (now Hindustan Industries Limited), Union of India and others. The company in question undertook mining of asbestos in the Roro hills of Jharkhand from 1963 to 1983 and stopped mining 32 years ago but left the tailings. It did not take safety measures required for closure, restitution and removal of asbestos dust, a human health hazard which caused asbestos related diseases notified under the Mines Act, 1952. But in its very weak and an apparently a non-binding order, NGT has not given relief to either the victims or the affected local environment. It has relied on an unsatisfactory joint inspection report. In a stark act of unacceptable omission the joint inspection team (comprising of S.I. Minz, Additional Director Mines, (HQ), Department of Mines and Geology, Jharkhand, B.P. Kerketta, Senior Assistant Controller of Mines, Indian Bureau of Mines, Kolkata and R.N. Kashyap, Board Analyst, Jharkhand State Pollution Control Board, Ranchi) constituted by Jharkhand Government in compliance with NGT's order.
NGT did not set it right by recommending monetary compensation for damage to the human health and restoration of human-environment so far. It has ended up committing a blunder by failing to distinguish case laws pertaining to strict and absolute liability as laid down in M.C. Mehta v. Union of India (1987) and the Principle of strict liability as established in Rylands v Fletcher (1868)[37] (NGT, 2018).

In such a context, in a significant development in a communication dated September 22, 2016, Google informed Ban Asbestos Network of India (BANI) that it has restored its Asbestos Free India website. This was in response to the message sent by BANI to Google team. The site was taken off public view following a complaint by Visakha Industries Ltd, the asbestos based company which has filed the SLAPP case masquerading as defamation case.

BANI is the oldest and only public interest initiative in India which has consistently and relentlessly pursued work for an asbestos free future. In its message to Google, BANI communicated that "the truth about the hazards from asbestos exposure in India ought to remain in public domain in the interest of present and future generations. Asbestos is banned in over 50 countries because it causes incurable lung-related diseases. In view of the same, the site may be approved for public view in public interest."

The sitehttp://www.asbestosfreeindia.org is available for public view since then.

Disregarding global practices wherein over 50 countries have banned all kinds of asbestos, India has taken an inconsistent position wherein it has technically banned mining of all kinds of asbestos but it continues to export and import asbestos from countries like Russia. This unscientific position is endangering the life and public health of present and future generations.

The author Gopal Krishna is LLB, PhD, is the editor of http://www.asbestosfreeindia.org and Convener, Ban Asbestos Network of India (BANI)
---
[1] Supreme Court of India, https://www.sci.gov.in/case-status, accessed on September 14, 2018
[2] (2003), Ban on Asbestos Mining, Press Information Bureau, Ministry of Mines, February 26, http://pibarchive.nic.in/archive/releases98/lyr2003/rfeb2003/26022003/r260220035.html accessed on 10 September, 2018
[3] Perappadan, Bindu Shajan (2004), `Asbestos exposure at any level is lethal', The Hindu, June 29,https://www.thehindu.com/2004/06/29/stories/2004062909920400.htm accessed on September 10, 2018
[4] Prevalence of Asbestosis and Related Disorders in a Asbestos Fiber Processing Unit in West Bengal, http://www.dgfasli.nic.in/newsletter/jan_march_96.pdf accessed on January 12, 2016
[5] Cooke, W. E. (1924), Fibrosis of the Lungs due to the Inhalation of Asbestos Dust, British Medical Journal, July 26; 2(3317): 140-2, 147-148, https://www.ncbi.nlm.nih.gov/pmc/articles/PMC2304688/pdf/brmedj05824-0015a.pdf, accessed on January 12, 2016
[6] Castleman, Barry (2000), In the company of asbestos, The Lancet, Vol 356, September 2, https://www.thelancet.com/action/showPdf?pii=S0140-6736%2800%2902668-4, accessed on September 26, 2018
[7] Management Board, http://visaka.biz/management.php, accessed on September 14, 2018
[8] Casado, Leticia (2017) Brazilian Supreme Court Bans Use of Asbestos in Brazil
November 30, Brasilia, https://www1.folha.uol.com.br/internacional/en/business/2017/11/1939473-brazilian-supreme-court-bans-use-of-asbestos-in-brazil.shtml accessed on September 26, 2018
[9] Allen, Laurie Kazan (2017), Brazil Bans Asbestos!, December 1, http://www.ibasecretariat.org/search_item.php?l0=8+37+400&l1=10+7+535&l2=16+118+160&l3=18+47+162&l4=21+77+131&l5=22+80+267&l6=25+70+217&f=lka-brazil-bans-asbestos.php, accessed on September 26, 2018
[10] Ibid, The Fall of the Asbestos Empire, http://www.ibasecretariat.org/search_item.php?l0=13+77+1988&f=lka-the-fall-of-the-asbestos-empire.php, accessed on September 26, 2018
[11] Moyna (2015), Odisha village wins case against Visaka Industries' asbestos plant
July 4, Down To Earth, https://www.downtoearth.org.in/news/odisha-village-wins-case-against-visaka-industries-asbestos-plant–38687 accessed on September 14, 2018
[12]Nair, Manoj R. (2018), Railways are phasing out asbestos, a suspected health hazard, Hindustan Times, April 23,https://www.hindustantimes.com/mumbai-news/railways-are-phasing-out-asbestos-a-suspected-health-hazard/story-3laDnefgU8P1VgPXMYdTEP.html accessed on September 15, 2018
[13] Gupta, Alok (2015), Protests at Bihar asbestos unit, Down To Earth, July 4, https://www.downtoearth.org.in/news/protests-at-bihar-asbestos-unit-42000, accessed on September 15, 2018
[14] Tewary, Amarnath (2011), Student protest halts asbestos factory in Bihar, India, BBC News, February 26,https://www.bbc.com/news/world-south-asia-12354285 accessed on September 15, 2018
[15] Proposals Approved by State Investment Promotion Board (SIPB), industries.bih.nic.in/News/NE-01-20-09-2011.pdf, accessed on September 11, 2018
[16] (2011), Resounding 'No!' to asbestos plant in Bihar, Indian Journal of Medical Ethics, Vol 8, No 2,http://www.issuesinmedicalethics.org/articles/resounding-no-to-asbestos-plant-in-bihar/?galley=html, accessed on September 15, 2018
[17] Vyas, Sharad (2018), New Rules to make asbestos free, The Hindu, https://www.thehindu.com/news/cities/mumbai/new-rules-to-make-state-free-of-asbestos/article23469360.ece, accessed on September 15, 2018
[18] Aklekar, Rajendra B.(2018), Mumbai: Railway Stations To Have Environment-Friendly Metal Roofs, Mid Day, April 16,https://www.mid-day.com/articles/mumbai-railway-stations-to-have-environment-friendly-metal-roofs/19324157, accessed on September 15, 2018
[19] Gupta, Rajeev (2017), personal communication with O.S.D. to Chief Minister, Government of NCT of Delhi, February 20
[20] Krishna, G. (2004), Say no to white asbestos, Business Standard, February 12 www.rediff.com/money/2004/feb/12guest2.htm accessed on January 14, 2018
[21] Krishna, G. (2004), The Plight of Asbestos Victims in India, World Asbestos Congress, Tokyo
[22] Trivedy, R.K. et al. Occupational Health : Indian Scenario, Journal of Industrial Pollution Control,http://www.icontrolpollution.com/articles/occupational-health–indian-scenario-.php?aid=45473 accessed on January 5, 2018
[23] (1998), Union Ministry of Environment & Forests (MoEF) informed the Parliament that "Crocidolite (Blue Asbestos) has been placed on the restricted list of imports by Ministry of Commerce, Directorate General of Foreign Trade in October, 1994. Further, import of waste asbestos (dust and fibre) has been prohibited by Gazette Notification dated October 13
[24] Krishna, G. (2006), French apex court rules, Clemenceau recalled, February 16, http://indiatogether.org/shipretn-environment, accessed on January 24, 2018
[25] Krishna, G. (2006), The scrapping of Riky, March 23, http://www.indiatogether.org/riky-environment, accessed on January 24, 2018
[26] Krishna, G. Setting a precedent for trafficking hazardous waste, October 5,http://www.indiatogether.org/bluelady-environment–3, accessed on January 24, 2018
[27] Division Bench of Supreme Court comprising of Justice Altamas Kabir and Justice J. Chelameshwar upheld UN's Basel Convention on the Control of Transboundary Movements of Hazardous Wastes and Their Disposal but allowed the end of life ex US Ship Exxon Valdez (MV Oriental N) at Alang beach, Bhavnagar, Gujarat. The implication of this direction would be that all the ships which are have entered or are entering the Indian territorial waters have to show compliance of Basel Convention. In case there is non compliance, all these ships should go back to country of origin. Exxon Valdez did not follow the Basel Convention and therefore according to the judgment dated July 6, 2012 it should have been sent back to the country of export. The Court ought to have applied Precautionary Principle not for the purpose of dismantling this asbestos laden end-of-life foreign ship but for sending it back because the principle implies that the pollution of hazardous nature has to be avoided particularly when its impact on environment and human health are not known.
[28] Ray, Kalyan (2009), Controversial ship has fake registration documents, Deccan Herald, November 9,
https://www.deccanherald.com/content/34973/controversial-ship-has-fake-registration.html, accessed on September 24, 2018
[29] (2006), Final Report of the Technical Experts Committee (TEC) on Management of Hazardous Wastes relating to Ship breaking presented in to the Supreme Court of India, August 30
[30] Wu WT, Lin YJ, Li CY, Tsai PJ, Yang CY, et al. (2015) Cancer Attributable to Asbestos Exposure in Shipbreaking Workers: A Matched-Cohort Study. PLOS ONE 10(7): e0133128. https://doi.org/10.1371/journal.pone.0133128
[31] Krishna, G. (2006), White asbestos: A ticking time bomb, InfoChange News & Features, http://infochangeindia.org/environment/features/white-asbestos-a-ticking-time-bomb.html accessed on January 12, 2016
[32] (2006), Asbestos: the iron grip of latency, International Labour Organiosation, January 10
[33] Krishna, G. (2008), A government under an asbestos roof, Indian Journal of Occupational and Environmental Medicine, Vol. 12, Issue 1, p. 43-44, http://www.ijoem.com/article.asp?issn=00195278;year=2008;volume=12;issue=1;spage=43;epage=44;aulast=Krishna accessed on January 6, 2016
[34] (2012), Order, S-25016/16/1993-ISH-II, Ministry of Labour and Employment (MOLE), Government of India, January 23
[35] (1995), Judgment of Supreme Court, Writ Petition (Civil) N. 206 of 1986, January 27
[36] Sehgal, Rashme (2011), Asbestos causing 30 deaths per day in India, Asian Age, Jan 21,http://archive.asianage.com/india/asbestos-causing-30-deaths-day-india-303, accessed on September 24, 2016
[37] (2018), Order of National Green Tribunal, Kalyan Singh v Hindustan Industries Limited, August 14