In the first part of the four part series Nidheesh J Villatt exposed the violence unleashed by the forest officials on traditional forest dwellers, especially Dalits. Here in the second part of the series , he takes a close look at the plight of Adivasis (predominantly Tharus) through the life of Jawahar, an assertive Tharu Adivasi. Jawahar alleges that Adivasis are criminalised to tame dissent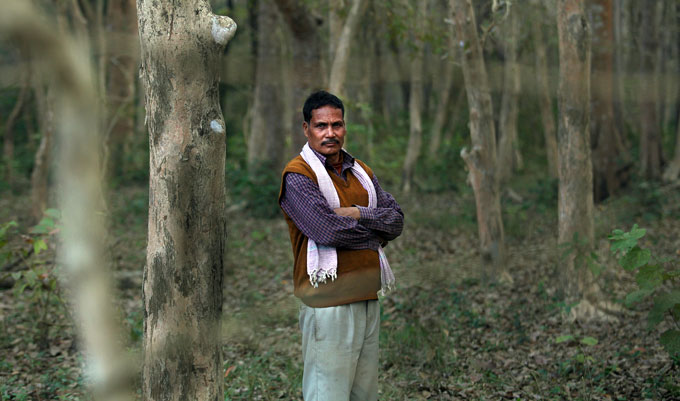 In the first of the four part investigative series on Dudhwa National Park, Nidheesh J Vilatt exposed the violence unleashed by the forest officials on traditional forest dwellers, especially Dalits. Here in the second part of the series , he takes a close look at the plight of Adivasis (predominantly Tharus) through the life of Jawahar, an assertive TharuAdivasi. Jawahar alleges that Adivasis are criminalised to tame the dissent. Named after first prime minister of the country Jawaharlal Nehru, Dudhwa's Jawahar is a living example to understand how his namesake's dream of constitutional democracy is being derailed in India's hinterlands.
As per forest records, Jawahar is a leading "forest criminal".
The lower castes are allegedly beaten up, 'ducked' in Suheli river and at times have petrol injected into their anus by forest officials. All for not paying Rs 500 per month as a bribe for allowing them to graze their cattle in the park. The torture is laced with caste abuses, with references to BSP supremo and former UP chief minister Mayawati.
Forest officials believe that a Dalit becoming chief minister had made the lower castes in the Dudhwa villages assertive. Infact, attempts by Mayawati to implement Forest Rights Act had enraged the forest bureaucracy.
Nidheesh's journalistic curiosity led him to spend some time with "criminal Jawahar" in the woods of Dudhwa to understand and 'track' his criminal activities. After several sessions, he is convinced that Jawahar's only "crime" is that he asserts his constitutional rights.
Editor
---
My visit to villages such as Suruma, Bhander Bharari, Kajaria and Suda inside Uttar Pradesh's Dudhwa National Park, on the Indo-Nepal border convinced me that politics of Forest Rights Act (FRA) is central to the conflict in this region.
While FRA was enacted to undo the "historical injustice"done to the traditional forest dwellers by democratising governance, forest bureaucracy saw it as an assault on their unbridled "privileges".
"FRA is misused by several elements. People engage in poaching and timber smuggling by misusing FRA," P.P. Singh, the then deputy director of the Dudhwa National Park told me over telephone.
This colonial myth—Adivasis are smugglers and poachers by default—forms the basic premise of the forest department. Most of the non-governmental organisations (NGO's) working in environment and eco-tourism sector also propagates this myth.
I was introduced to such a "criminal", a Tharu Adivasi called Jawahar in Suruma village. His life reflects the root of the conflict here.

Living on the edge|Photo: Vijay Pandey
​
Named after Jawaharlal Nehru, India's first prime minister, Jawahar is booked in a number of criminal cases.
"I don't know how many fake cases are charged against me. Forest department was trying to evict all of us illegally from our ancestral village. I became active in the mobilisation against eviction."
Tharu Adivasi elders in Jawahar's village—Suruma—were tricked into sign blank papers during the time of the Emergency (1975-'77) by the forest department to give up claim on their land. They were completely dependent on forests and this forced eviction was then described as political "nasbandhi" (sterilisation) in Adivasi folk songs.
Despite repeated attempts by the government machinery to evict them, Adivasis were staying in the village.
Adivasis recall that they were cheated by several lawyers who had initially appeared for them.
"We had to spend large sums of money to fight legal cases. Whatever little amount we could save from farming went to lawyers. We later understood that many of them were bought by the forest officers," a group of Adivasis told me in Jawahar's village.
Ramchandhar, former Sarpanch of Suruma village |Photo: Vijay Pandey
​
In 2001, this belt was witnessing massive protest and Jawahar was actively involved in it.
With his brilliant organisational skills and ability to express dissent through folk songs (some of them, dark satire on forest governance), Jawahar was becoming a "nuisance" to the jungle lords.
"I was warned several times not to talk loudly. They threatened to lock me up permanently in jail."
"I was going to Chandan Chowki market near Nepal border one day. I came across forest officials on the way. They were accompanied by some known poachers. The camaraderie between them was too obvious to miss. On seeing me, they blocked my way and warned me to abstain from the struggle to retain our land. On my refusal, they picked me up and took me to the farm house of Billy Arjan Singh—the hunter turned conservationist. Arjan Singh had encroached common land and we were resisting it."
Hailing from a princely feudal family, Billy Arjan Singh (1917-2010) is said to have shot his first leopard at the age of 12 and a tiger at the age of 14.
Typical of his class, Singh was very fond of "manly sport of wild life massacres" in his youth. After years of hunting down wild animals, Billy turned conservationist.
"I was a bloodthirsty, a murderous urchin who shot anything that moved… I finally stopped shooting in 1960 when I was overcome with remorse for ending the life of a beautiful leopard in the headlights of my jeep", Billy had told Sanctuary Asia, a wildlife magazine about his past life.
He is credited to have played a central role in convincing then prime minister Indira Gandhi to establish a National Park in Dudhwa.
Dudhwa was declared a tiger reserve in 1987.
Internationally recognised for initiating several wildlife conservation experiments, he was decorated with national and international honours. This includes
Padma Shri, WWF Gold Medal Winner, member of IUCN's Cat Specialist Group, Paul Getty Wildlife Conservation Award (
often considered as the Nobel prize for Conservation).
He was also the honorary wildlife warden of Dudhwa.
His love for animals is legendary. But Adivasis say there are dark shades in his relationship with them and traditional forest dwellers.
Testimonies of several Adivasis claim that Singh was very harsh to them. They say that he was not sensitive enough to acknowledge their role in protecting the natural ecosystem in Dudhwa and always considered them as criminals.
This fact is recorded by Duff Hart Davis, an acclaimed British naturalist and journalist in his obituary about Billy in
Independent
.
"Another time, in my company, when he found two men stealing firewood, he flattened them, right and left, with swingeing blows that sent them spinning to the jungle floor."

"They tortured me by hanging me upside down. I was also brutally beaten up. Hot and cold water were poured on my face in frequent intervals," Jawahar said. "Billy Arjan Singh was partying with his foreign guests. In between he came to witness my torture and he directed the forest officers to kill me and throw me away in deep forests. I was charged with tiger poaching then. Then followed a slew of fake cases."
---
---
When I asked Jawahar whether he knew his famous namesake, he smiled and said "some officials made fun of my name during torture".
Interestingly, Adivasis in Bandar Bharai village narrated another incident which corroborated Jawahar's allegations against Billy.
Ramchandhar Rana, the Tharu Adivasi chieftain of this belt says that in 2002, Billy and senior forest officers came to their village and told them that department is planning to introduce crocodiles in the Mohana river, which forms the boundary between India and Nepal.

Ramchandhar Rana, the
Tharu
Adivasi chieftain of Dudhwa |Photo: Vijay Pandey
​
"Billy said they were going to introduce crocodiles in the river to prevent smuggling. But we came to know that it was a shrewd move to prevent fishing. He was very vindictive."
After the enactment of FRA, Jawahar was trapped again in 2013.
"On a morning, some forest officials came and told me that there is a possibility of good catch of fish in a pond. They said, after FRA, you have legal rights. I went with friends. Then a special team of forest officials came and arrested me. In the case diary it was stated that I had caught tortoise. The sad part is that forest officials often kill wild animals to fabricate evidence against us."
I came across several Adivasis who were criminalised similarly.
In some instances, even dead people were framed in wildlife cases. Women and children were also targeted.

​Tharu Adivasi children in a school in Suruma. Ramchander says Forest Department is against the functioning of the school |Photo: Vijay Pandey
​
In a village called Kanmp Tanda, women narrated how forest officers unleash more violence during festival seasons.
"They need money to celebrate festivals. So they conduct surprise raids. We eat a lot of pork. So they seize this pork ( bought from the market) and accuse us of hunting wild pigs. If we challenge them, they would fabricate evidence and we would land in jail. We are forced to take loans from moneylenders to settle the case. Interestingly, most of these moneylenders are poachers who share good relations with the department. One settlement cost varies from Rs 10,000 to Rs 20,000."
Nidheesh J Villatt
Nidheesh J Villatt reports on political economy, rural affairs and human rights. He tweets @NidheeshJV