The letter had been written to the PM asking him to intervene in the lynching of Muslims and minorities
An FIR was lodged in Muzaffarpur (Bihar) on Thursday, against nearly 50 celebrities, including AparnaSen, RamachandraGuha and Mani Ratnam among others, who had written an open letter to Prime Minister NarendraModi raising concerns over the surging incidents of mob lynching against Muslims and minorities.
The petition against the celebrities' letter was filed by local advocate Sudhir Kumar Ojha two months ago. The case was lodged after an order was passed by Chief Justice Magistrate Surya Kant Tiwari.
Sudhir Kumar Ojha accused the celebrities of "tarnishing the image of the country and undermining the impressive performance of the Prime Minister" while also "supporting secessionist tendencies".
The FIR was lodged under sections relating to sedition, public nuisance, hurting religious feelings and insulting with an intent to provoke breach of peace of the Indian Penal Code.
The letter dated July 23, had demanded "exemplary punishment" for perpetrators of such incidents. It has also noted that 'Jai Shri Ram' had been reduced to a 'provocative war cry'.
Activist SaketGokhale, a vocal critic of the Modi government has raised objections about the FIR filed against the celebrities. He intends to approach the Supreme Court against the invoking of sedition charges in this matter, especially when the SC has clearly stated that the criticism of the government is NOT sedition.
Speaking about the incident Rahul Gandhi said that the FIR against the celebrities shows that it is no secret that India is moving towards an authoritarian state. He says that anybody who raises questions against the PM or his government is either silenced, jailed or attacked under this authoritarian regime where even the media is crushed for portraying the truth.
Spike in Hate Crimes
On June 22, viral video of a Muslim man, tied up, bleeding profusely and being lynched by a mob and being forced to chant 'Jai Shri Ram' circulated on social media. He was Tabrez Ansari, who died because of his injuries. He was the 1st victim of a hate crime in Modi's 2nd term as Prime Minister.
Two days later after the attack on Ansari, a Muslim teacher was thrown out of the train in West Bengal. He managed to escape death.
In Mumbai, in the same week, Faizal Usman, a cab driver was beaten by eight men. When he begged for mercy, the mob asked him to chant 'Jai Shri Ram'.
In the five years of Modi's first term in power, hate crimes against Muslims soared, with 90% of hate crimes in the past decade occurring in his term.
Between 2016 and 2019, the National Human Rights Commission registered 2,008 cases where minorities / Dalits were harassed, including cases of lynchings. Of these, UP alone accounted for 869 cases.
In regards to Dalits, the number of harassment cases registered by NHRC in UP saw an increase of nearly 41 percent.
Last year alone, Amnesty International tracked 218 hate crimes, 142 of which were against Dalits, 50 against Muslims, 40 against women and eight each against Christians, Adivasis and transgenders. The more common hate crimes were 'honor killings' and 'cow-related violence'.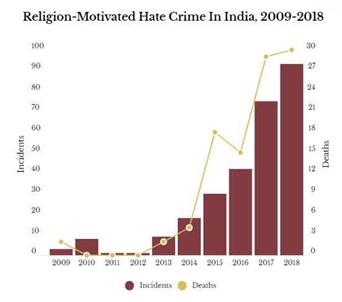 A Hindi Belt Phenomenon
What can be deduced from the NHRC data is that the hate crimes against the minorities and Dalits in India is mainly concentrated in a few Hindi-speaking states.
UP, Rajasthan, Bihar, Haryana and Madhya Pradesh (states that cover much of the 'cow belt') account for 64 percent of the cases.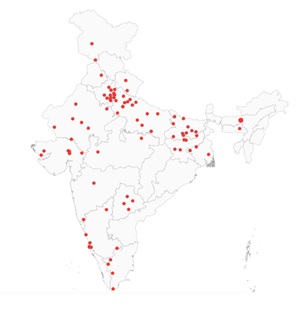 The first step to ensuring justice and ending impunity for hate crimes is to highlight their occurrence. There are a number of sections in the Indian Penal Code that can be used to punish or prevent hate crimes, but few policemen are aware of them.
It is important for the police to take steps to unmask any potentially discriminatory motive in a crime and recognize these as specific offences.

Court Directives
In 2018, the Supreme Court directed Central and State governments to make it widely known that lynching and mob violence would 'invite serious consequence under the law'. Then Home Minister RajnathSIngh formed a panel to suggest measures to tackle mob violence. Yet, no information about the panel's working are public, and the hate crimes have not diminished yet.
In a May 2019 report, Human Rights Watch India pointed out that only some States had complied with the Supreme Court's orders to designate a senior police officer in every district to prevent incidents of mob violence and ensure that the police take prompt action, including safety for witnesses; set up fast-track courts in such cases; and take action against policemen or officials who failed to comply.
It is a shame that with political hate speech adding to the mire of hate crimes, along with police bias, the national bar against hate crime has been lowered.
Why the FIR against the letter of celebrities in presence of evidence of hate crimes comes as a huge question.
Yet, while the authorities sit mum, you can help eliminate hate crimes. Download the HATE HATAO App by Citizens for Justice and Peace (CJP) to fight and report hate crimes in India. https://play.google.com/store/apps/details?id=com.hatehatao.hatehatao
Related
Jharkhand, Mob Lynching and Marginalization of Adivasis
Lynching: India's Shame!
#IndiaAgainstLynchTerror and #JusticeForTabrez Protests rock the Country