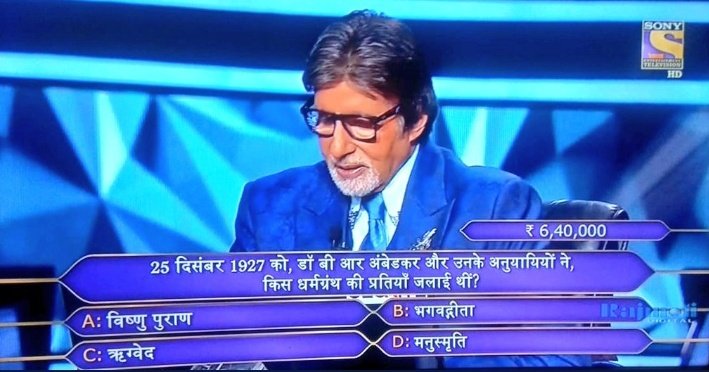 Makers of television game show Kaun Banega Crorepati (KBC) and its host Amitabh Bachchan were charged with an FIR in Lucknow for allegedly "hurting Hindu sentiments" during Friday's Karamveer special episode.
For a prize money of Rs. 6,40,000, special guests actor Anup Soni and social activist Bezwada Wilson had to answer the question, "On 25 December 1927, Dr BR Ambedkar and his followers burned copies of which scripture?"
The answer was "Manusmriti" which guests unsurprisingly selected correctly.
Following the answer, Bachchan also elaborated on the historical incident by saying, "In 1927, Dr. BR Ambedkar condemned the ancient Hindu text Manusmriti to ideologically justify caste discrimination and untouchability and he also burned copies of it."
Manusmriti is an ancient Hindu scripture that supports the caste system. Dalits and other socially backward communities have been most vocal in denouncing the scripture. Moreover, the burning of the scripture in 1927 is a well-known fact – such that is typically used to frame questions for the infotainment show.
Yet, many people on social media lashed out at the show and the host for indulging in a "culture war." The incident has started off two hashtags on Twitter "BoycottKBC" and "SupportKBC."
KBC has been hijacked by Commies. Innocent kids, learn this is how cultural wars are win. It's called coding. pic.twitter.com/uR1dUeUAvH

— Vivek Ranjan Agnihotri (@vivekagnihotri) October 31, 2020
Msg for Mahanayak @SrBachchan #KBC pic.twitter.com/FG6TkqoAQv

— #AllLivesMatter (@ExSecular) November 3, 2020
Manusmriti is the beacon of discrimination and Dalits continue to be harassed. Thank you KBC for bringing awareness to this issue!#supportKBC not #boycottKBC. Please read before commenting. https://t.co/rk1KYphb2E

— Divya Pall (@divyapall) November 2, 2020
Both the show makers and Bachchan have refrained from commenting on the incident. However, KBC has not faced such a predicament for the first time. In 2019, netizens had criticised the show for referring to Chhatrapati Shivaji as simply "Shivaji" in a question regarding contemporaries of Mughal emperor Aurangzeb in the 17th century. Sony TV channel eventually apologised, stating that the channel regretted the "inadvertent" mistake.
Related:
ISKCON's sanitised version of the caste system does not foster progress of the lower castes
Do Dalit lives matter in India?: Reflecting on condition of Dalits and apathy
Religion, Caste Politics In The Face Of Widespread Distress In Awadh