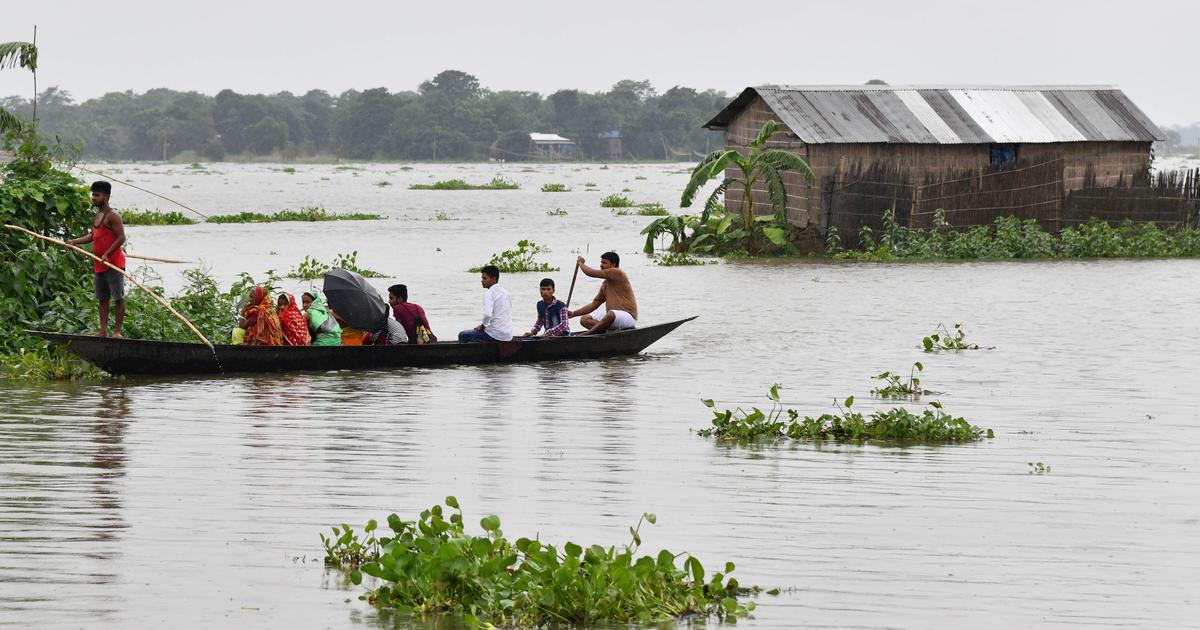 In March this year, SabrangIndia had reported that the next steps in the processes related to the National Register of Citizens (NRC) could not be taken on account of the outbreak of the Covid-19 pandemic. Now it appears that the flood situation in the state is going to delay the process even more.
The national lockdown had impacted the already delayed process of issuing rejection slips to those whose names had been left out of the final NRC published on August 31, 2019. These rejection slips bear the reason for rejection of application for inclusion of name in the NRC and are based on speaking orders from hearings that were conducted as a part of the Claims and Objections process. People had been awaiting these slips in order to move forward with the process of defending their citizenship before Foreigners' Tribunals which was the next step for them. Initially the plan had been to start issuing these slips from March 20, 2020.
But the pandemic threw all plans out of gear. At that time NRC State Coordinator Hitesh Dev Sarma had told SabrangIndia, "No, we will not be able to issue rejection slips from March 20. This is because of the systems put in place due to the corona virus outbreak."
Shortly afterwards, a national lockdown was announced and though it is being lifted in a staggered manner, several hotspots of infection still remain across the country where a complete lockdown is still in place. But Assam has suffered a double whammy with heavy rains and floods having affected 31 out of the state's districts. As many as 2,800 villages have been inundated, impacting the lives of over 25 lakh people. Over 40,000 families are now living in government shelters.
Thus, when Prantajyoti, a Bengali language newspaper cited sources saying that the process could begin in September, the authorities were quick to shoot it down. Sarma himself told the publication that all administrative resources were committed to flood relief and combating the coronavirus. He added that NRC related work had been put on hold.
It is also noteworthy that the work related to issuing of rejection slips may be far from complete. In June this year SabrangIndia had reported that the Reason for Exclusion from the NRC is not available for all those who were excluded from the final NRC. Sources in the NRC authority on condition of anonymity told SabrangIndia that the Reason for Exclusion based on which the Rejection Slip is prepared is available for only 3 lakh people!
According to official figures, approximately 4 lakh people never applied for having their names included in the NRC. When the final NRC was published over 19 lakh people were excluded. Now, assuming 4 lakh of these are the original 4 lakh people who didn't apply for inclusion after the draft NRC was released, that still leaves over 15 lakh people who needed to be given a reason for their exclusion. But if the reason is available for only 3 lakh people, over 12 lakh people may never find out why they were excluded!
This reason for exclusion was given in Speaking Orders by NRC Disposing Officers that in turn needed to be scanned into Rejection Slips. These Rejection Slips or Rejection Orders were required by the people who were excluded from the NRC to file appeals for inclusion before Foreigners' Tribunals. They were required to do so within 120 days from the day the NRC authority issued these orders. However, this process was time consuming and, as SabrangIndia has been reporting for the several months, fraught with inexplicable delays.
Related:
BREAKING: NRC related activity put on hold in Assam due to Corona Virus
Anxiety in Assam: Hurdles in releasing detention camp inmates, delays in NRC rejection slips
NRC process to remain on hold in Assam due to Covid-19 lockdown
Reason for Exclusion from NRC only available for 3 lakh people in Assam?