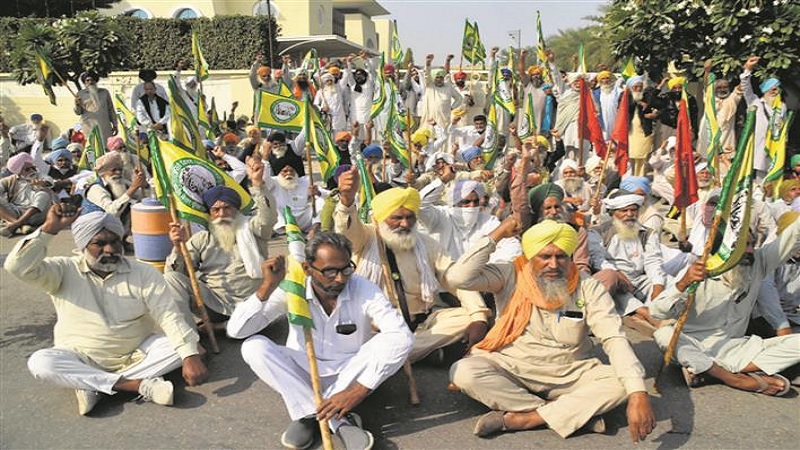 Image Courtesy:tribuneindia.com
Vacating protest sites in Delhi borders, Punjab farmers and workers refocus their attention to state-specific demands. On December 12, 2021 seven trains were blocked by the state peasantry demanding the government follow through on its promise to give land to the homeless, waive loans and restore electricity meters in defaulters' houses among other demands, said the Indian Express.
According to the report, rural farm labourers halted trains running across Bathinda, Barnala, Sangrur Ludhiana, Faridkot, Jalandhar, Amritsar and Kapurthala for four hours on Sunday afternoon.
Hundreds of farm labourers raised slogans against the Punjab government for faltering on its promise from November 23. Back then Chief Minister Charanjit Singh Channi announced that he would implement union demands. However, when the official failed to come through on this declaration, the State Khet Mazdoor Union demanded action on the same by December 15.
According to the Times of India, the protest that was supported by the Bharatiya Kisan Union – Ugrahan (BKU-Ugrahan) accused the Channni-led government of trying to protect big land holders. The government had promised to punish those who were identified as owning more land than legally sanctioned.
However, far from providing five marlas (1 marla= 25.29 sq mts) of land to the homeless, loans of Rs. 50,000 under a 25 percent labour quota in agriculture cooperatives, the government had failed to waive off loans, restore electricity connections and provide subsidised food items as well.
What are the union demands?
Labour unions earlier voiced the following demands to the government:
Provision of 5 marla plot with a grant of Rs. 5 lakh to build a house

Year-long employment for MGNREGA workers

Increase wages to Rs. 600

Pension for the elderly and widows to be set as Rs. 5,000

Loan waiver for poor labourers and farmers

New loan law levying low interest for the needy

Prevention of dummy auctions of panchayati land meant for agriculture purposes

Subsidised kitchenware, food and cooking gas for the needy along with free electricity, water, education and health for the community
According to farmer leaders, the apathetic behaviour of Channi shows the conditions for the peasantry have not changed under the new government.
Related:
Farewells, tears, hugs and promises to stay in touch, farmers head homewards
9 months of historic struggle, Punjab sugarcane farmers win demands
Punjab: Contract employees to march to Vidhan Sabha demanding regularisation