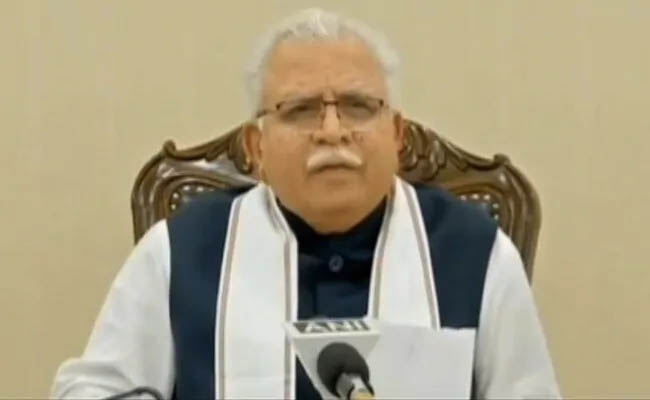 Haryana farmers organisations were proven right when Chief Minister Manohar Lal Khattar's government restricted crop procurement to state farmers alone.
In a video statement on September 17, Haryana Chief Minister Manohar Lal Khattar refused to procure crops from other states including Punjab and Rajasthan while simultaneously praising the Centre's new agrarian policies.
"We have strictly decided this time not to procure corn or bajra from other states because their loss is covered by us, hurting the interests of Haryana farmers. We will ensure that Haryana farmers sell all their produce but we will not look into the benefit of farmers from other regions. We have to look into the interest of our state's farmers, not of other states," said Khattar.
This decision of the BJP-state government stands at odds with the Centre's assurances of free-trade across borders. Soon after Khattar's decision, the Haryana government stopped about 50 farmers who were travelling from Uttar Pradesh at the border. All of this while President Ram Nath Kovind signed the three Bills on September 27.
According to All India Kisan Sabha's (AIKS) Haryana Acting Secretary Sumit Singh, the Chief Minister's decision shows that the farmers have been right all along in their fears of the new agricultural laws.
He said that under the three amendments, the Centre had assured farmers that they would be free to sell their produce wherever they wanted. However, the Haryana's government's decision has shown the truth behind the three laws as well as the Centre's assurances.
"The farmer is not free," said Singh, adding that farmers continue to protest against the anti-farmer laws in some districts. The protests he referred to were against the three agriculture Bills that had caused unrest across the country for the past week or so.
Moreover, parts of the law have added to the farmers' troubles with restrictions like online registration, gate-passes for online transactions. To add insult to injury, Singh said that farmers from Rohtak cannot access the 'Meri Fasal, Mera Byora' portal meant to help farmers register their names for crop procurement at the market.
When asked about the impact of the state government's decision, Singh said the governments at both levels were essentially backing away from their responsibility and pitting farmers against each other.
"Food grains belong to this land, be it from any state. This decision of the CM will create a confusion among farmers that those from other states are causing trouble," he said.
He also pointed out that a farmer does not enjoy travelling miles to sell their produce. State governments such as Punjab do not charge at MSP which is why farmers are forced to travel to the neighbouring state.
For this very reason, Singh suggested that they should strengthen proper market systems at the local level since it is the farmer who suffers due to changing policy decisions.
Similarly, Bharatiya Kisan Union's (BKU) State President Ratan Mann said the Chief Minister has opposed his own government by stalling farmers at the state border.
"The Centre claimed farmers would be able to sell their produce anywhere. However, the Haryana CM has shown us otherwise. This means that our demand [farmers'] demand is correct," he said.
He also disagreed with the Chief Minister's claim that farmers from other states create a problem for Haryana farmers.
"It is not as if all the farmers from Punjab come to Haryana to sell their produce. Farmers should be allowed to sell their produce anywhere they want," he said.
Mann also pointed out that Haryana has a good market system which is why farmers from other states are encouraged to go there.
Thus, instead of such decisions, he argued that farmers should be helped to make timely sales of their produce at proper MSP. He also argued that Haryana farmers also sold some of their crops in Uttar Pradesh, so such restrictive measures that harass farmers should not be implemented.
Related:
Crop procurement advanced by two days
Congress MP moves Supreme Court challenging the Anti-Farmer Laws
Farm Bills are an attempt to snatch away the right to food: Sujan Chakraborty
Amendments to agricultural laws, dangerous for farmers: National Unions