A tribute on the legendary martyr's birth anniversary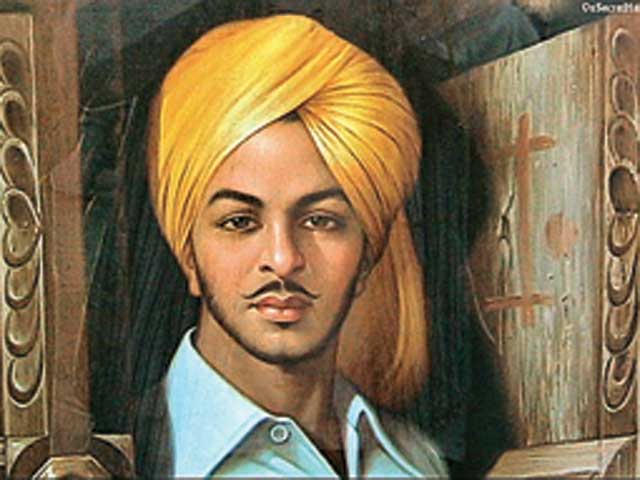 First published on: 28 Sep 2016
"The communists' ideologues conveniently ignore the truth that the roots of Bhagat Singh's ideology lie in the very concept of Hindu Rashtra," claimed an article by Dipin Damodharan, published on the birth anniversary of Bhagat Singh, September 28, 2010.
Damodharan, as introduced at the end of the article, is a student pursuing Masters in Communication and Journalism (MCJ) at the Calicut University of Kerala. He argues: "To my knowledge, he sacrificed his precious life for a noble cause, for the liberation of Bharat from the invaders, for nationalism. Undoubtedly Bhagat's legacy belongs to every Bharati. But for the communists (experts in transforming sheep to dog), he died for communism and not for nationalism. They are incessantly advocating Bhagat as their poster boy, for several years they have been using Goebbelsian tricks to claim Bhagat's legacy."
The author further argues, "They are injecting fake stories about Bhagat into the blood of youth who are ignorant about Bharat's history. Discarding the historical facts, the communists become angry with the Sangh inspired organizations for propagating Bhagat's ideals".
To justify his claims, the author cites examples like Bhagat Singh was born in a family who were staunch followers of the Arya Samaj, was educated at Dayanad Anglo Vedic (DAV) School and National College of Lahore, was inspired by the sagas of two great patriots Chatrapati Shivaji and Maharana Pratap and finally, they link at his association with the Rashtriya Swayamsevak Sangh (RSS). Of course, without any reference! To any of us who has read Bhagat's writings, it is nothing but absurd or, if we go by Damodharan's own definition — it is an attempt to transform sheep in to a dog.
Bhagat Singh himself, in his most famous writing, 'Why I Am An Atheist' clarifies the above absurdities.
Bhagat Singh wrote, "I deny the very existence of that Almighty Supreme being… My grandfather under whose influence I was brought up as an orthodox Arya Samajist. An Arya Samajist is anything but an atheist. After finishing my primary education I joined the DAV. School of Lahore and stayed in its Boarding House for one full year… Later on, I joined the revolutionary party… My previous faith and convictions underwent a remarkable modification… I had become a pronounced atheist."
Dismissing Dipin Damodharan's remarks as absurd and ignoring them is not what we should do, as these attempts are not abrupt. They are pre-planned and occupy various forms of mass communication. Communal forces are not letting go of any chance to misuse these heroes for furthering their communal agendas.
Last year (2010), a month before the Ayodhya verdict, the 'Bhagwa Brigade' (saffron brigade) gave a public call to recruit 10,000 Hindu youth from Madhya Pradesh (MP) for the mission to establish a Hindu Rasthra.
To do so, they issued a poster and pasted copies of it all over the state of Madhya Pradesh. Notably in the poster, with Sawarkar, Shivaji and others, one finds pictures of Bhagat Singh, Baba Saheb Ambedkar and Subhas Chandra Bose, being portrayed as Hindu revolutionaries! One might not have any objection in portraying Shivaji, Maharana Pratap, Jhansi ki Rani and Chandra Sekhar Azad as Hindu icons, but portrayal of Bhagat Singh, Baba Saheb Ambedkar and Subhas Chandra Bose in the same vein is really objectionable and very disturbing, because of their known commitment to secularism and for being non communal.
Like Bhagat Singh, it was very clear to Subhas Chandra Bose of who he was and what he wanted. In 1929, while delivering a speech at Lahore Students' Conference, Lahore, he famously said, If we are to bring about a revolution of ideas, we have first to hold up before us, an ideal which will galvanise our whole life. That ideal is Freedom. But freedom is a word which has a varied connotation and even in our country, the conception of freedom has undergone a process of evolution. By freedom I mean all-round freedom i.e., freedom for the individual as well as for society, freedom for man as well as for woman, freedom for the rich as well as for the poor, freedom for all individuals and for all classes. This freedom implies not only emancipation from political bondage but also equal distribution of wealth, abolition of caste barriers and social iniquities and destruction of communalism and religious intolerance. This is an ideal which may appear Utopian to hard-headed men and women — but this ideal alone can appease the hunger of the soul."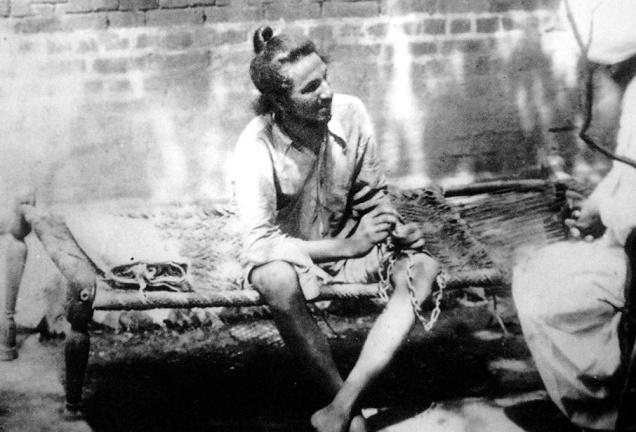 An archive photograph of Bhagat Singh in jail in Lahore. Image: The Hindu
Ambedkar converted to Buddhism in protest of the jati-varna system of Hinduism, and was very clear about what he stood for. He repeatedly opposed the system of Hinduism let alone the ideology of Hindutva. He had asked his followers to stop the Hindu Rashtra from becoming a reality at all costs.
But again, Hindu communal political parties like the Bhartiya Janta Party (BJP), spread deliberate confusion about him by misquoting him and depicting him as 'their' leader. Last year (2010), on the eve of 6th December (anniversary of Babri Masjid demolition), on the walls on Jamia Nagar, a new kind of poster was seen.
The poster was put up by Bhartiya Janta Yuva Morcha (BJYM), the youth wing of BJP, and read thus, 'Yugh Purush Baba Saheb Ambedker ke nirvana divas par Dr. Bheem Rao Ambeker Cricket Tournament-10', with a relatively larger picture of Baba Saheb (as compared to) other leaders of BJYM, who were shown promoting the event.
The event which was scheduled to take place in Malviya Nagar had absolutely no connection with Jamia Nagar, except that both finish on the same last name! While seeing the poster, one wonders what it has to do with Jamia Nagar. At the same time, the same or any other poster about the event was not seen in neighbouring Jullena or Sukhdev Vihar, which have a dominant non-Muslim population, let alone other areas of Delhi. But of course, it was put up for diverting the attention of the Muslims from the anniversary of demolition of Babri Masjid. Moreover, to my understanding, it was meant to convey a message to the ordinary resident of Jamia nagar (read Muslim) that either, Ambedkar was a leader of the BJP, or at least somebody who sympathised with its ideology and those of its allies, which is absolutely wrong and ridiculous, to say the least.
Hindutva-waadis are hell bent on distorting facts and influencing the common sense through the medium of mass communication.
On the eve of Valentine's Day, these forces spread a rumor that on February 14, 1931, Bhagat Singh, Rajguru & Sukhdev were hanged till death by British government and we celebrate this day as Valentine day! Isn't it surprising & painful? I am told by a journalist friend of mine from south India that, this is the standard question you have to counter if you say what is wrong with celebrating Valentine's Day! This, when it is a well-established historical fact that Bhagat Singh, along with Sukhdev and Rajguru were martyred on March 23, 1931 and not on February 14.
The zealots don't stop there. They have even tried spreading misinformation through Wikipedia, the preferable web dictionary for the net savvy, to know who is who and what is what.
According to a news report that had appeared in The Hindu, 'the Wikipedia page on Bhagat Singh underwent many editing changes on February 13 and 14, Valentine's day '. The date of Bhagat Singh's hanging had been changed from March 23 to February 14, 1931. And it was due to such propaganda that an international news website, reported, "While the whole world observes 14th February as Valentine's Day, not many Indians remember that the day was also when the Indian freedom fighters Bhagat Singh, Sukhdev and Rajguru were hanged to death by the Britishers in Lahore, Pakistan". Similarly, this February 13, (2011) Twitter was on fire with talk of the February 14 as Bhagat Singh's martyrdom day next day, and even the editor of a Hindi news channel mourned that everyone was looking forward only to Valentine's Day. He was shamed into apologising the next day.
We will have many days every year to remember Bhagat Singh, Sukhdev, Rajguru, Ashfaqullah Khan, Baba Saheb Ambedkar, Subhas Chandra Bose and others, on their martyrdom, death, and birth anniversaries. This puts greater responsibility on us—the responsibility of not believing in distorted facts, but to keep alive the belief of what these revolutionaries had lived and died for.
In order to pay our real tribute to the makers of modern India, we should counter the propaganda of communal forces at various levels. The choice is ours, whether we want to contest such vandalism or let it go uncontested until such time as the common masses have no option but to believe, A for Ambedkar – A for Advani, B for Bhagat Singh, B for Bhagwa, S for Subhas Chandra Bose, S for Savarkar…
Are we ready for that?
(Mahtab Alam is an activist and writer. He tweets @MahtabNama . This article was first published in Kafila.org on March 23, 2011)