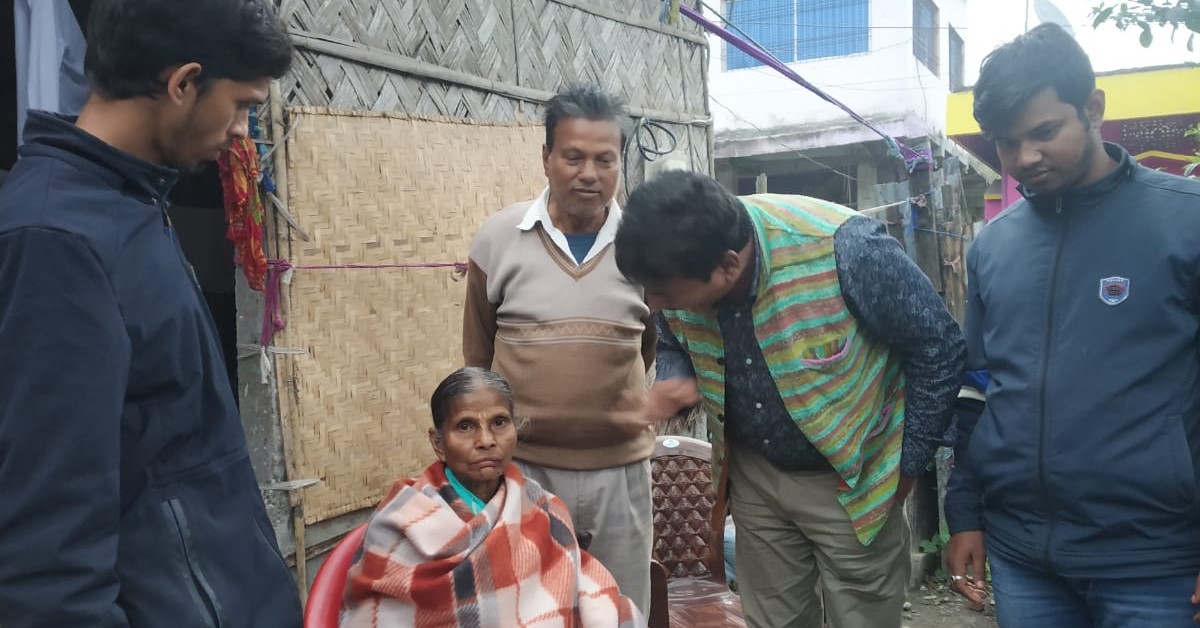 In March this year, we had brought to you the story of Seje Bala Ghosh, the daughter of a freedom fighter, who was served a notice to appear before a Foreigners' Tribunal (FT) in Assam despite her name appearing in the final National Register of Citizens (NRC). CJP had taken up her case, but now Seje Bala faces new challenges.
The 70-year old resident of North Bongaigaon (Ward 10) was recently asked to appear for hearing at an FT in September. One of her sons has died, and the other has not been able to find any work due to the lockdown. The family is surviving due to the kindness of neighbours.
When we had met her in March, Seje Bala was earning a living working as a maid, but now her health has deteriorated significantly. When she learnt about the possibility of an FT hearing in September, she fainted and fell to the ground breaking an arm!
"I cannot eat because of the tension. I cannot sleep. I had to take sleeping pills," she told CJP in early September. The hearing was postponed due to the Covid-19 lockdown, but is now likely to be scheduled this month. Seje Bala wonders how she will be able to travel all the way to the FT in her condition.
CJP is now gearing up to help Seje Bala with her case. State in-charge of CJP Assam Nanda Ghosh, paralegal team member Papiya Das and Community Volunteer of Bongaigaon District Amrit Das met with Sejebala Ghosh at her home in Bongaigaon to discuss her situation and reassure her.
Brief background of Seje Bala's case
Seje Bala's father Lt. Digendra Chandra Ghosh, was connected closely with prominent revolutionary and freedom fighter Chandra Sekhar Azad. Ideally, with such an illustrious legacy, she should be able to walk with her head held high, but today Ghosh feels ashamed at being forced to prove her citizenship before the FT.
It is noteworthy that her father Digendra moved from Sherpur town of erstwhile Maymonshing district of what was then called East Pakistan. As per refugee registration certificate of March 7, 1951, Digendra Chandra Ghosh, son of Padma, is registered as refugee along with his four other family members. The refugee certificate bears the seal and is signed by Deputy Commissioner of the then Goalpara District of Assam. The family registered as refugees and took shelter in Bongaigaon.
Their names were included in 1951 NRC in Bongaigaon. The names included in 1951 NRC of her family were father of Seje Bala Ghosh, Digendra Chandra Ghosh her elder brother Dhiren Ghosh a.k.a Manik Ghosh, her elder sisters Manada a.k.a Usharani Ghosh and Sudharani Ghosh.
It may be mention that the name of her mother Barada Bala Ghosh was not included in 1951 NRC as she went to her father's house due to her pregnancy.
Few days later Seje Bala Ghosh was born at her maternal grandfather's house in Bilashipara of Goalpara District, according to Sudharani Ghosh and Usharani Ghosh who are still living. It may be mentioned after staying few days in refugee camp at Bongaigaon, the family shifted to Darrang District. Digendra Chandra Ghosh as well as his four other sons and daughters had received passport in the year 1960. The address of Digendra Chandra Ghosh in his passport was recorded as resident of village Balagora, PS- Mangaldoi in the District of undivided Darrang.
As per Seje Bala Ghosh and her younger brother Haribhakta Ghosh, their father died in 1961 in that village. The name Barada Bala Ghosh, wife of Digendra Chandra Ghosh and Manik Ghosh son of late Digendra Chandra Ghosh were included in 1966 voter list in the same address from where the passport of Digendra Chandra Ghosh was issued. The two persons who were included in 1966 voter list are mother and elder brother of Seje Bala Ghosh respectively.
Here are some of Seje Bala's documents, including the receipt of a war-time donation made by her family to the Indian Army:
NRC ACCEPTANCE PROOF
Related:
CJP steps in to defend citizenship of freedom fighter's daughter in Assam