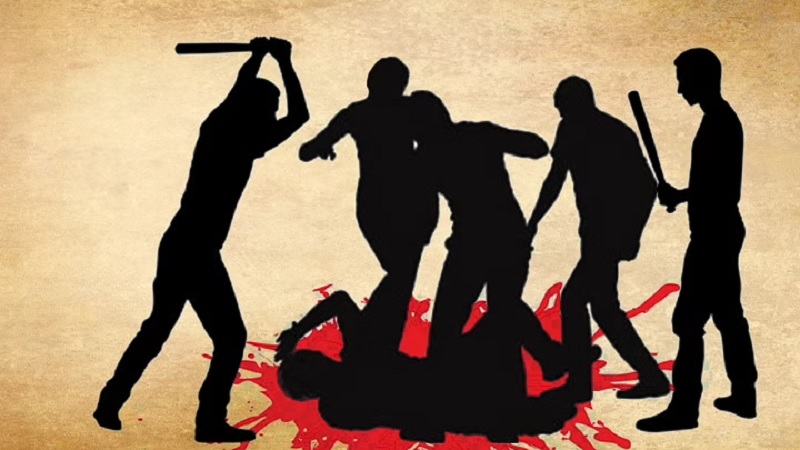 Image Courtesy:nationalheraldindia.com
A journalist, working for a Hindi daily, and his wife were brutally beaten to death in Barwadih village in Sonbhadra district, reported The Tribune. According to the police an enmity with a former village head is the likely reason behind the crime. The victim has been identified as Uday Paswan and is reported to have died on the spot while his wife, Sheetla, succumbed to injuries at a hospital in Varanasi on Tuesday.
According to the news report Uday and his wife Sheetla, had been demanding security in view of the threat, and had gone to the Kone police station on Monday morning to pursue their demand. But late on Monday evening, when the couple was returning home on a motorcycle, they were attacked with sticks and rods. They cried out for help but no one came forward. Uday died on the spot and Sheetla was admitted with serious injuries and succumbed on Tuesday evening stated the news report.
As it came to light that the journalist had approached the Kone police for security in view of threat to him and his family but no action was taken, three police personnel have now been suspended for dereliction of duty. "Inspector Kone police station, a sub-inspector and a constable have been suspended in this connection. Five of six accused persons have also been arrested while the main accused, Keval Paswan, who is also a former village head, is absconding," Superintendent of Police Sonbhadra, Ashish Srivastava, told the media on Wednesday.
According to Srivastava, based on a complaint filed by Uday's son Vinay Paswan, an FIR against a former village head Keval Paswan, his wife Kaushalya, sons Jitendra, Gabbar, Sikandar and his representative Ekhlaq Alam has been lodged under sections 147, 148 and 302 of IPC. Except Keval, all other accused have been arrested while raids are continuing to nab the main accused, the police told the media. Uday's son had told police that his father was also a farmer and worked as a correspondent with a Lucknow-based Hindi daily. He had reportedly had a land dispute with Keval, and cases had been lodged against both the groups in 2016, 2018 and this year too. "My father had also given a complaint in Chief Minister's Janata Darbar in Lucknow. Despite directives issued from the Chief Minister's Office, the Sonbhadra police did not pay any attention, " Vinay added
While investigations are still on in that case, another journalist was attacked in Uttar Pradesh, allegedly because he was reporting on Irregularities in Mahatma Gandhi National Rural Employment Guarantee Act (MNREGA) projects. According to a report in Newsclick the journalist Vinay Tiwari, a resident of Dhaurra village, has claimed that "no action will be taken against his attackers as they belong to the ruling Bharatiya Janata Party."
The senior journalist working with a local daily in Uttar Pradesh's Lalitpur region was beaten up publicly and threatened allegedly by a local BJP leader and his sons while returning from work stated the news report. Police have lodged a complaint against five people including the BJP leader. Vinay Tiwari, told the media that on Saturday he had gone to investigate and fact check allegations of irregularities in implementation of MNREGA when he was waylaid by over half a dozen armed men along with the family members of the village head.
The village head's husband is also associated with BJP, said Tiwari, adding that he was following a tip off from his sources that even "simple work, like 'trench work' is also being done with the help of JCB machine for construction of a link road at Dhaurra village instead of hiring manual labour under MGNREGA in my own panchayat by the Gram Pradhan (village head). I rushed to the spot as soon as I got the information."
"When the village head got information about my investigation of the coverage, she sent some miscreants along with her sons who stopped me midway and attacked me with sticks and batons and left me half dead. They even snatched my phone, camera and deleted photos and videos. They took Rs 9,500 from my pocket," Tiwari told Newsclick. He was sent to the Jhansi Medical College from Lalitpur District Hospital for treatment.
Tiwari, who is associated with a local news website called Bundelkhand Times, reports on incidents in rural areas, stated Newsclick. Tiwari told the reporter that the MGNREGA was being misused at a massive scale in most of the area, and was aware that some were angered with his reportage, but added that he did not expect them to attack, "because they are my neighbours. Now it is very clear that I was attacked because my story exposed their (BJP workers) plan of rigging," Tiwari was quoted in the report, adding that "no action will be taken against them since the attackers belong to the ruling party." Police have registered a case under Section 307 (attempt to murder), 323 (assault), 504 (abusive death) and 506 (threatening to kill) of the Indian Penal Code (IPC) against village head Babita Mishra, her son Vivek Mishra, Aryan alias Abhishek Mishra, Bharat Mishra and Babita's husband Rameshwar Mishra also happens to be a BJP leader.
Attacks on journalists in Uttar Pradesh under the Adityanath-led government are a regular feature now. According to the news report the Uttar Pradesh State Accreditation Correspondent Committee has demanded that the government bring to book all the culprits in the attack on Tiwari as well as in other assaults on scribes in the state. Hemant Tiwari, president of Uttar Pradesh State Accreditation Correspondent Committee told the media that "attacks on journalists in Uttar Pradesh has increased in the last three years, be it by goons, fringe elements or the government machinery. It seems that the government is letting it happen to hide its failure. Otherwise, they intervened long back when a journalist in Mirzapur was booked for exposing scam in mid-day meal.
Tiwari added that even though UP Chief Minister Adityanath condemned the arrest of Republic TV Editor Arnab Goswami in Maharashtra he is yet to comment on the attacks on the media in his own state, "Adityanath said that the arrest of Arnab Goswami is an assault on freedom of expression by the Congress party and its allies, but he never utters a single word on attacks on journalists in UP."
Meanwhile another journalist languishing behind bars in Uttar Pradesh got a small breather after 49 days in jail. Malayalam journalist Siddique Kappan,who was arrested on October 5 when he was enroute to Hathras, to report on the alleged gang rape and death of a Dalit woman had to move heaven an earth to be allowed to speak to a lawyer.
According to a report in the Print, after 49 days in custody, and after a petition in the Supreme Court, an application before the magistrate in Mathura, another application in the SC, Kappan was allowed a brief phone call with a lawyer. Advocate Wills Mathews, who is the lawyer for the Kerala Union of Working Journalists (KUWJ) confirmed to The Print that he finally got a phone call from him Tuesday, "around 4-5 pm, Siddique Kappan contacted me from the jail. We talked for almost 5 minutes. I found him to be healthy and okay. I enquired about his welfare. He said he is getting medicines, food and that everything is alright. He sounded fine." On October 4, Kappan had informed the news portal Azhimukham, where he is a regular contributor, that he would go to Hathras the next morning to report. However, he was arrested at a toll plaza in Mathura along with three others.
Related
We are trying to discourage Article 32 petitions: Chief Justice of India
Remember journalists Siddique Kappan, Aasif Sultan, Kishorechandra Wangkhem?
Journalist Prashant Kanojia walks out of jail, free speech supporters rejoice!
Yet another journalist shot dead in Uttar Pradesh
Journalism is a hazardous profession in Uttar Pradesh
Will Uttar Pradesh police leave Prashant Kanojia alone now?