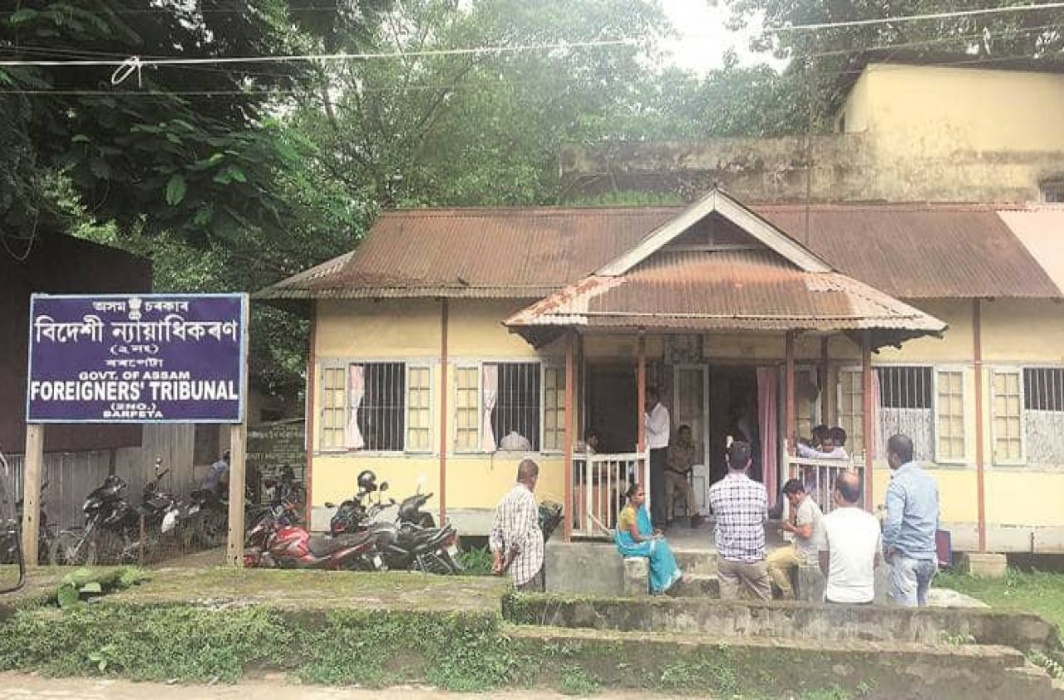 Representation Image

In a well-reasoned ruling, a Foreigners' Tribunal is Assam has upheld the Indian citizenship of the son of an Indian Air Force (IAF) serviceman. The case is significant as the proceedee's name had been included in the National Register of Citizens (NRC) just because the case was pending when it was included in the list.
The matter pertains to one Bikram Singh, son of Bharat Chandra and Nayantara Singh. The proceedee also referred to the Opposite Party (OP) in this FT case, originally hails from Jamiral village that comes under the jurisdiction of Patherkandi police station in Karimganj district of Assam. Trouble began in 1997, when he tried to have his name included in the Voters' List of Patherkandi Legislative Assembly Constituency. The Election Commission was not satisfied by the documents he submitted for his inclusion and designated him a "doubtful" or D-Voter.
His case was first registered under the IMDT Act in 1999, that was repealed in 2005. Therefore, his case was registered first at the Karimganj FT-1 in 2007 and then transferred to Karimganj FT-2 in 2017. The long delays were on account of authorities being unable to serve Singha notice for appearance before an FT. Turns out Singha had first moved to Delhi and then Bangalore for work, and the FT notices were getting returned unserved.
Singh finally appeared before the FT after being served notice via Whatsapp on June 2021. He submitted that he was born in India (D.O.B – Jan 6, 1978) and that his parents were also Indian citizens. Thus, he has Indian citizenship under Section 3 of the Citizenship Act, and also through his parents. Singha's father's name appears in the 1970 Voters' List and there are land documents in his grandfather's name from 1968. Moreover, Bikram's father Bharat Chandra served in the IAF from 1972-2001. He also submitted that names of all his family members, including his own name, appeared in the final NRC published on August 31, 2019.
The State meanwhile argued that since Singha has not submitted any documents prior to 1966, there remains a doubt about the validity of his family's citizenship. The Assistant Government Pleader (AGP) also objected to the inclusion of Singha's name in the NRC, as it should not have been included in line with the SOP that bars inclusion of people whose citizenship cases are pending before FTs. Moreover, he raised doubts about the validity of the NRC itself. Finally, he said that Section 3 of the Citizenship Act was not relevant to Assam and that it was Section 6A that needed to be considered.
According to section 3 (a) of the Citizenship Act, "Every person born in India on or after the 26th day of January, 1950, but before the 1st day of July, 1987," has Indian Citizenship by Birth. Singha is therefore a citizen under this provision.
Meanwhile, according to section 6 A (2), "…all persons of Indian origin who came before the 1st day of January, 1966 to Assam from the specified territory (including such of those whose names were included in the electoral rolls used for the purposes of the General Election to the House of the People held in 1967) and who have been ordinarily resident in Assam since the dates of their entry into Assam shall be deemed to be citizens of India as from the 1st day of January, 1966." But Singha has no documents from 1966 or before that.
To this Singha's advocate Smt. Manjari Das drew the court's attention to a document titled White Paper on Foreigner's Issue, that was published by the Home and Political Department of the Government of Assam in 2012. Chapter 2 (page 14) of this document refers to illegal migrants who entered Assam after the March 25, 1971 deadline and that it was Section 3 and not Section 6 that would apply to children of such illegal migrants.
She further submitted that given how Singha's father was an IAF serviceman his citizenship must have been verified during his induction. Finally, given how the NRC was prepared under a process monitored by the Supreme Court, its finality or validity cannot be questioned. And though the matter of his case being pending might cast a shadow on the inclusion of his own name in the NRC, not such doubt can be raised about other members of the family as there are no cases against them.
After hearing arguments from both sides, FT member Shishir Dey opined, "I am of the opinion that the OP is not a foreigner but a citizen of India."
The entire FT Opinion may be read here:
Related:
Dead man declared foreigner, Gauhati HC sets aside order
Citizenship should ordinarily be decided on merit rather than by default: Gauhati HC
Citizenship should be adjudicated on basis of merit, after hearing proceedee: Gauhati HC
Gauhati HC sets aside ex parte order declaring person as foreigner, says citizenship important right
Gauhati HC restores Indian citizenship of a woman declared a foreigner in 2017
Deadline to challenge ex-parte FT decision valid only when notice is served: SC