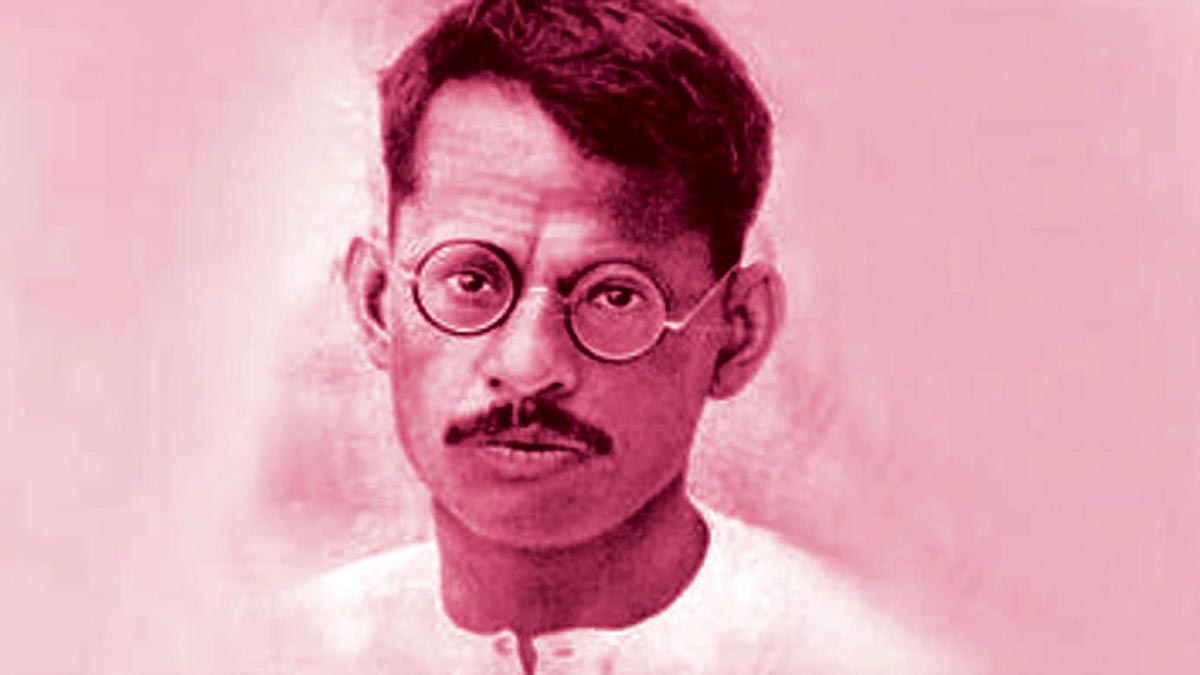 No tourist visiting Beech Wala Mandir at Meston road in Kanpur, Uttar Pradesh would suspect a communal history of the locality. Less likely still, would be the idea that a bloody communal riot took place here, resulting in the death of a well-known Hindi journalist. And yet, a cursory glance at history records would mark March 25, 1931 as the day when 40-year-old Ganesh Shankar Vidyarthi died in Kanpur while trying to save innocent lives.
Activist, Indian National Congress leader and journalist, Shankar was a rare personality, who rather than waiting for other people to bestow him with titles adopted the term "Vidyarthi" (seeker of knowledge) at the end of his name. By his early twenties, Shankar founded 'Pratap,' a weekly publication that strived to provide a voice to the oppressed, everywhere. Shankar used the reach of the publication (circulation was at 600 by 1916) to highlight the tragedy of Raebareli farmers, 13 of whom were killed during a police firing.
Shankar's focus on the grievances of farmers, workers and all peasants during his life as a journalist should place him right alongside portraits of freedom fighters Bhagat Singh, Rajguru and Sukhdev at farmers' protest sites in recent days. Instead, he is remembered as a freedom fighter who tried to protect the social harmony of India by trying to resolve communal conflicts. The nature of Shankar's death is the direct cause for this.
On that fateful day in 1931, Shankar entered the streets of Kanpur to transport thousands of people, both Muslims and Hindus, trapped in riot-ridden areas to safety. According to Aarkey, writing for Webdunia, "Vidyarthi… roamed the riot-stricken areas throughout the day to save the lives of the innocent… because at that time humanity was needed, not journalism."
However, this humanity cost Shankar greatly. He was butchered to death by a violent mob who spotted him helping survivors escape. A few days later, his body was identified not by the badly deformed face but by his hairstyle, clothes and the possessions in his pocket.
Shankar's death was notedly mourned by Mahatma Gandhi, whom he had met at Lucknow in 1916. To pay his respects, Gandhi wrote the following tribute in 'Young India':
"The death of Ganesh Shankar Vidyarthi was one to be envied by us all. His blood is the cement that will ultimately bind two communities. No pact will bind our hearts. But heroism such as Ganesh Shankar Vidyarthi showed is bound in the end to melt the stoniest hearts, melt them into one. The poison has however gone so deep that the blood even of a man so great, so self-sacrificing and so utterly brave as Ganesh Shankar Vidyarthi may today not be enough to wash us of it. Let this noble example stimulate us all to a similar effort should the occasion arise again."
In addition to his death, Shankar's life boasted of leading the Home Rule Movement of 1917–18 as well as the first strike of textile workers in Kanpur. His support for Raebareli farmers in his then daily publication (1920) Pratap earned him two years of rigorous imprisonment. Then again in 1922 Shankar was sentenced to jail for a seditious speech as the President of the Provincial Political Conference at Fatehgarh.
Among his many written works, two quotes are widely hailed by people. The first one was written on January 11, 1915 that said "… the democratic rule is actually the rule of public opinion." The second one was written on May 31 of the same year that said, "The much-despised peasants are our true annadaatas." In honour of his contributions, the President of India honours renowned journalists with the Ganesh Shankar Vidyarthi Puraskar every year since 1989.
Related:
Mahad Satyagraha: After 94 years, do we have Equality, Dignity & Access?
Twelfth of March: Gandhi and Grande
Tilak Manjhi: One of India's first freedom fighters