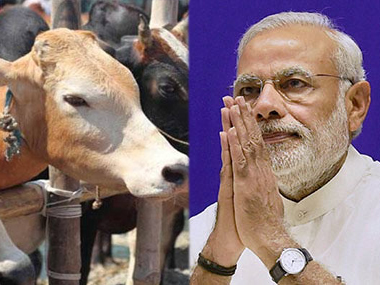 Photo credit: First Post
A Dalit family, including a pregnant woman, was assaulted in Banaskantha district's Amirgadh on Saturday for refusing to remove the carcass of a cow. Six persons have been arrested for the alleged assault.
The accused belonged to the dominant upper caste community in Mota Karja village. Banaskantha SP Niraj Badgujar, who visited the village, told the Indian Express that the victims have been admitted to the civil hospital and provided police protection.
According to reports, the accused asked the family to take away the carcass on Friday night, but the victims said they would dispose it the next morning.
Following the refusal, the accused entered the house of the Dalits and assaulted them. The pregnant woman was hit on the abdomen.
Describing the incident, the FIR stated that "the accused… entered the home (of the victims) and while asking why they were not disposing of the dead cow, uttered casteist remarks, beat them with wooden sticks and assaulted them physically while threatening to kill them".
"We lodged the FIR immediately after the victims approached police and arrested the six accused. We have booked the accused under section 315 of the Indian Penal Code (act done with intent to prevent child being born alive) along with other sections and under the Atrocity Act," said SP Badgujar.
The FIR identified the accused as Natvarsinh Chauhan, Maknusinh Chauhan, Narendrasinh Chauhan, Yogisinh Chauhan, Babarsinh Chauhan and Dilgarsinh Chauhan.