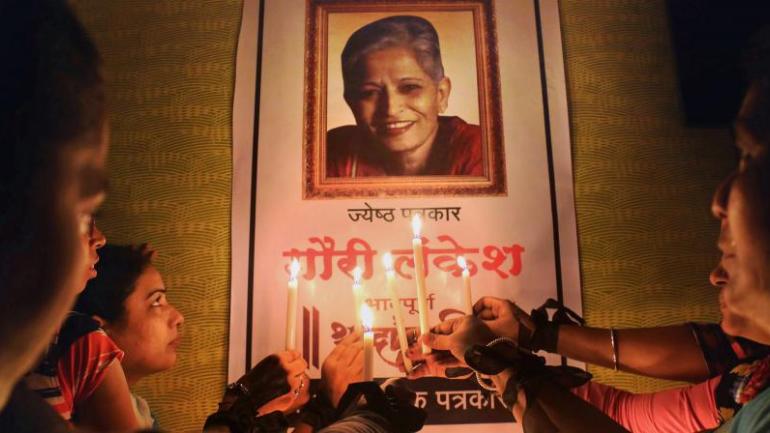 Proceedings in the trail surrounding the assassination of journalist Gauri Lankesh resumed this week before a special Karnataka Control of Organised Crime Act (KCOCA) court. As many as four witnesses deposed before the court this week.
Gauri Lankesh, a fearless journalist known for speaking truth to power and calling out right-wing extremists, was shot dead outside her home in Bengaluru's Rajarajeshwari Nagar on September 5, 2017. Readers would recall that, when hearings began on July 4, Special Judge CM Joshi had set some ground-rules according to which hearings will take place every second week of the month for five days.
This week, a neighbour (names of witnesses withheld as per directions of the court) of Lankesh testified that he was cooking at home when he heard the gunshots. Times of India quoted excerpts from his testimony: "I ran to the front door and opened it. When I was near the gate, I saw two men riding away on a black Passion Pro motorbike in Subhash Park direction. The rider and the pillion were wearing full-face helmets." The neighbour also identified the bike used by the assailants that had been seized by the police.
He told the court that when he and his roommate rushed outside the bike borne assassins fled, but that's when a cable operator arrived. This is the same cable operator who had deposed before the court last week and said that he had been called to rectify the cable in Lankesh's home, but found her dead outside her door instead.
Another witness told the court that he had met key accused KT Naveen Kumar (A-17) at a park in Vijayanagar, and that two of the accused – Naveen Kumar and Sujith Kumar – had discussed a plan to murder the journalist, reported Hindustan Times.
Other witnesses to depose before the court included a woman staffer from a lab in Shantinagar and two policemen. The lab technician told the court that the police had given them CCTV footage on a DVR on September 6, and the lab downloaded the visuals and returned the DVR the same day.
Another witness to depose before the court was Head constable Shivaswamy H, who reportedly told the court that it was "police inspector Shiva Reddy took a written statement from Kavita Lankesh at the spot" and then gave it to him. He then handed it to sub inspector Laxman who drafted the First Information Report (FIR).
The accused were produced from Bengaluru, Yerawada and Mumbai prisons through video conferencing.
Brief background of the case
Journalist and activist Gauri Lankesh was snatched away from friends, family and her fellow journalists when the fearless journalist was gunned down outside her home on September 5, 2017. Since then, 17 people have been arrested in connection with the case, and one accused is still missing.
The said incident came under the jurisdiction of Rajarajeshwari Nagar police station of Bangalore City and on the same day an FIR was registered under Sections 302, 120(B), 114, 118, 109, 201, 203, 204, 35 of I.P.C. and Sections 25(1), 25(1B), 27(1) of the Indian Arms Act, 1959 and Sessions 3(1)(i), 3(2), 3(3) and 3(4) of the COCA Act, 2000 (Order No.C.R.M./01/158/BC/2017-18 dated 06-09-2017 of the D.G. and I.G.P.) as Crime No. 221/2017. Gauri Lankesh's sister, Kavitha Lankesh is the first informant in the case.
The Karnataka Special Investigation Team (SIT) began probing the case. Two chargesheets were filed in the case. The primary chargesheet was filed against KT Naveen Kumar, a 37-year-old member of the Hindu Yuva Sena on May 30, 2018. On November 23, 2018 the supplementary chargesheet running into 9,235 pages was filed. 18 people have reportedly been named in the chargesheet. These include shooter Parashuram Waghmare, masterminds Amol Kale, Sujith Kumar alias Praveen and Amit Digwekar. It was in this chargesheet that the Sanatan Sanstha was mentioned for the first time.
The chargesheet also mentions 26 other people who were on a hit list of sorts. These are eminent journalists, educationists and intellectuals who are perceived to be anti-Hindu by the Sanatan Sanstha. These include Siddharth Varadrajan (Editor, The Wire), journalist Antara Dev Sen, JNU professor Chaman Lal, Punjabi playwright Atamjit Singh among others.
According to the Karnataka SIT, the plot to kill Lankesh was hatched a year before the assassination. Amol Kale, a former Hindu Janjagruti Samiti convener, allegedly hired killer Parshuram Waghmare. Waghamare was allegedly a member of the Sri Ram Sene. Kale took him to an isolated spot in Khanapur, Belgaum to practice using an air pistol. Waghmare allegedly did a recce of Lankesh's house in Rajarajeshwari Nagar in July 2017. On September 5, he and another back-up gunman Ganesh Miskin arrived outside Lankesh's house on a black motorcycle. Waghmare fired four times at Lankesh and the duo fled the scene.
However, the group responsible came together in 2010-11 suggesting that this was a wider conspiracy planned over a longer period aiming to eliminate more rationalists, journalists and activists. In a press release the SIT had said, "The investigation so far has revealed that all the 18 accused are active members of an organised crime syndicate. This syndicate was formed in 2010-11, under the leadership of Virendra Tawade alias Bade Bhaisaab. One former editor of 'Sanatan Prabhat' provided financial support to this syndicate. The members of this organisation targeted people who they identified to be inimical to their belief and ideology. The members strictly followed the guidelines and principles mentioned in 'Kshatra Dharma Sadhana', a book published by Sanatan Sanstha." The statement further added, "In August 2016, in a meeting of the syndicate, the main members identified Ms. Lankesh as a "durjan" as told in the 'Kshatra Dharma Sadhana', based on her speeches and writings. They jointly hatched a conspiracy to murder her."
The arrests
On March 2, 2018, the Special Investigation Team (SIT) investigating Lankesh's assassination made its first arrest, apprehending right-wing activist K. T. Naveen Kumar, of Maddur, who in 2015 founded the Hindu Yuva Sene. Kumar who reportedly confessed to Lankesh's murder had previously been arrested in February 2018 in relation to a case involving illegal arms.
On May 30, 2018, when the SIT filed a 650-page chargesheet in the Lankesh murder case, KT Naveen Kumar was named in it. Kumar allegedly obtained the bullets that were used to kill Gauri Lankesh, and that he allegedly supplied logistical support to her killers and directed them to her residence and office in Bengaluru. It alleges that the bullets were from an ammunition store called Bangalore Armoury, and that Kumar purchased them around eight years ago. Syed Shabeer, who works at City Gun House in Kalasipalya, claimed to the SIT that he sold Kumar 18 bullets for Rs. 3,000 about eight years ago.
The SIT, in the chargesheet, stated, "The accused were angry with her for speaking against Hindu dharma, Gods of Hindu dharma and insulting Hindu dharma". Kumar's wife, Roopa C. N., gave the SIT a statement, which indicated that Kumar was associated with the Sanatan Dharma Sanstha, largely in 2017.
In late May 2018, the SIT arrested four more people with ties to right-wing group Sanatan Sanstha for a January 2018 conspiracy to kill K. S. Bhagwan. The four individuals also had ties to Sanatan Sanstha's sister outfit, the Hindu Janajagruti Samiti (HJS), and were also connected to Kumar, in 2017 had attended multiple HJS meetings. The four individuals are named Amol Kale alias Bhaisab, an HJS activist from Maharashtra, Amit Degwekar alias Pradeep, a Sanatan Sanstha activist from Goa, Manohar Edave of Karnataka, and Sujeet Kumar alias Praveen, an activist with Sanatan Sanstha and the HJS from Mangalore.
On June 11, 2018 the sixth accused in the case, Parashuram Waghmare, 26, was arrested. On Thursday, June 14, police reportedly interrogated Waghmare and the previously arrested Amol Kale. Waghmare had allegedly claimed that Kale instructed him to carry out the killing, and gave him a country-made pistol.
Sharad Kalaskar was arrested on August 10, 2018 by the Maharashtra Anti Terrorism Squad (ATS) after a tip off from the Karnataka Special Investigation Team (SIT) which was probing the Gauri Lankesh murder case. The ATS claims that Kalaskar was also one of the two gunmen who shot and killed Narendra Dabholkar in August 2013. According to the ATS, the weapon used to kill Gauri Lankesh and other rationalists was also procured and manufactured by Kalaskar.
A note on how to make bombs was also recovered from him. Kalaskar was arrested along with Vaibhav Raut and Sudhanwa Gondhalekar from the Nallasopara home of Raut who is the convener of the Hindu Govansh Raksha Samiti. 20 crude bombs and two gelatin sheets were recovered during this raid. Meanwhile, Gondhalekar is a member of Shiv Shivapratishthan Hindustan, an organisation run by none other than Shambhaji Bhide, one of the two main accused in the Bhima Koregaon violence.
In July 2019, Uma Devi, wife of slain rationalist MM Kalburgi identified the gunman who shot her husband. Earlier the SIT had arrested Praveen Chatur, a Belgavi resident who had allegedly ferried this gunman in the Kalburgi murder. While police had initially suspected Amit Baddi, a friend of Ganesh Miskin, of being the biker, sketches prepared by police artists did not match eye witness descriptions. When the SIT probed the matter again, interrogation of Amol Kale pointed them towards Chatur. Chatur was also wanted in a petrol bomb attack on a theater screening Padmavat in Belgavi in January. He has now turned state's witness in the Gauri Lankesh case. In his statement he has reportedly admitted to attending training camps in Jalna and Mangaluru.
Rishikesh Dewarkar was the last one to be arrested in the case so far. Dewarkar who also went by the alias Rajesh was arrested from Katras town in Dhanbad district of Jharkhand in January 2020. He had been on the run ever since the assassination and had been laying low, working at a petrol pump in Katras for several months under an assumed identity.
CJP assists Kavita Lankesh
In June 2021, Citizens for Justice and Peace (CJP) assisted Gauri Lankesh's sister Kavita move a Special Leave Petition (SLP) before the Supreme Court against an order by the Karnataka High Court dropping charges under Karnataka Control of Organised Crime Act (KCOCA) against accused Mohan Nayak, who is is a close associate of Amol Kale and Rajesh Bangera, two men who are key accused in planning and committing the assassination of Gauri Lankesh.
Nayak had approached the Karnataka high court for bail on grounds of the ruling dropping the KCOCA charges against him. He had contended that on April 2, 2021, the court had quashed the FIR in relation to offence under KCOCA and therefore he could not be charged for the offence under KCOCA. For this reason, he argued that the chargesheet against him should have been filed before expiry of 90 days from the date of his arrest and remand to judicial custody. Admittedly there was no chargesheet and hence he contended that he should be entitled to statutory bail under Section 167(2) of Cr.PC.
But on July 13, the High Court's Single-judge Bench of Justice Sreenivas Harish Kumar ruled that Nayak cannot seek bail on the grounds that the Special Investigation Team (SIT) filed a chargesheet against him, only on November 23, 2018, more than 90 days following his arrest on July 19, 2018, since the bail application was moved only after the chargesheet was filed.
Lankesh's SLP, filed with CJP's assistance, details the nature and extent of Mohan's involvement saying that investigations had found that he had been "actively involved in providing shelter to the killers prior to and after committing the offence and has participated in a series of conspiracies, abetting, planning, providing logistics."
The SLP further reiterated what the investigation agency has revealed, that they have collected sufficient evidence "to connect him with the case and establish his intimate nexus with the mastermind behind the entire event i.e., Accused No.1 Amol Kale and master arms trainer Accused No. 8 Rajesh D. Bangera who are part and parcel of an "organised crime syndicate" from its inception."
On September 21, the matter was heard by a bench comprising Justices A.M Khanwilkar, Dinesh Maheshwari and C.T. Ravikumar. In October 2021, the SC restored KCOCA charges against Mohan Nayak.
Proceedings at previous hearings
As SabrangIndia had reported previously, Gauri Lankesh's sister Kavita Lankesh, who is a filmmaker and poet, made her statement before the court when the hearings began on July 4, and said that just days before her murder, Gauri Lankesh had seen some men "loitering suspiciously" near her home in Bengaluru. She also said that it was she who discovered Gauri's bullet ridden body in a pool of blood.
But the counsel for the defence wanted to spin an entirely different narrative. During her cross examination, Kavita was asked about family feuds instead. She was also asked about Gauri's alleged "Naxalite connections". At one point the defence counsel also mentioned Gauri Lankesh's connections to the activists who have been dubbed the "tukde-tukde gang", namely Jignesh Mewani and Kanhaiya Kumar. But this line of questioning was shot down by the court.
In July, the court also examined other witnesses including a cable operator who had been called to rectify the cable in Lankesh's home, but found her dead outside her door instead. Another eye-witness, a mason whose wife was employed as a security guard in the building opposite Lankesh's residence was also examined. He told the court, he heard gun shots when he came back home from work that day, and rushed to the spot, reported The New Indian Express.
When the hearing ended on July 8, the counsel for the accused told the court that they had not been given footage from CCTV cameras outside Lankesh's residence yet. It was this footage that had helped the Special Investigation Team (SIT) to identify and apprehend the shooters. On Monday, July 18, the Special Public Prosecutor handed over the footage from two CCTV cameras outside slain journalist Gauri Lankesh's house to the legal team of the accused.
Related:
Gauri Lankesh case: Hearings to resume before KCOCA Court today
Gauri Lankesh case: CCTV footage shared with counsel for the accused
Gauri Lankesh case: Why is the Defence harping on alleged "Naxalite connections", family fued?
Gauri Lankesh case: SC restores KCOCA charges against Mohan Nayak
Gauri Lankesh case: SC reserves order on plea to keep KCOCA charges against accused
Gauri Lankesh case: SC to decide on keeping KCOCA charges against accused
Gauri Lankesh case: CJP assists sister Kavitha move SC
'Meticulous' investigation yet little headway in Gauri Lankesh murder case