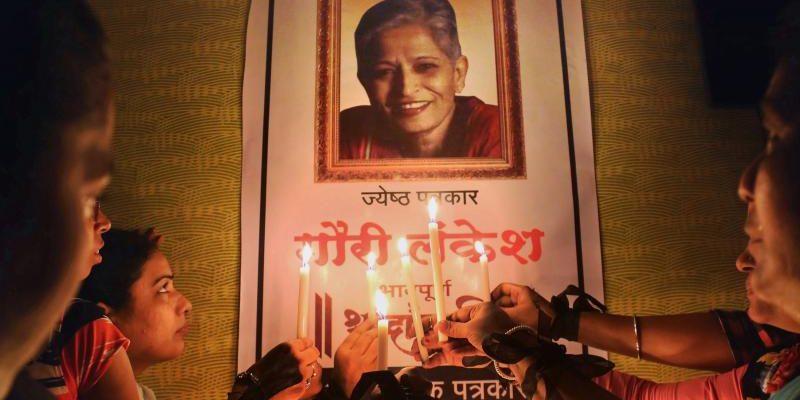 While Gauri Lankesh, a fearless journalist and dear friend, may have been snatched away from us too soon, there is bitter-sweet victory in the Supreme Court's decision to restore organised crime charges against Mohan Nayak, one of the key accused in the case. Citizens for Justice and Peace (CJP) had assisted Gauri's sister, filmmaker Kavitha Lankesh move SC against the Karnataka High Court's order that had previously dropped charges under the Karnataka Control of Organised Crime Act (KCOCA).
The bench pronounced the operative part of the order on Thursday, October 21, 2021 and a detailed copy of the order is awaited.
The Assassination of Gauri Lankesh
Gauri Lankesh was shot dead by a bike borne assailant on September 5, 2017 outside her home in Bangalore. She was shot four times. In a society where the 'new normal' ranges from blatant hate speech to wanton vandalism to orchestrated communal clashes, Gauri Lankesh never minced words while taking on religious extremists. She routinely raised her voice against caste and gender-based discrimination. Gauri Lankesh's brand of journalism was the very picture of defiance in a country where several large media houses often act as glorified lap dogs of political parties.
Background of the appeal
Accused Mohan Nayak is a close associate of Amol Kale and Rajesh Bangera, two men who are key accused in planning and committing the assassination of the slain journalist, Gauri Lankesh. Nayak had approached the Karnataka high court for bail on grounds of the ruling dropping the KCOCA charges against him. He had contended that on April 2, 2021, the court had quashed the FIR in relation to offence under KCOCA and therefore he could not be charged for the offence under KCOCA. For this reason, he argued that the chargesheet against him should have been filed before expiry of 90 days from the date of his arrest and remand to judicial custody. Admittedly there was no chargesheet and hence he contended that he should be entitled to statutory bail under Section 167(2) of Cr.PC.
But on July 13, the High Court's Single-judge Bench of Justice Sreenivas Harish Kumar ruled that Nayak cannot seek bail on the grounds that the Special Investigation Team (SIT) filed a chargesheet against him, only on November 23, 2018, more than 90 days following his arrest on July 19, 2018, since the bail application was moved only after the chargesheet was filed.
Lankesh's SLP, filed with CJP's assistance, details the nature and extent of Mohan's involvement saying that investigations had found that he had been "actively involved in providing shelter to the killers prior to and after committing the offence and has participated in a series of conspiracies, abetting, planning, providing logistics."
The SLP further reiterated what the investigation agency has revealed, that they have collected sufficient evidence "to connect him with the case and establish his intimate nexus with the mastermind behind the entire event i.e., Accused No.1 Amol Kale and master arms trainer Accused No. 8 Rajesh D. Bangera who are part and parcel of an "organised crime syndicate" from its inception."
On September 21, the matter was heard by a bench comprising Justices A.M Khanwilkar, Dinesh Maheshwari and C.T. Ravikumar, who reserved judgment.
Related:
Gauri Lankesh case: SC reserves order on plea to keep KCOCA charges against accused
Gauri Lankesh case: SC to decide on keeping KCOCA charges against accused