Britain has one of the largest gender pay gaps in the European Union, with women earning
roughly 21% less than men
. This means that women in UK universities today are still earning less than their male colleagues. So although laws on equal pay have been in place for more than 40 years, there
is still a large gender pay gap in UK universities
.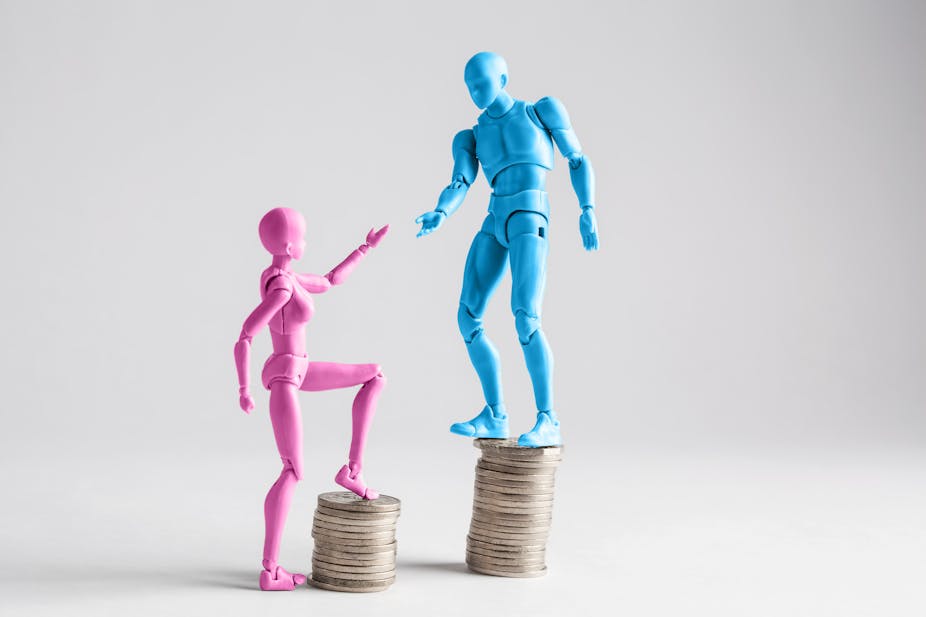 For every £1 men earn per hour, women earn 81.6p. shutterstock
The difference in hourly pay between men and women is 15% in top UK universities and 37% in other universities. What's more, men have most of the top jobs in UK universities, while women have more of the lower-paid jobs.
And this "gender pay gap" may keep getting wider if women aren't supported to develop their digital skills. This is because women tend to have less advanced digital skills than men – skills that are increasingly in demand for university lecturer roles. And as universities around rely more extensively on digital technology, they need employees who have creative digital skills – which means women are more likely to miss out on jobs, promotions and pay increases.

Wanted: technical talent
The use of technology is now just part of the day job for anyone involved in teaching and learning in universities. Universities use technology to teach and communicate with students online – which can help to improve a student's learning experience. Staff are also expected to use online learning and mobile learning platforms to teach, assess and talk to students in a virtual environment.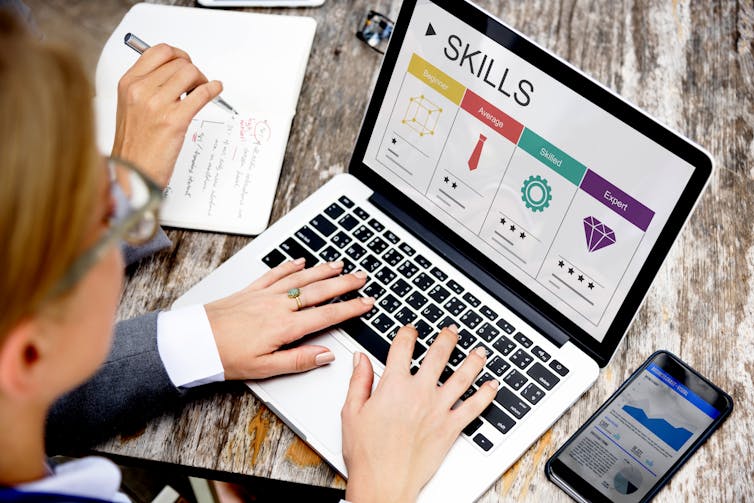 Our research shows there is a wide gap in the way men and women use technology. Shutterstock
Universities also plan to use more advanced technology. Gamification is on the rise in universities. This is where universities personalise a student's learning, using game design thinking in non-game applications. Wearable devices, such as an Apple Watch or Google Glass, can also encourage learners to get more involved in the subject. This type of technology will most likely be used more in universities over the coming years.
And as women in higher education are generally less likely to be skilled in using these technologies, they may well be left behind – widening the gender pay gap in higher education – while also making it harder for women to progress in their careers.

Digital skills divide
Our research which looks at the gender gap in smartphone adoption and use in Arab countries shows there is a wide gap in the way men and women use technology in some parts of the world. And we found similar patterns in the UK. Men have more advanced digital skills than women, and women are underrepresented in the technology sector, specifically in the digital sector in education.
This "digital divide" begins at a very early age in school. It continues into higher education – in the UK there is one of the highest gender gaps in technology-related courses among all university courses in the world.

Why the World needs more women In tech.
Technology is advancing quickly, so academics and others working in higher education constantly have to update their skills. Without these skills, women in the sector are at a disadvantage when it comes to promotion and pay rises. So it's more important than ever for universities to provide training and other programmes that help women develop their digital skills.
Closing the gender gap in digital skills would remove one factor contributing to the gender pay gap in UK universities. It would increase the chances of women being employed in the sector and make it easier for them to develop their careers. Tapping into female talent in technology would bring huge benefits to universities. And above all, it would help to close the digital skills gap – while helping to build a more equal and fairer society.

Nisreen Ameen, Lecturer in Information Technology Management, Queen Mary University of London
This article is republished from The Conversation under a Creative Commons license. Read the original article.