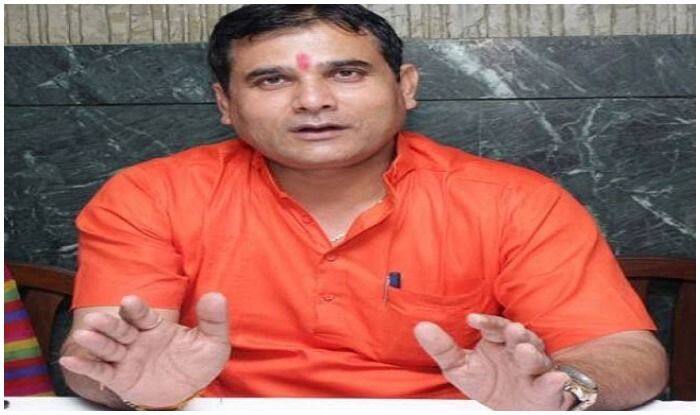 "Jai Mata Di. No meat shop will be tolerated in Loni during Navratri," declared Nandkishore Gurjar, the Bharatiya Janata Party (BJP) Member of the Legislative Assembly (MLA) representing Loni, Ghaziabad, on the Delhi-Uttar Pradesh border as he, without a face mask, had himself filmed as he forced a scared meat seller do down the shop's shutters. He then added as the area was under a fly path 'bones' etc were dangerous as they could lure birds to circle and threaten bird hits and a potential aircraft crash. It is not known if he is concerned about air crashes during the rest of the year or only when some Hindus abstain from eating meat due to religious reasons during the nine days of Navratri.
जय माता दी??
नवरात्रि के दौरान किसी भी प्रकार की मांस-मीट की दुकान लोनी में बर्दाश्त नहीं की जाएगी
एयरक्राफ्ट ऑर्डिनेंस का उल्लंघन कर क्षेत्र में वायु दुर्घटना को आमंत्रित करने वाले और क्षेत्र का माहौल खराब करने वाले लोगों की लोनी में कोई जगह नहीं है@lokeshrailive @Sandip_ANI https://t.co/N2BNuSnkWu

— Nand Kishor Gurjar (@nkgurjar4bjp) October 18, 2020
Clad in a bright orange kurta the Ghaziabad BJP MLA is not new to controversial statements, though this idea of his is not original. Every year, reports come in of Hindutva groups forcing meat sellers to shut shop during Navratri. Most of these disruptions are reported from Gurugram, on Delhi-Haryana border, and some from areas along the Delhi-UP border. Needless to add most of the meat sellers are Muslim, and the shops are small. This year the vigilante groups were less visible, perhaps because of Covid-19 protocol not many butchers have reopened shops. Meat traders, like the other small business, have been suffering since the Covid-19 lockdown was announced without warning in March, and have said that their business has completely collapsed.
However, Nandkishore Gurjar took it upon himself to force the ones open, to shut down citing his own laws. He is said to have gone a step ahead, perhaps in the hope that his behavior is noticed by party bosses, and his own constituents. According to news reports Gurjar roamed the Loni area and forced the shop to close the spot. It is being reported that he allegedly threatened the meat businessman and also assaulted him.
According to reports, late evening on Sunday, the BJP MLA from along with some of his supporters went to the local market and told the meat shops there to shut with immediate effect. The MLA is said to have cited Navratri as the reason. And added his recent concern about air safety for good measure when sharing the video that he had gotten filmed.
The MLA is said to have told the officials to have these shops shut down but the administration apparently did not act on his complaint. He has cited that as the elected representative he himself had to go to the market and force the meat shop to close. He has denied that the shopkeepers were assaulted. According to news reports the meat trader says now he has become unemployed due to the MLAs action.
Not that it makes a difference to Gurjar, who in 2019, had led a bunch of his fellow Uttar Pradesh MLAs, to express their "dissatisfaction" to the party bosses. According to a report in the Hindustan Times around "100 lawmakers of the BJP disrupted proceedings of the Uttar Pradesh Assembly when one of their party colleagues, Nand Kishore Gujjar, was not permitted to speak in the House." Interestingly evel Opposition Samajwadi Party, Bahujan Samaj Party, and Congress lawmakers supported Gujjar and urged the Speaker to permit him to talk about his detention in Ghaziabad. According to the HT report the party leadership took "a serious note of the ruckus in Uttar Pradesh" and was aware that "some MLAs " raised questions about the chief minister's (Yogi Adityanath) working style." The MLAs were apparently miffed at being ignored by UP police, as well as UP Chief Minister Adityanath.
This year, perhaps Nandkishore Gurjar thought acting tough with poor meat sellers would get him the attention he seeks. It is not yet known if the CM has obliged.
Related:
UP CM launches 'Mission Shakti' a day after another teenager alleges rape
NHRC directs Assam gov't to pay compensation to hate crime survivor
'Say Modi Zindabad', order criminals as they thrash old Muslim man
'Check Aadhaar card to keep out Non-Hindus': Bajrang Dal to Garba organisers