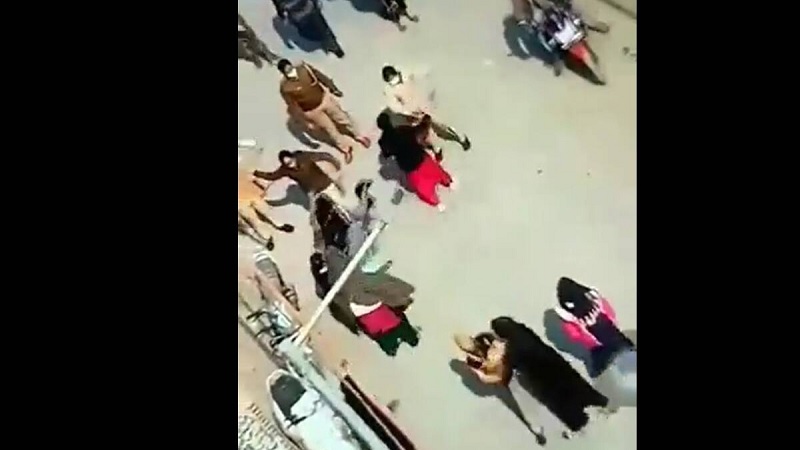 Image Courtesy:indianexpress.com
A group of Muslim women were thrashed in a public place in Ghaziabad, Uttar Pradesh on February 13. The video of the violence went viral on Wednesday, February 16 and the police have now claimed, after the outrage, that there was an altercation or scuffle between the two.
However, the clip that has gone viral shows Uttar Pradesh police personnel brutaly hitting Muslim women who were reportedly a part of a a protest against the "hijab ban" in colleges that started in Karnataka, and has now had a ripple effect in many other parts of the country. After facing criticism from the people, the police have said they are "investigating the video". A first information report, or FIR, has also been filed by the police against the protesters over the Sunday incident.
According to news reports, in its FIR, the police stated they came to know that some 15 Muslim women had gathered in Ghaziabad's Sani Bazaar Road with anti-government posters, and were protesting without taking necessary permission. Police stated that when its team reached there, the women protesters started shouting slogans.
Ghaziabad Police, in their statement issued on Wednesday, have also claimed that the protesters assaulted the police personnel who had reached the site. They said, "Inspector-in-Charge of Khoda received information about demonstration by some people on Shani Bazar Road. On getting the information, Inspector-in-Charge of Khoda reached the spot and it was found that some women were protesting on the road. When the women police personnel asked about the permission to protest from the protesting women, no permission was shown by the protesting women, and the women police personnel and other policemen were assaulted by the protesting women and other persons present on the spot."
— GHAZIABAD POLICE (@ghaziabadpolice) February 16, 2022
However, while police claim that the women constables tried to persuade the protesters to return home, and that the cops were heckled, and that some men who were with the protesters also started verbally abusing the constables, the video clip shows that the protesters were hit by the cops. According to news reports, the police FIR also claimed some male protestors verbally abused the police women, and have identified one of the accused as Raees. In the video, the only time the burqa clad woman is seen reacting is when she attempts to deflect the police hitting her with a stick.
Related
Hijab ban case: Hijab in line with freedom of expression, submits petitioner
Hijab Case: Will action be taken against Karanataka BJP for sharing details of minor Muslim students?
Hijab controversy now hits schools!