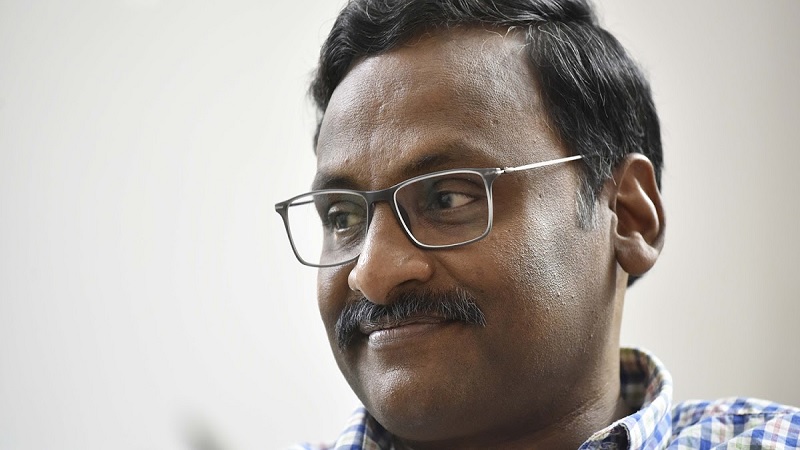 Image Courtesy:caravanmagazine.in
Gokalkonda Naga Saibaba's mother G. Suryavathi has been in hospital for nearly a week now. The family says her condition is deteriorating fast and she had been asking to see her son before she slipped into unconsciousness last night. "She is under treatment at NIMS Hospital in Hyderabad. Yesterday night she suffered from fits and her condition is serious now, she is in an unconscious state," texted Saibaba's wife A.S. Vasantha Kumari in response to a question from SabrangIndia, after his bail plea was rejected yet again on Tuesday. "She has Lymphoma cancer, but now it has spread to her brain. Tumours in the brain were found in the recent MRI done on July 22," added Vasantha.
The friends and family of Saibaba, the wheelchair bound former DU professor now serving a life sentence, had hoped the courts would allow him permission to go visit his mother in Hyderabad. The family says Saibaba's mother is under treatment for cancer and wants to see her son once. Saibaba's wife was also hoping that the courts grant him bail so he can get the specialised medical treatment he urgently needs for his multiple, degenerative ailments.
The HC however has rejected the bail sought on health grounds, termed 'suspension' in case of convicted persons, for the second time. The bail rejection on Tuesday, has shocked the family who will now need to go back into consultations with their lawyers on what the next steps of appeal will be.
"This is the second time they have rejected his appeal on health grounds. The first time was on January 25, 2018. This time he had appealed, to seek help for his own deteriorating health which puts him at great risk of Covid-19 infections, and also the ill health of his mother," said a friend of his family. According to the family, Saibaba had also sought parole a couple of months ago to see his specialist doctors, and visit his dying mother in Hyderabad. "But then the police cited the Covid-19 situation and said Hyderabad is a containment zone and parole was rejected," said the friend adding, "the entire city is not a containment zone. He would have just gone to the specialised hospital, and if allowed by doctors seen his mother at his brother's home."
According to the family, on May 22, the HC had said that they could approach the appropriate authorities again once the Covid-19 containment was. "So, we applied for parole again on June 16, as the entire city of Hyderabad is not a containment zone," the family says they are still waiting as the order on this latest application is still pending.
The bench comprising Justice Atul Chandurkar and Justice Amit Borkar rejected his bail plea and noted that Saibaba's lawyers had urged that he be given a "temporary bail for a period of forty five days," they had submitted that "Court may impose stringent conditions while granting bail to the applicant."
The application was opposed by P Sathianathan, the Special Public Prosecutor for the State. He submitted that "in the light of the earlier order dated 25.03.2019 passed by this Court rejecting the application for suspension of sentence, the present application itself is not tenable. That order not having been challenged, it was not now open to seek a fresh consideration of the grounds which were available for being urged and considered by this Court."
The state had said on record that "all care and due precaution is being taken by the Jail Authorities in the light of the spread of Covid-19." The reply filed by the Chief Medical Officer, Nagpur Central Prison, had stated that Saibaba was in a "high security cell in a separate wing." The court was also told that he had tested negative for Covid-19 and "there was no contact between inmates of the wing in which the applicant was kept with the inmates of other wings. Only the staff that had tested negative was kept on duty."
The court was told that Saibaba had been assigned "two attendants for 24 hours," however he has maintained that he gets no help as other inmates are also scared of Covid-19 and want to keep distance.
The court has stated that even "though the applicant suffers from various ailments, in the light of the fact that he has been kept in a separate high security cell and there is no contact/communication between the inmates of the wing in which he is kept with the inmates of the other wings, we do not find any ground made out to release the applicant on temporary bail due to outbreak of the pandemic. While arriving at this conclusion, we have kept in mind the nature of accusations against the applicant, his conviction by the Sessions Court and rejection of his application for suspension of sentence by this Court."
They observed that in regard to Prof. Saibaba's statement about his worsening medical condition, they had "no further details," apart from what he has narrated. However the court has on record siad, "The reply filed by the Chief Medical Officer, Central Prison Nagpur that appropriate medical aid is being provided to the applicant. The treatment being rendered and the applicant's examination by experts is also evident on record." The court, therefore, ruled that, "We do not find any merit in the present application. It is accordingly rejected."
Related:
What lies behind the high walls of Indian prisons?
GN Saibaba gets medical care, khichdi, is safe from Covid: Maharashtra govt
GN Saibaba should be shifted to hospital before it's too late: NPRD
Covid-19 a death sentence for Prof. Saibaba: Wife demands release