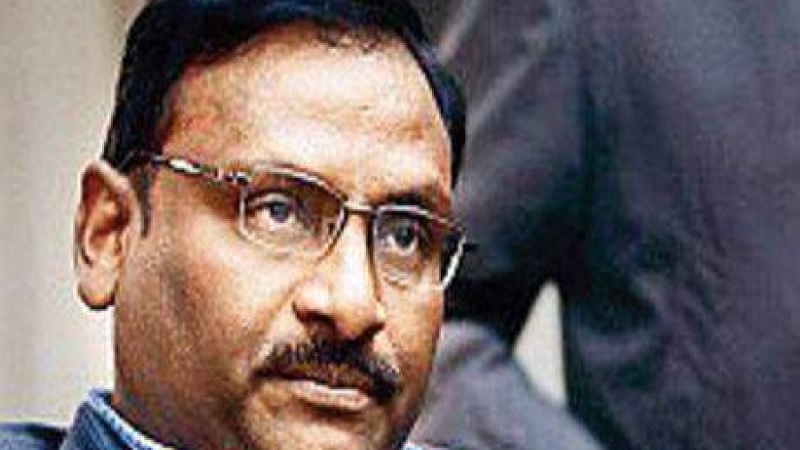 Image Courtesy:newindianexpress.com
The Maharashtra government has told the Nagpur bench of the Bombay High Court that the wheelchair bound former Delhi University professor is being given medical care and is kept in a separate cell. They say he is safe from the risk of contracting Covid-19. This was told to the court when the state opposed Saibaba's bail plea.
A Division Bench of Justices Z.A. Haq and S.M. Modak was hearing an appeal filed by Professor Saibaba (50) who is seeking a suspension of his sentence and temporary medical bail due to Covid-19.
Speaking on his behalf Saibaba's wife Vasantha has consistently maintained that he suffers from multiple comorbidities that put him in a more vulnerable situation now more than ever as he is being forced to live in unhygienic conditions, fears Vasantha. "If he ever tests positive for Covid-19 he will be confined to his cell alone. He will not be allowed to be shifted out of the jail. They isolate Covid-19 patients within the jail," she says.
Saibaba, in his plea filed through advocate Nihalsingh Rathod, had sought bail on medical grounds so that he can get treatment outside. He has been in Nagpur Central Jail since May 2014, and is serving a life sentence for his alleged links with Maoists.
As there had been a Covid-19 outbreak in the prison, Saibaba had stated that due to his multiple ailments he was prone to contracting the disease. His wife had said earlier that if he was infected with Coronavirus, it would be a "death sentence for him."
According to news reports around 150 prisoners and 40 jail staff have tested positive for coronavirus so far, in the Nagpur Central Prison .
However the jail officials have now replied that he is being given all the healthcare needed and was getting regular check ups by "expert doctors of the Government Medical College and Hospital and Super Speciality Hospital and by the Chief Medical Officer of the Nagpur Central Prison."
Saibaba's petition states that suffers from multiple ailments including: "acute pancreatitis, fatty liver, sleep apnea, blackouts/fainting, dizziness, spinning head, difficulty in urination, burning sensation during urination," formation of painful lump inside stomach". According to his legal team he has not been treated for the lump. The petition adds that he suffers from "paralytic attacks, palpitations in chest and stomach, cyst in the brain, left brachial plexopathy intensified further weakening the muscle, deltoid, supraspinatus, infraspinatus, teres minor, hypertropic cardiomyopathy with left ventricular dysfunctional for which he requires round-the-clock attention, assistance and medication."
However, the official reply to his application for fresh consideration of bail on medical grounds has been "strongly opposed" by the state which has called his reasons "baseless grounds."
According to the reply Saibaba is " provided medicines as recommended by experts of Government Medical College and Hospital and Super Specialty Hospital, Nagpur." It added details of hospital visits from 2018 and said that Saibaba "was advised laparoscopic Cholecystectomy surgery and was refereed to Government Medical College and Hospital Surgery Department for admission and surgery on July 16 2018, but he refused to attend the Hospital."
The reply adds details of other referrals and medical advice of 2018 and stated that Saibaba "refused to undergo these investigations." His wife has maintained that they believe in Ayurvedic treatment and want to avoid invasive procedures which they say are difficult to recover from in jail conditions.
However the state authorities say that due to the "uncooperative nature of the applicant the investigation and diagnostic process have been repeatedly hampered." Prison Administration maintains that it is "taking every effort to provide all necessary health services" including "regular check up by expert doctors." They add that he is even given "khichadi, and fiki dal (bland dal)" when he requests.
However, his lawyers say that all the citations are from 2018 and according to a member of his legal team they have not been given any medical records since March 2019.
"Their reply said acute pancreatitis has become normal. But Sai was suffering from this since his conviction, so how did it become normal without any treatment?" asked a lawyer.
There is also no update on the gall bladder problem, suspected cyst in the brain etc, said his lawyers. They too say that Saibaba needs daily physiotherapy with assisted exercise, however it is not possible or feasible to take him to the hospital daily.
According to his lawyers, "the four ailments mentioned on orthopaedic dept opd dated June 16, 2020 are degenerative. For the last two years there has only been detection, but no treatment at all."
Even though the prison is 'sealed' and has rotational staffing in line and all precautionary measures in place according to the Covid-19 protocol, the first positive case was detected on June 30. "The number soon reached 100 and now it has reached more than 250. So, any close unit can delay the spread, but it cannot stop it. Especially when we are in the community phase," said a lawyer adding, "Earlier they used to say- prison is sealed, hence corona cannot reach there. We saw the results. At last, it's just a matter of time."
The state's reply added: "if he is released on bail he will again conspire with Naxals and it will send wrong message to society." The matter comes up for hearing on July 28.
Related:

GN Saibaba should be shifted to hospital before it's too late: NPRD
Covid-19 a death sentence for Prof. Saibaba: Wife demands release