On Wednesday, August 1, numerous Goans, including activists, writers, politicians, and artists congregated in Panaji, calling for a ban on Sanatani organisations in the state, and for investigating their activities, Goa365 reported. The group had gathered to condemn the threat to the life of Sahitya Akademi award-winning writer Damodar Mauzo.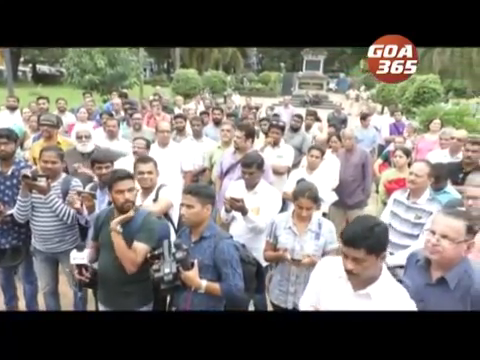 Late last month, Mauzo confirmed to the Indian Express that he had been given police protection, saying, "I have been very, very outspoken against the Sanathan Sanstha. I was told by the police the threat is right-wing". Goa Police said Mauzo was given police protection after his name was revealed by the alleged murderers of journalist Gauri Lankesh, the Express reported.
Mauzo told the Express about a seminar he had chaired in a seminar in Dandi in January 2016. "It was there that I openly said in a public gathering that I am proud that I am in Goa as it stands for harmony. I also said I am equally ashamed of Goa as this is where Sanathan Sanstha is headquartered". He added, "My freedom is not curbed and it never will. In the last six years, I have been very outspoken about this group and also about right-wing terror. My writings are proof… I am not going to stop speaking or change my opinions against them".
The panel Mauzo had chaired also featured the daughter-in-law of Govind Pansare, the son of Narendra Dabholkar, and the son of M. M. Kalburgi, all rationalists who have been murdered in recent years.
Mauzo was present at the Panaji demonstration, which was also supported by multiple Congress MLAs, Goa365 reported, saying that Mohandas Lolayekar, general secretary of Goa Forward, which is part of the coalition government, spoke at the meeting and blamed his own government.
At the meeting, Mauzo said, "Why has this happened today? When in 2009 the bomb blast happened, the State government went soft on the accused. If the government had remained firm, this would not have come to pass," The Hindu reported. In Madgaon in 2009, two Sanatan Sanstha members died while transporting an improvised explosive device (IED) bomb to a Diwali event. However, the organisation has said that it had no involvement in this. Eight Sanatan Sanstha members were accused in the case, but six were eventually acquitted.
The Sanatan Sanstha itself released a statement from spokesperson Chetan Rajhans, saying the meeting that was held in solidarity with Mauzo was "a show of anti-Hindu attitude," the Times of India reported.