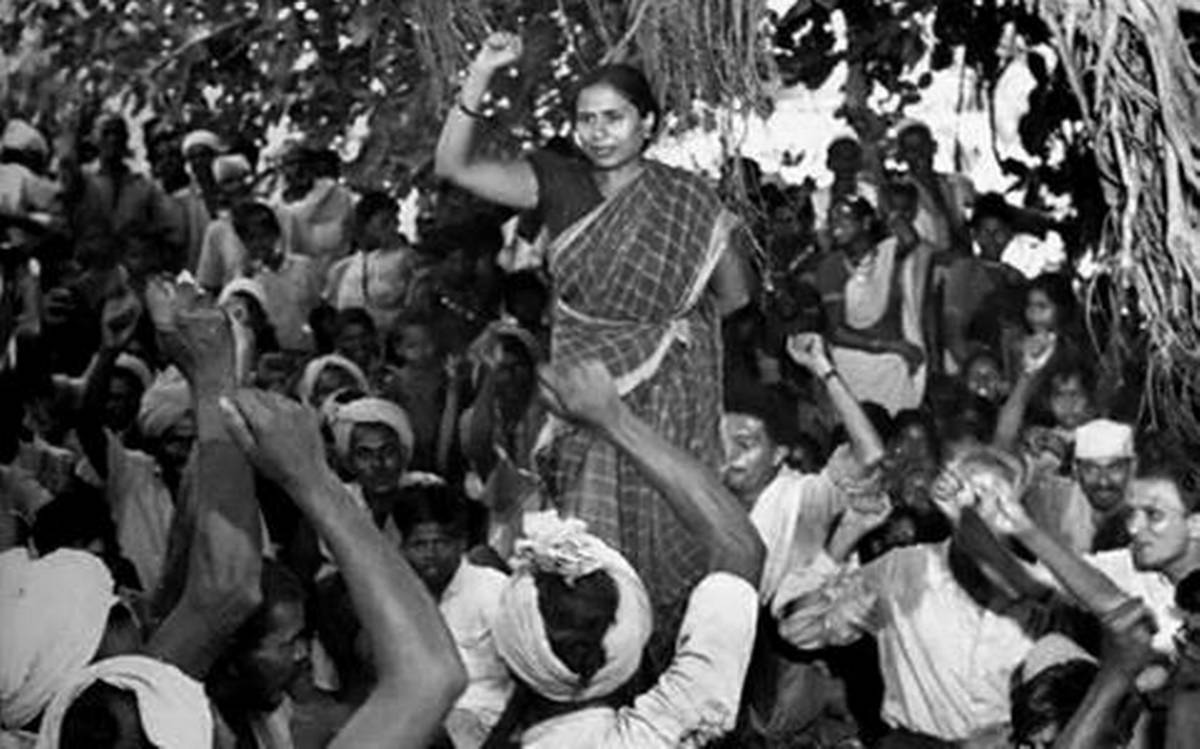 "Godutai" is a well-known name among the older Warli people in Thane-Palghar area. It was a nickname, lovingly given to Godavari Parulekar, an educated woman from a well-to-do family who fought and felt the pain levied upon the Adivasi community in the 1940s.
Godavari was a prominent figure in the Warli revolt that raged between 1945 and 1947. So much so, that even 24 years after her death on October 8, 1996, her legacy remains intact in their memories. She, with her husband Shamrao Parulekar, gave the clarion call to fight the system of bonded labour. Around 5,000 Warlis came to Zari village from various parts of Talasari taluka and the neighbouring Dahanu to fight the exploitation of landlords and demand fixed wages for their labour.
Godavari had already joined the All India Kisan Sabha before travelling to Palghar, convinced in her mind that the farmers held the key to freedom from colonial rule. Her animosity against the British had created a rift between her and her family who did not have a severe view of colonial rule. However, Godavari continued with her beliefs throughout her life and she along with her husband spent most of her life working for the upliftment of marginalized labourers. Women inspired by this trailblazer accompanied her to meetings where they presented their accounts and contributed greatly to the movement.
Visiting many Warli villages in the Thane-Palghar area, Godavari was horrified to see the living conditions of the Adivasis. Growing up in the house of a renowned lawyer in Pune, she had never really seen poverty up close. Even organizing a literary campaign in Maharashtra and working with domestic workers as the first female life member of the Servants of India Society did not prepare her for the future.
However, she later wrote a book 'Jewha Manus Jaga Hoto' (The Awakening of Man) on the Adivasi uprising that coloured a painful picture of the Warli folk before and during the revolt. The book recorded her unease and frustration towards the living conditions around her. Yet parts of her literature showed hopeful instances where people crossed the hurdles of economic hierarchy.
"They [Warlis] not only realized that we were different, they saw that we considered ourselves one of them. It helped us win their confidence. It gave them pride where they had only been shunned by society earlier… They were surprised, and inwardly happy, that we would eat and sleep with them … People who had never been treated like human beings were so hungry for humaneness and support," said the book.
However, she wasted no words portraying the horrible atrocities committed against Warli people from live burials to torture to sexual assault. She narrated an incident where a woman was sexually assaulted by a landlord. Her husband who tried to oppose this injustice was buried and although a case was registered, the doctor who investigated the burial spot said the bones belonged to an animal. Parulekar concluded the story by stating that there was no government for Warlis. Has this fact changed over the last 50 years?
Many such incidents in her book talked about atrocities against women like rape, accusations of witchcraft, killings in broad daylight like the aforementioned. She also talked about half-naked Warli children who were used to going to bed with half-full stomachs – in sharp contrast to her own childhood where she had the privilege to eat chocolates brought by her father.
Parulekar received the Lokmanya Tilak Award for her service towards the marginalised and downtrodden communities in India, and the Savitribai Phule Award for her work towards social equality and emancipation of women.
The reality shown and documented in her books won her the Sahitya Akademi award in 1972. Moreover, her books were translated in English and even Japanese.
Godavari Parulekar's life is an inspiring tale of empowerment and activism. She was the first woman law graduate in Maharashtra, making her an icon for young girls. At the same time, also worked for the upliftment of the marginalized driven by the ideals of Marxism.
Her work served as a foundation for empowerment of the Warli community. The Palghar Adivasis' appreciation for her is such that even in 2020, they fondly think of 'Godutai' on her death anniversary – the woman who led their community's women to a revolution.
Related:
MP: Adivasi activists illegally detained and tortured by forest officials
Remembering Bhagat Singh, Reclaiming the Right to be A Free Thinker