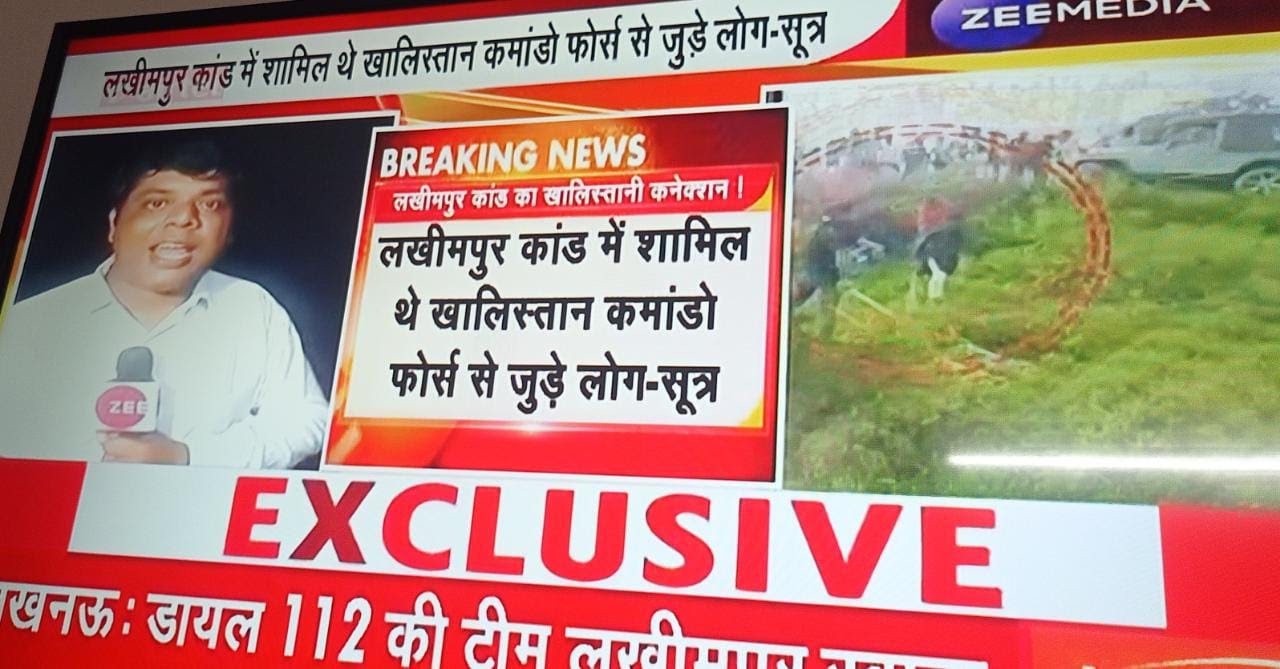 The death toll in the Lakhimpur Kheri violence, climbed to nine after the body of Raman Kashyap, a journalist, was found on Monday morning. Kashyap, according to media reports, hailed from the Nighasan area, and had been missing since Sunday from Lakhimpur. His tragic death has given fodder for right-wing trolls to put a communal spin on the horrific violence reported from Lakhimpur Kheri on Sunday.
By Monday noon, right-wing aligned news media had put its own spin on the coverage pinning the blame of the 4 non-farmers killed in the violence, on the protesting farmers. The incident was termed 'clashes' as if the farmers too had come prepared and armed and launched 'a counterattack' when it was four of them who were killed when a speeding car ran over them. The vehicle was allegedly driven by
Ashish Mishra, the son of Union Minister of State (MoS) for Home Ajay Mishra 'Teni'. He has, in turn, blamed the farmers, saying, "BJP workers were attacked, killed with sticks and swords." Videos show some attackers asked our workers to say that I had asked them to mow down farmers. Allegations against my son are totally baseless. Had he been there, he would've been killed." According to some news reports, "family members of the journalist identified his body on Monday" and alleged that "Kashyap, who was wearing a T-shirt flaunting an image of Bhindrawala, was lynched by the protesters."
"BJP workers were attacked, killed with sticks and swords. Videos show some attackers asked our workers to say that I had asked them to mow down farmers. Allegations against my son are totally baseless. Had he been there, he would've been killed: MoS Home Ajay Mishra Teni

(ANI) pic.twitter.com/jboff2hjr9

— NDTV (@ndtv) October 4, 2021
Perhaps some media houses such as TV-18 have decided the tone of their coverage early on. "Elections are due in the and it is farmers from Punjab who are protesting" said journalist Pallavi Ghosh as she anchored a news show that may be viewed here:
The reportage is that Opposition parties are now keen to maximize the 'political opportunity' as it were to visit Lakhimpur Kheri and show their voters that they stand in solidarity with the farmers. Uttar Pradesh's ADG (Law & Order) Prashant Kumar told the media that Lakhimpur Kheri has been kept out of bounds and "leaders of political parties have not been allowed to visit the district because Section 144 of CrPC is in place. However, members of farmer unions are allowed to come here."
However, even before any major political leader can reach the spoit, the news 'coverage has put its own spin on the events that are ongoing.
Here are a few samples:
So brazen has been this 'reporting' that social media handles had begun trending hashtags such as "#दैनिक_जागरण_दलाल_है" meaning Dainik Jagran is a pimp/middle man, and "#इतनी_बेशर्मी_लाते_कहां_से_हो" or "where do you get such shamelessness from?" to call out the mainstream media which has been following the line that the farmers are somehow to blame for the violence at Lakhimpur Kheri.
Farmer leader Rakesh Tikait's meanwhile, told the media that while extensive meetings were being held with the officers, they "admitted that it was the minister's son's fault" adding that "Ashish did not stop the convoy". However no arrests have been made so far. And most mainstream media is yet to question why there has been a delay in arresting the accused.
➡किसान नेता राकेश टिकैत का बयान

➡अफसरों से 6वें राउंड की मीटिंग हुई- टिकैत

➡'अफसरों ने माना कि मंत्री के बेटे की गलती है'

➡'रोकने के बाद भी आशीष ने काफिला नहीं रोका'

➡जिसके चलते इतनी बड़ी घटना हुई – टिकैत@RakeshTikaitBKU pic.twitter.com/UqvIYehNBK

— भारत समाचार (@bstvlive) October 4, 2021
Samyukta Kisan Morcha had also written to President Ramnath Kovind, seeking "action on the brutal killing of farmers in Lakhimpur Kheri, Uttar Pradesh". They wrote that "the whole country is outraged by the incident of the brutal killing of farmers in broad daylight by mowing them down with vehicles in Lakhimpur Kheri" yesterday, adding, "Union Minister of State for Home Affairs Ajay Kumar Mishra "Teni"'s son and his goon accomplices carried out this murderous attack in a brazen manner which shows a deep conspiracy of Uttar Pradesh and Central Governments. Ajay Mishra had already built a context to this attack by giving inflammatory and derogatory speeches against the farmers. It is no coincidence that on the same day, Haryana Chief Minister Manohar Lal Khattar is publicly inciting his party workers to take up lathis and indulge in violence against farmers."
The SKM detailed their demands to the President:
1. Union Home Minister Ajay Mishra Teni should be immediately dismissed from his post and a case should be filed against him for inciting violence and spreading communal hatred.
2. The Union Minister's son Ashish Mishra "Monu" and his fellow goons should be immediately booked for 302 (murder) and arrested immediately.
3. The investigation of this incident should be done by an SIT under the supervision of the Supreme Court.
4. Haryana Chief Minister Manohar Lal Khattar, who is inciting violence while holding a constitutional post, should be sacked from his post.
Farmer leaders have said that till the demands are met, further talks or negotiations with the government over the farm laws will not be held
लखीमपुर खीरी हिंसा केस: किसान नेताओं ने कहा, "जब तक केन्द्रीय मंत्री की बर्खास्तगी और उनके आरोपी बेटे की गिरफ्तारी नहीं होगी, आगे कोई वार्ता नहीं होगी।"
फोटो @AShukkla
लखीमपुर खीरी #lakhimpurkhiri #Lakhimpur #uttapradesh https://t.co/meaab4YS78 pic.twitter.com/VyCBJvP3ZY

— GaonConnection (@GaonConnection) October 4, 2021
The farmer victims were identified as Lovepreet Singh (20), Daljeet Singh (35), Nachattar Singh (60) and Gurvinder Singh (19). Around 15 others were reportedly injured and hospitalised. A badly injured SKM leader, Tajinder Singh Virk, has reportedly been brought to a Gurgaon hospital for further treatment. However, most of this has not made it to the headline, nor have the peaceful protests that were carried out across the country's District Collector's/DM's/DC's offices in all districts on Monday.
However, some media houses such as Jagran, Rediff etc are now reporting that "Farmers in Uttar Pradesh's Lakhimpur Kheri, who have been protesting over yesterday's deaths, have reached an understanding with the government and called off the protest." While no farmer union has confirmed this "compromise" the reports added that "the government has promised to pay a compensation of Rs45 lakh to the families of those who died. The injured will receive a compensation of 10 lakh" and that "farmers have also agreed to cremate the bodies of the four people who were allegedly mowed down by a car carrying the son of Union minister Ajay Kumar Mishra."
Related:
Lakhimpur Kheri violence: SC laments how nobody takes responsibility
Uttar Pradesh: Eight dead in violence at Lakhimpur Kheri, including four farmers after Minister's son allegedly drives over them
Haryana: Police use water cannons on protesting farmers in Jhajjar
Farmers resolve getting on the regime's nerves?Over 600 farmers struggle participants martyred so far