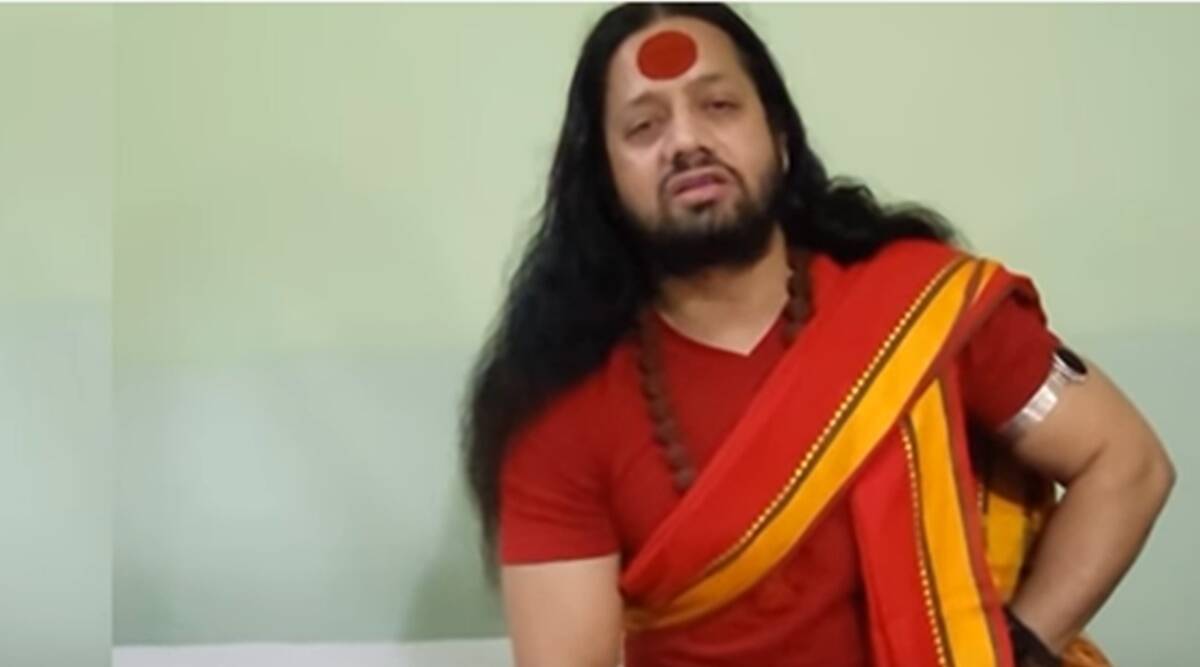 Kalicharan Maharaj, a spiritual leader who reportedly hails from Maharashtra was arrested by the Chhattisgarh Police from Madhya Pradesh's Khajuraho on the morning of December 30 for insulting Mahatma Gandhi. Speaking at a "Dharma Sansad" or religious meeting in Chhattisgarh's Raipur, Kalicharan had praised Nathuram Godse for assassinating the Father of the Nation.
He had said, "I salute Nathuram Godse that he killed Gandhi" adding that the "target of Islam is to capture nation through politics." He asked people to elect a "staunch Hindu king (leader) in the government irrespective of any party (he/she) belongs to…The women of our houses are very good and civilised and they do not go to vote (in election). When there will be gang-rapes then what will happen to women of your houses (families)…(Mahamurkho) Idiots! The target of Islam is to capture nation through politics. In front of our eyes they had captured in 1947 (referring to partition)…They had earlier captured Iran, Iraq and Afghanistan. They captured Bangladesh and Pakistan through politics."
In reaction, the chief patron Mahant Ramsunder Das withdrew from the event and walked out. A case was registered against Kalicharan, who was charged with promoting enmity between communities and he was arrested near Khajuraho.
According to a report in NDTV, Kalicharan tried to hoodwink police and booked a guest house in Khajuraho but did not stay there, but instead went to a rented house some 25 km from Khajuraho. The report added that "to evade the police from tracking, all his close aides had also switched off their phones". However on December 30 morning, Kalicharan was tracked down, arrested and taken to Chhattisgarh's capital Raipur. He reportedly said in a video statement that "despite the FIR, he doesn't regret his speech and he would continue to hate Gandhi".
This man with a name borrowed from a West Indies cricketer or a Shatrughan Sinha movie doesn't need execution; he needs education. https://t.co/AnaLM1gMWI

— saliltripathi (@saliltripathi) December 29, 2021
However, his arrest is being seen by the right wing ecosystem as a 'sacrifice' or even a witch hunt against his 'freedom of speech' in a Congress-governed state.
None arrested for hate speech in BJP-governed Uttarakhand
Meanwhile, no arrests have been made against those who called for violence at Bharatiya Janata Party (BJP) governed Uttarakhand's 'Dharam Sansad" or "Religious Parliament". An FIR has been filed by Haridwar Police, albeit under only one section of IPC i.e. 153A (promoting enmity between different groups on grounds of religion etc). The same was initially filed only against Jitendra Narayan Tyagi (formerly known as Wasim Rizvi) and later Dharamdas Maharaj and Sadhvi Annapurna were also added as accused.
The event that was held in Haridwar between December 17-19 and so-called religious leaders, delivered incendiary speeches that have the potential to incite hate and violence. In order to ensure that a serious inquiry takes place in this matter, CJP thought it pertinent that the National Commission of Minorities (NCM) get involved and initiate its own inquiry and monitor the police investigation as well.
CJP, in its complaint to the NCM, has detailed the hate speeches and calls for genocide made by the following people:
Swami Prabodhanand Giri, president of Uttarakhand Hindu Raksha Sena

Yati Narsinghanand, Head Priest Dasna Devi temple

Sadhvi Annapurna aka Pooja Shakun Pandey, general secretary Hindu Mahasabha

Swami Anandswaroop

Swami Sagar Sindhu Maharaj from Roorkee

Dharam Das Maharaj from Patna
Some named in FIR, but roaming free
Yati Narsinghanand, in fact has had multiple FIRs pending against him in the past and has not been arrested so far. Pushkar Singh Dhami, the Chief Minister of Uttarakhand which goes to polls in 2022 is yet to order any action against Narsinghanand, Jitendra Narayan Tyagi, Dharamdas and Annapurna.
On the other hand these Hindutva flag bearers and hate speech makers recently made a public show of how the state police and the administration are with them. The cop received their complaint against "The Quran, Maulvis of Haridwar and other unnamed Muslims" on Tuesday, December 28, applause and slogans of Har Har Mahadev. Narsinghanand who is the main organiser of the Haridwar hate assembly declares that the cop is "biassed" and "is on our side."
Who 'tricked' UP's schoolchildren into chanting 'kill to create Hindu Rashtra' oath?
Suresh Chavhanke, CMD and editor-in-chief of Sudarshan News, recently tweeted a video where over two dozen boys and girls, many dressed in their school uniform of maroon blazer or sweater, maroon trousers and white shirt, some in casual wear, 'pledging to "fight, die and kill" to create a Hindu Rashtra'. The kids repeat what the man chants even as a few toddlers are seen in the front. The kids extended their right arm forward and in Hindi said, "We give our word, we pledge to fight, die and kill, if necessary, and be ready for any sacrifice till the last moment of our lives to make this country a Hindu Rashtra and take it forward at any cost. We shall not step back even for a moment. May our Gurudev, our Kul Devata (family god), our Gram Devata (village god), our ancestors and Bharat Mata give us strength and victory."
Chavhanke had, claimed, that the "oaths for Hindu Rashtra are going on at several places in India. These schoolchildren from Sonbhadra in Uttar Pradesh challenged the anti-Hindus by taking oath."
A few days ago Chavhanke, himself had led a similar 'oath ceremony' in Delhi. "We take an oath and make a resolution that till our last breath, we shall fight, die for and if need be, kill, to make this country a Hindu rashtra…" he said and the gathering repeated the chant. Social media users pointed out that Uttar Pradesh minister Rajeshwar Singh was also present at the event by the Delhi unit of the Hindu Yuva Vahini which claims it "is a Hindu Nationalist youth organisation, founded by Shri Yogi Adityanath ji, intended successor of the Gorakhpur Mutt temple in Gorakhpur and Chief Minister of Uttar Pradesh, India." According to new reports, while Delhi police confirmed that the event took place in the capital on December 22, no case has been filed yet.
According to a report in The Telegraph Jitendra Singh, manager of Vimla Inter College at Robertganj in Uttar Pradesh's Sonbhadra district, said a "crew that introduced themselves as from Sudarshan News had asked to take boys from the school to a nearby park for a debate they said they wanted to film." He added that he is a Hindu "but I don't approve of fanaticism. I condemn it and will support any inquiry against such elements." Singh said the Sudarshan News crew had microphones that bore the name and told him they "wanted the students to gather at the nearby Chacha Nehru Park for a debate on rashtra dharma (national duty)." He claims he did not object as he had "seen television reporters interview common people, so I didn't object… I have learnt that five Class XI students and five Class XII students from our school were in the park. I shall, if necessary, ask the students and their parents to take legal action against those trying to violate our Constitution."
School principal Shiv Narayan Lal, was quoted by the report saying, "There is no question of supporting any such violent ideology. We knew our students had been taken to the park but didn't know that the people from the news channel meant mischief." Sonbhadra superintendent of police Amrendra Pratap Singh added that the police had started an inquiry into the event, "I shall be able to share the details once the inquiry has been completed," he said.
The 'Dharma Sansad' which became a Hindutva 'hate speech' conclave at Haridwar, made global news for its calls to violence against Muslims. Many of those who spoke have flaunted close connections with the Bharatiya Janata Party (BJP) which is in power in the state, and the Centre. Eventually, following global outrage a first information report (FIR) registered by Uttarakhand Police, under Section 153A IPC, (Promoting enmity between different groups on grounds of religion, race, place of birth, residence, language, etc., and doing acts prejudicial to maintenance of harmony on December 23.
Related:
Hate Speech: The worst words of 2021, we hope do not spill over into 2022
Poisoning people's minds to ensure polarisation in the coming polls
Why does the PM look the other way when BJP leaders give communal speeches?
Activists counter call for genocide with a call for secularity
Uttarakhand: Will Jitendra Narayan Singh Tyagi nee Wasim Rizvi benefit from the FIR against him, or will he be the scapegoat?
How did Uttarakhand govt allow calls for Muslim genocide in Haridwar?