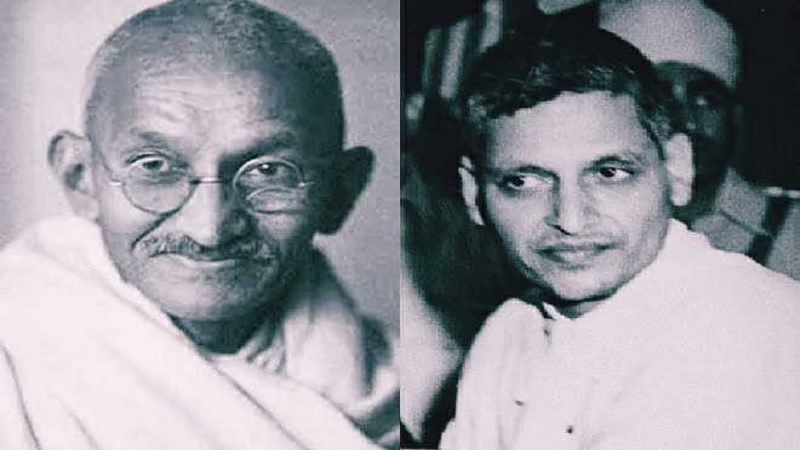 Image Courtesy:freepressjournal.in
Every year, India remembers the secular teachings Mahatma Gandhi on October 2, 2020. It is therefore a mystery as to why the hashtag of #नाथूराम_गोडसे_जिंदाबाद has started trending on the birth anniversary of India's 'Bapu.'
#नाथूराम_गोडसे_जिंदाबाद #gandhijayanthi2020 pic.twitter.com/jnruDDYYjr

— Harsh Soni (@harshsoni73) October 2, 2020
Nathuram Godse, a strong proponent of Hindu nationalism in his life, shot Gandhi thrice in the chest on January 30, 1948. It is shocking that netizens would choose the birth anniversary of Gandhi to remember his murderer.
Yet, people indulged in a meaningless day-long feud between Gandhi-supporters and Nathuram-supporters.
#सुदर्शन_की_हार_हिंदुओ_की_हार#नाथूराम_गोडसे_जिंदाबाद pic.twitter.com/3WkSh2n795

— कोठारी_विनोद_राम_शरद_कोठारी? (@VinodKothari16) October 2, 2020
As long as Mahatma Gandhi remains on this earth, Godse will remain on this earth as terrorist. #नाथूराम_गोडसे_जिंदाबाद

— Rana Choudhury (@rana1303) October 2, 2020
#नाथूराम_गोडसे_जिंदाबाद Godsey is God for Hindu rastras nathRAM was real RAMA of India Gandhi killed Godsey good work For india

— Gaurav Kumar singh (@GauravK21603324) October 2, 2020
Most of these people seemed have a few similar traits such as extreme love for Prime Minister Narendra Modi, a sectarian attitude and a great many vile words for those who conveyed contrary views on their posts. Moreover, many of the people sharing the hashtag are being followed by Modi.
These are the people followed by our Hon. Prime Minister Shri. Narendra Modi on @Twitter who are trending #नाथूराम_गोडसे_जिंदाबाद !

Shame on you @BJP4India IT Cell !@rohanrgupta @Pawankhera @SupriyaShrinate @NayakRagini @drshamamohd @srivatsayb @GauravPandhi pic.twitter.com/PWjkzuWMOs

— Sumedh Gaikwad (@sumedhbgaikwad) October 2, 2020
Some people even went so far as to present Gandhi in completely different colours.
See the full image ? pic.twitter.com/8Q83JgKbLb

— Aryan Chourasia (@AryanChourasi99) October 2, 2020
On the other side, people have thrown up their hands in exasperation at this display of insensitivity.
#नाथूराम_गोडसे_जिंदाबाद why is the nation stunned that this is trending?Hindutva wants us to believe Bhagat Singh(Communist),Vallabhai Patel(who wanted to eradicate RSS) and Bose(no ideology with hindutva) as their icons. But Godse,Savarkar,Golwalker and Upadhyay are their icons.

— Onaandi Pulavan ☮️ (@ka_kaushik) October 2, 2020
महात्मा गांधी को नमन कर गोडडे ने उनके सीने में गोलियां दाग दी थीं। आज भी गौडसे भक्त #नाथूराम_गोडसे_जिंदाबाद कर रहे हैं महात्मा गाँधी को नमन कर। https://t.co/PKq46WSuds

— #सत्यसारथी – नरेंद्र (@SATYASAARTHI) October 2, 2020
To those who are trending: #नाथूराम_गोडसे_जिंदाबाद pic.twitter.com/DTNTtBmElo

— Subramanyam Swami (@SaysSwami) October 2, 2020
To the masses, Gandhi's image has reminded people of the principles of secularism and non-violence. That people chose his birth date to celebrate a man who seemed to have complete opposite views, acts as a telling tale of India's current socio-political condition.
It is of course the right of every citizen to believe in whatever principles they choose. However, to celebrate a murderer on the day of his victim's birthday violates the spirit of Indian Constitution and comes across as completely insensitive considering ongoing issues.
Related:
Mahatma Gandhi: Words that still resonate
Why are rapists and 'upper-caste' supremacists getting bolder in UP?
No discussion on who killed Mahatma Gandhi is complete without addressing idea of a Hindu Rashtra
Mahatma Gandhi, Race and Caste