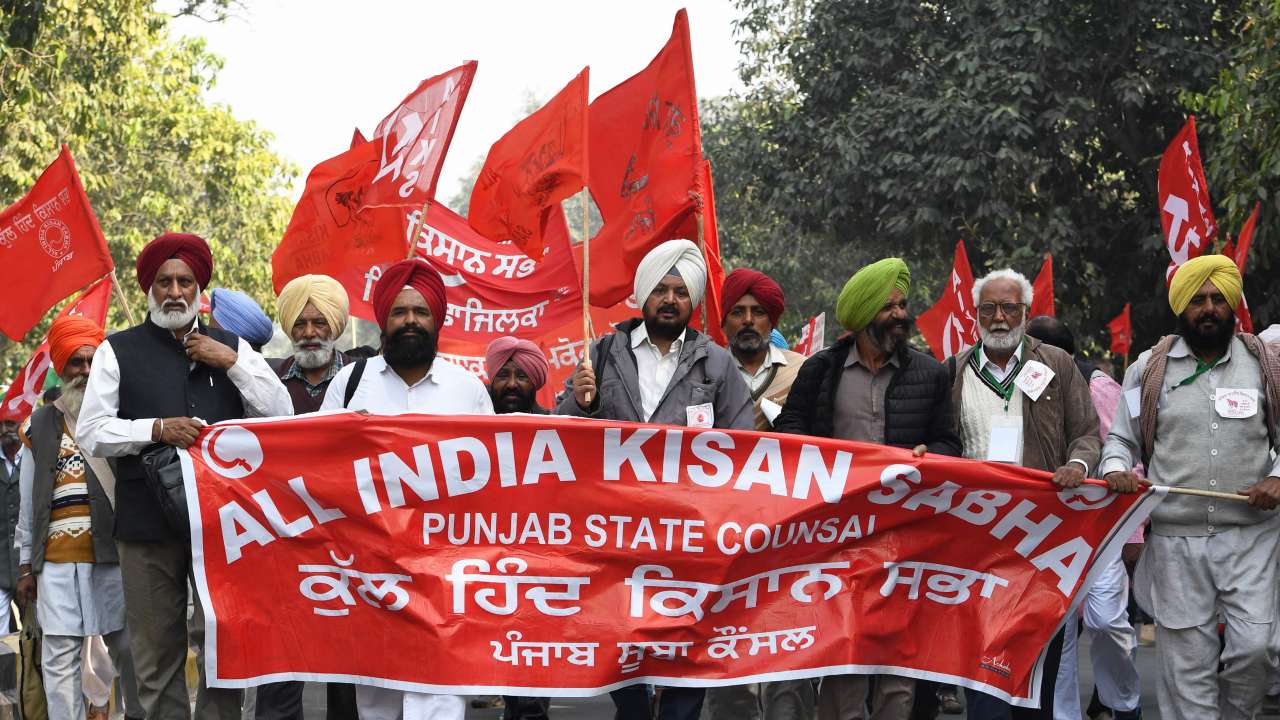 According to the All India Kisan Sabha (AIKS) the Centre's attack on the Food Corporation of India (FCI) and the Public Distribution System (PDS) began with the Shanta Kumar Committee report. AIKS leaders Hannan Mollah and Ashok Dhawale said this on April 5, 2021, FCI Bachao Divas.
While farmers across India marked the day by gheraoing FCI offices, the AIKS wrote a letter to Prime Minister Narendra Modi, as a constituent to the Samyukt Kisan Morcha (SKM) to condemn government attempts to dismantle both the PDS and the Minimum Support Price (MSP) procurement for corporate benefit.
AIKS General Secretary Mollah decried the government's decision to employ the 2015 committee report's recommendations such as:
reduction in number of beneficiaries under the Food Security Act—from the then 67 percent to 40 percent

permission to private entities to procure and store food grains

disposing bonuses on MSP paid by states to farmers

adoption of a cash transfer system to directly transfer subsidy amounts to farmers and beneficiaries

restricting FCI in poor-procurement states while well-performing states like Haryana, Punjab, Andhra Pradesh, Chhattisgarh, Madhya Pradesh and Odisha, the states should do the procurement.
"It is evident that the three farm laws enacted by your government carry forward some of these recommendations. They compromise the FCI, MSP, PDS and procurement of food grains," said Mollah.
For this reason, farmers also submitted a memorandum with the following demands:
1. Increased FCI budget with government paying pending loan and interest to increase FCI procurement centres.
2. Speedy procurement and sale of farmers' produce at MSP or higher prices, failing which, buyers must face strict action.
3. Immediate withdrawal on the decision to reduce number of ration cards to continue food security of millions of people through the PDS service.
4. Until PDS is universalised, ensure that the 81.35 crore PDS beneficiaries get 15 kg food grains, and 1 kg each for dal, sugar and cooking oil per head every month.
5. Roll back on government provision of direct payment to farmers' bank accounts and repeal decision to submit jamabandhi for wheat procurement.
6. Permanent charges to FCI employees and workers on contract and occupancy of all vacant posts.
Under the Essential Commodities Amendment Act 2020, the GOI has freed up stock limits by all private traders and corporates and permitted annual increase in food grain prices by 50 percent. This will increase food grain hoarding, profiteering and black marketing, said farmers. Similarly, new APMC laws will promote private mandis and practically dispose of government procurement and MSP.
Leaders reminded PM Modi that the Government of India is responsible for the national food security and as such must procure food grains, maintain food stocks to tide over scarcities and calamities and provide food grains to the poor to ensure that people are not forced to remain hungry.
"The budget allocation for food subsidy continues to remain stagnant at around Rs. 1,15,000 crore for the last several years and even this amount is not fully spent by the government. The PDS supplies around 50 million tonnes of food grains to the poor. The Niti Aayog has already recommended that 60 percent and 40 percent reduction in ration cards in urban and rural areas. If the poor have to buy from the open market, they will starve and deaths due to hunger will increase," said AIKS President Dhawale.

Related:
Provide adequate budget to FCI! Protect the hungry! Demand India's farmers
Protection of FCIs, a matter of food growers' future: AIKMS
Farmers to commemorate Samvidhan Bachao Diwas on Babasaheb Ambedkar's birth anniversary
Farmers may lose nearly Rs. 5,000 crore this season: MSP Loot Calculator