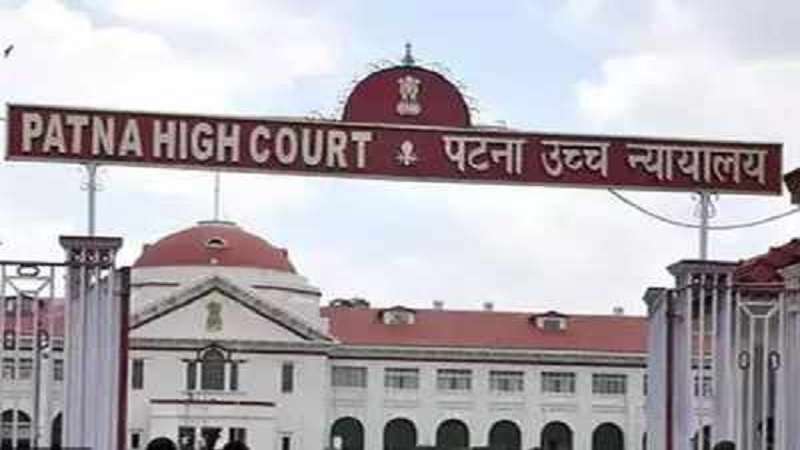 Image Courtesy:timesofindia.indiatimes.com
The Bihar High Court has taken note of the grave situation in the State, expressing concern over the management of the Covid-19 surge. A Division Bench comprising Justices CS Singh and Mohit Kumar Shah has held that the government has failed "to keep the people of Bihar informed about availability/ non-availability of health care facilities in the State."
It noted that the State has also failed to regulate testing of people who are arriving in the State from other States. Accordingly, the court has directed the government to step up the pace of RT-PCR tests.
The Bench sternly remarked, "Minimum what is expected of the State-Respondents is to take all possible measures so as to ensure that persons coming from outside the State are either made to undergo rapid antigen test or they are able to show on the basis of the test reports available with them that they are not COVID positive. In case a person is found to be Covid positive, steps should be taken to ensure that he can reach a designated place for isolation or treatment with adequate and desired care and caution."
It has also directed the Government to submit a report regarding the available manpower and other infrastructure at Covid Care Centres and Dedicated Covid Health Centres in the State.
Further, the Bench has pulled up the Health Department of the State for false representation of available beds in the State, especially Patna. It said, "On the one hand the Covid patients are running helter-skelter for admission in Covid Care Centres/Dedicated Covid Care Centres/ Dedicated Covid Hospitals, the figures presented by the Health Department represent that a large number, rather, most of the beds available for Covid patients are unoccupied…..No acceptable logic is coming forth to explain this startling phenomenon, as admittedly the patients in the state are being denied admission because of unavailability of beds, though, lack of awareness among affected people about availability of such facilities in all the Districts of the state is being cited as one of possible reasons why there is mad rush to Patna hospitals out of a sense of fury."
The Patna High Court was informed that on an average 40,000 RT-PCR tests are being done in the State every day. There are reportedly 18 laboratories in different medical colleges in the State which have the machines to conduct RT-PCR tests. In addition, five private laboratories have been granted permission to conduct such tests.
To this the court said, "The State Government is directed to ensure that at-least in these three districts, namely, Motihari, Purnia and Munger, the laboratories start functioning to enhance the number of tests… The Court expects the respondents to step up the speed/pace of RT-PCR tests in the State."
Although the Bihar government's data provides that "huge numbers of beds are available with oxygen", the court observed that there is a critical shortage of medical oxygen in the State. "This contradiction has remained unexplained", further remarked the Bench.
Finally, the court also took judicial notice of acute shortage of Remdesivir injection in the State and its consequent illicit trade in black market at a staggering price. It said, "This is a matter of serious concern and the Court shall be constrained to pass appropriate orders if no befitting action is found to be taken by the State Government in this regard."
As per many media reports, many Bihar hospitals have been facing shortage of beds because of which patients are being turned away. Government hospitals in Patna have a total of 359 beds, while private hospitals have 832 beds assigned for Covid patients which is inadequate because as many as 18,466 people in the State have tested positive in the last seven days and over 50 have died. An administrative manager of a city hospital also added, "We have had to turn away several patients as no beds are available. We feel sorry for them, but are helpless," reported The Hindu.
In an attempt to break the chain of transmission, the Bihar government has imposed a night curfew in the state from 9 pm to 5 am and all schools, colleges and other educational institutes have been ordered to remain closed till May 15.
The order may be read here:
Related:
Unregistered hospitals allowed to function as Covid hospitals, Patna HC questions move
Covid-19: Bihar Hospitals face shortage of beds, patients being turned away
Provide 10,000 vials of Remdesivir to Nagpur: Bombay HC to Maha Gov't
Uttar Pradesh is reeling under Covid-19 crisis, who is in charge?