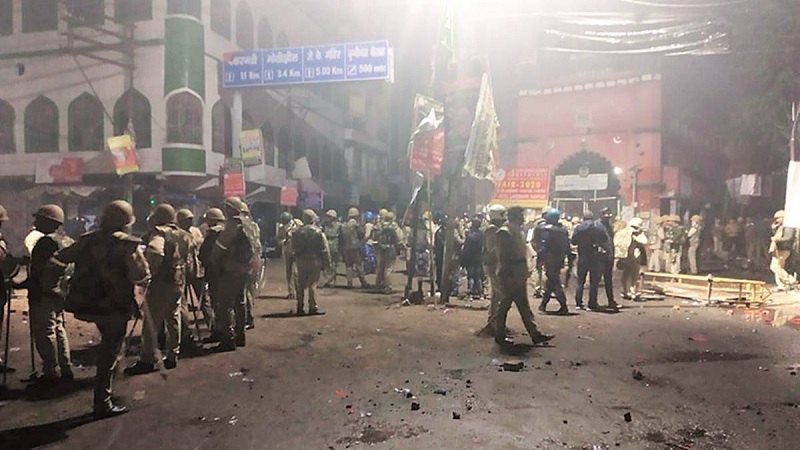 Image Courtesy:indianexpress.com
The Uttar Pradesh government has sanctioned the trials against 67 people booked in Bijnor district, who have been accused of being involved in "clashes" that took place on December 20, 2019, during anti Citizenship Amendment Act (CAA) protests. According to a news report in the Times of India, the local police had booked 67 people including a former chairman of nagar palika, who had been named in four first information reports (FIRs).
According to the news report, the accused were charged under multiple sections of IPC, including 153-A (promoting enmity between different groups on grounds of religion, race, place of birth, residence, language, etc., and doing acts prejudicial to maintenance of harmony) and 295- A (Injuring or defiling place of worship with intent to insult the religion of any class).
Under these IPC sections, a prior sanction of the state or the central government is mandatory before trials can begin against the accused. The UP Police had filed a provisional charge sheet against the accused and had to wait for the "prosecution sanction from the government" which was granted last week. Like Bijnor several other districts have also applied for the sanction, added the TOI quoting Bijnor's SP Dharamveer Singh: "After collecting evidence against the accused, we had sought permission for prosecution for 153-A of IPC from the regime. The government has granted permission. "
According to the additional district government counsel also quoted in the report: "Police had submitted a provisional charge sheet in connection with the anti-CAA protests in the court. They had sought permission from the state for prosecution under section 295-A and 153-A. The court considers the above two sections only when the government gives its nod. Most of the accused are out on bail. "
Massive protests and clashes were reported from the district on December 20, 2019, stated a news report, adding that areas such as Bijnor, Nahtaur, Jalalabad, Nagina, Chandpur, Najibabad and Sherkot had been affected. It was alleged that anti-CAA protesters burnt vehicles and vandalized shops. Two persons were also reported killed in Nahtaur town. According to the local administration damages to public properties were estimated to be worth around Rs 21.7lakh.
Related
A 2020 report on Victims of Vilification: Anti-CAA protesters in Uttar Pradesh
10 most hate-driven statements by Indian politicians