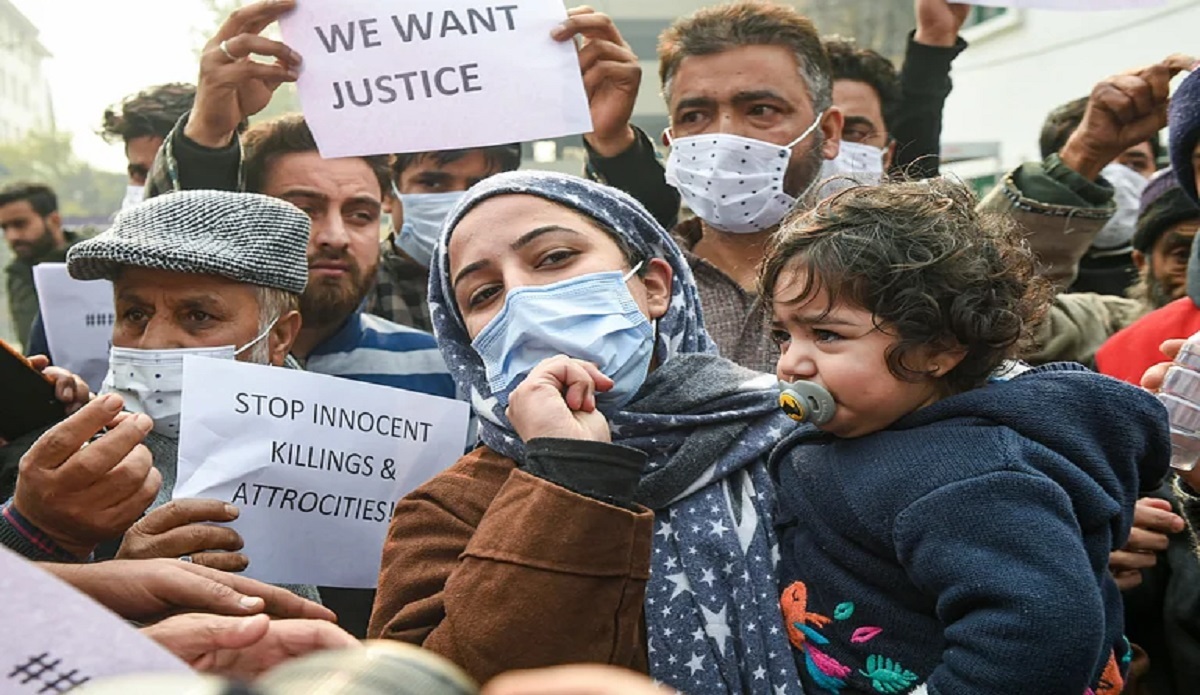 Image: PTI
It is perhaps for the first time a body buried under police watch will be returned to the family, since the outbreak of the Covid-19 pandemic in March last year, reported Indian Express. It is also perhaps a rare instance of bodies of those killed in a police encounter and suspected of being allegedly involved in or suspected to be connected with militant acts, will be returned to their families.
Till late on Thursday night, the bodies of Altaf Bhat, a businessman, and Dr Mudassir Gul, a dentist, who had been killed during an encounter in Hyderpora, had not been handed over to the families, stated news reports. Bhat, and Gul's families had been on a sit-in protest since the killings, demanding return of the bodies. They two had been buried in Handwara, more than 70 kilometres from Srinagar, stated news reports. The families were reported to have been forcibly evicted from the protest site as well.
#Kashmir: Heartbreaking to see our colleague @saimabhat and her family being dragged into a police vehicle after they held over 12 hours of peaceful demonstration. The families are demanding bodies of their kin who were killed at #Hyderpora on Monday.
pic.twitter.com/a5SOLOgBeK

— Azaan Javaid (@AzaanJavaid) November 17, 2021
VP Omar Abdullah led a peaceful sit-in demanding the return of bodies of those killed in Hyderpora. After the family member of the slain informed him that the authorities have assured the return of dead bodies, the protest was called off. pic.twitter.com/puyvp4kkpL

— JKNC (@JKNC_) November 18, 2021
The People's Alliance for Gupkar Declaration (PAGD) had met on Thursday and demanded a time-bound judiciary inquiry into Hyderpora killings. PAGD has also asked for a handover of the bodies to the families of the slain civilians as it is their "constitutional right and not a favour."
Bodies of two Srinagar residents were exhumed from a graveyard at Wadder Zachaldara in J&K's Handwara, where they were buried along with two other persons killed in the Hyderpora encounter. The J&K Police had claimed that those killed included two militants, along with a possible accomplice and the owner of the commercial building where the encounter took place. However the families of the civilians killed said the two men had nothing to do with any terror activists and demanded that their bodies be handed over. For the last two years, police in Kashmir do not hand over the bodies of militants killed in encounters to the family for last rites citing their funerals create a law and order situation.
However, the J&K administration on Thursday exhumed the bodies of the two civilians and ordered a magisterial inquiry, after protests over the incident spread across the Valley. The bodies were exhumed after sundown and are likely to be handed over to their families, reported India Today. According to the report, the bodies, accompanied by a police team, were being moved to Srinagar from Handwara.
No demand for Justice, No Enquiry sought. Only seeking the dead body of their loved ones. pic.twitter.com/EElWI4DhuP

— J&K PDP (@jkpdp) November 18, 2021
According to the Indian Express, Bhat and Gul's families said they had prepared graves for their burial in their ancestral graveyards. It was not known if the body of Amir Magray, a resident of Gool in Ramban, Jammu will also be exhumed too. According to IE, Magray's father Abdul Latief Magray, a state bravery award winner, said his son worked as an office staff with Gul and asked, "How can my son be a militant as I fought against them during peak militancy in the area?"
Let's not forget a poor father is waiting for the mortal remains of his son Amir 3rd civillian of Hyderpora encounter. I appeal the political leadership , journalists , activists to stand with him & seek justice for him. Least we can give Amir is a burial with respect & dignity. pic.twitter.com/PmyfEtOULh

— Mohit Bhan موہت بھان (@buttkout) November 19, 2021
Related:
Won't allow Kashmir to be turned into a graveyard: PADG
Kashmir: Four killed in Hyderpora gunfight
Hundreds mourn Srinagar resident Mohammad Ibrahim Khan
J&K: Police book students who allegedly celebrated Pakistan cricket win under UAPA
J&K: More migrant workers shot dead by terrorists over the weekend, all eyes on Centre