Less than a week into his presidency, Donald Trump has made good on his signature campaign threat to start
building a wall
on the border with Mexico. A second executive order will facilitate swifter deportations for illegal immigrants. But this is only a start, with other measures set to be announced this week.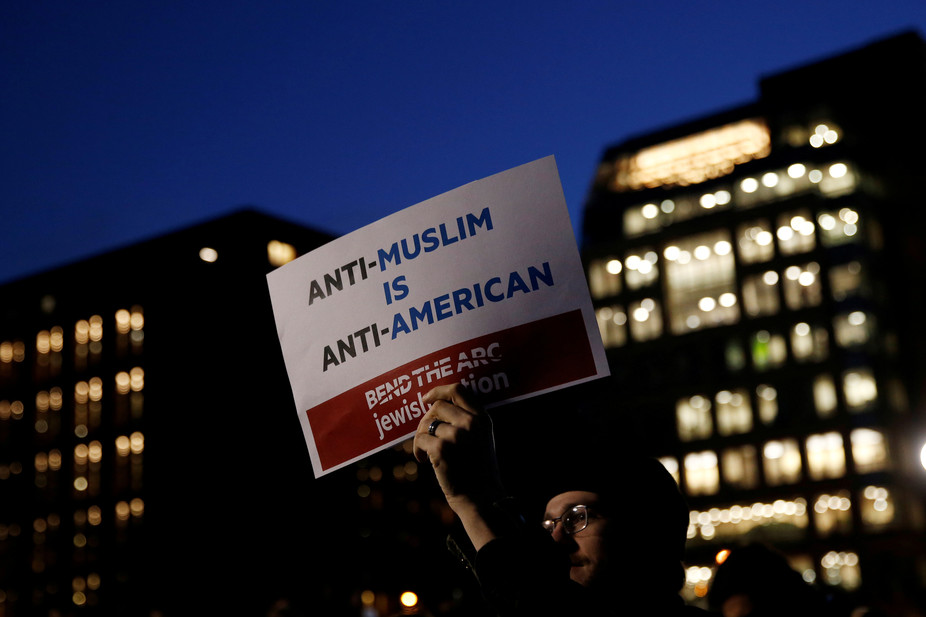 Demonstrators gather at Washington Square Park to protest against President Trump in New York. Reuters/Shannon Stapleton
These include a range of restrictions on citizens from seven war-torn countries in the Middle East and Africa. These are expected to include a temporary ban on most refugees and a suspension of visas. Sudan, Libya and Somalia are said to be on the list.
Questioned about when the additional measures would be announced, White House spokesman Sean Spicer said

You'll see more action this week about keeping America safe.

Trump pledged during his election campaign to do just this by using what he termed "extreme vetting". This comes after complaints from the president's favourite website –Breitbart – that refugees from conflict zones were still being resettled in the US.
The developments will be a real blow to America's large and thriving Somali and Libyan communities, for whom family reunions and visits from loved ones will be increasingly difficult. There were more than 150,000 Somali immigrants resident in the US as of 2015. Most entered after the 9/11 attacks.
It comes as the communities have been putting down roots, with the Somalis having elected their first legislator, Ilhan Omar. Omar, herself a refugee, is now an elected representative in Minnesota. It was a huge achievement, which she was keen to celebrate:

For me, this is my country, this is for my future, for my children's future and for my grandchildren's future to make our democracy more vibrant, more inclusive, more accessible and transparent which is going to be useful for all of us.

But it is not just Trump and the US throwing up barriers to Africans. The European Union is moving fast to halt the arrival of refugees and migrants on its southern shores, and is close to achieving the virtual "wall" that Trump is set on erecting.

Europe moves to seal migrant routes
Europe is close to sealing the routes refugees and migrants take across the Mediterranean. Consider the facts. These are the routes into southern Europe. (Map: Frontex Risk Analysis, Q2 2016)
The graphic produced by the EU's Frontier Agency is clear: the major route that Africans are taking is via Libya.

The map below, from the same source, underlines the point.

Two routes that Africans have used in the past have almost been sealed. There is next to no transit by sea from West Africa through the Canary Islands and only a limited number arriving in Spain.
The Egyptian route through the Sinai and Israel has also been closed. The brutal treatment of Eritreans and Sudanese in the Sinai by mafia-style Bedouin families, who extracted ransoms with torture and rape, was certainly a deterrent. But this route was sealed in December 2013 when the Israeli authorities built an almost impregnable fence, blocking entry via the Sinai.
This has left Libya – and to a lesser extent Egypt – as the only viable route for Africans to use. Both are becoming more difficult. There has been the increasing propensity of Egypt to deport Eritreans to their home country, despite the risks that they will be jailed and abused when they are returned.

Libya, the final brick in the wall
Libya is critical to the success of the EU's strategy, as a recent European assessment explained:

Libya is of pivotal importance as the primary point of departure for the Central Mediterranean route.

The EU has adopted new tactics to try to seal the central Mediterranean route. The countries keenest to push for this are Germany and Italy, which have taken the bulk of the refugees in recent years.
Earlier this month Italy's Interior Minister Marco Minniti was dispatched to Tripoli to broker an agreement on fighting irregular migration through the country with Fayez al-Sarraj, head of the UN-backed Government of National Accord. Minniti and al-Sarraj agreed to reinforce cooperation on security, the fight against terrorism and human trafficking.
Mario Giro, Italy's deputy foreign minister, told the Financial Times:

There is a new impulse here – we are moving as pioneers. But there is a lot of work to do, because Libya still doesn't yet have the capacity to manage the flows, and the country is still divided.

The Italian proposals are very much in line with agreements the EU reached with African leaders during their summit in Malta in late 2015. The two sides signed a deal to halt the flight of refugees and migrants.
Europe offered training to "law enforcement and judicial authorities" in new methods of investigation and "assisting in setting up specialised anti-trafficking and smuggling police units". The European police forces of Europol and the EU's border force (Frontex) will assist African security police in countering the "production of forged and fraudulent documents".
This meant co-operating with dictatorial regimes, like Sudan, which is ruled by Omar al-Bashir. He is wanted for war crimes and crimes against humanity by the International Criminal Court.
What is clear is that Europe is determined to do all it can to reduce and finally halt the flow of Africans through Libya – the only viable route left for most African migrants and refugees to reach Europe.
Now Trump is joining these efforts with his own restrictions. For Africans fleeing conflicts the prospects look increasingly grim.
Author is Senior Research Fellow, Horn of Africa and Southern Africa, Institute of Commonwealth Studies, School of Advanced Study
Courtesy: The Conversation