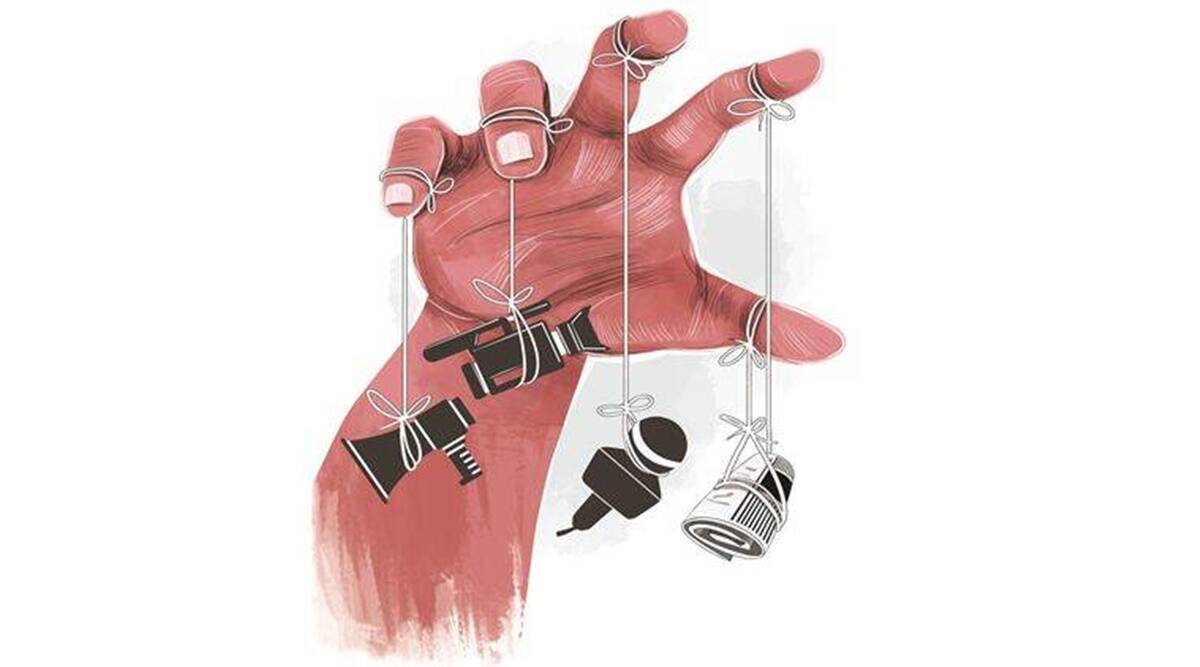 Illustration: Suvajit Dey | The Indian Express

As the world marked World Press Freedom day on May 3, journalists in India were aware and discussing how our 'freedom' ranking has fallen further to 150 out of 180 countries. International media body Reporters Without Borders (RSF) published its 2022 World Press Freedom Index on May 3. This index highlights the "degree of freedom that journalists, news organisations and netizens have in each country, and the government's efforts to respect such freedom".
According to RSF, in India, "violence against journalists, the politically partisan media and the concentration of media ownership all demonstrate that press freedom is in crisis in "the world's largest democracy", ruled since 2014 by Prime Minister Narendra Modi, the leader of the Bharatiya Janata Party (BJP) and the embodiment of the Hindu nationalist right."
The Indian media is made up of over 100,000 newspapers (including 36,000 weeklies) and 380 TV news channels. However, as RSF points out the "concentration of ownership" remains "with only a handful of sprawling media companies at the national level, including the Times Group, HT Media Ltd, The Hindu Group and Network18." And this is even more "marked at the regional level for local language publications such as Kolkata's Bengali-language Anandabazar Patrika, the Mumbai-based daily Lokmat, published in Marathi, and Malayala Manorama, distributed in southern India."
Law and media
According to the RSF, "Charges of defamation, sedition, contempt of court and endangering national security are increasingly used against journalists critical of the government, who are branded as "anti-national." Scores of journalists have been "arrested and sometimes detained arbitrarily" state RSF highlighting the case of Sidique Kappan, adding that "these repeated violations undermine media self-regulatory bodies, such as the Press Council of India (PCI) and the Electronic Media Monitoring Centre (EMMC)."
RSF says, "The central government has seen that it can exploit this to impose its own narrative, and is now spending more than 130 billion rupees (5 billion euros) a year on ads in the print and online media alone." For the first time perhaps, an international report has also mention the scourge of "Godi media" naming media outlets such as "Times Now and Republic TV that mix populism and pro-BJP propaganda" adding that the "Indian model of a pluralist press is therefore being seriously challenged by a combination of harassment and influence."
Meanwhile, India is now stated to be "one of the world's most dangerous countries for the media. Journalists are exposed to all kinds of physical violence including police violence, ambushes by political activists, and deadly reprisals by criminal groups or corrupt local officials." The report puts on record the targeting of women journalists, and journalists reporting from Kashmir. The entire RSF World Press Freedom Index may be read here.
South Asia Press Freedom Report
Also released on May 3, was the 20th annual South Asia Press Freedom Report entitled Strength and Solidarity: The Story of South Asia, by the International Federation of Journalists (IFJ), (on behalf of the South Asia Media Solidarity Network (SAMSN). The IFJ's South Asia Press Freedom Report for 2021-2022 (SAPFR21-22) highlights the stories of journalists in exile and the battle being waged to maintain digital freedom in South Asia as the media landscape transforms in the wake of the Covid-19 pandemic.
On freedom of speech, and on dealing with hate speech this report too, the report mentions how, in India, "in the guise of preventing misinformation, over regulation of content is compromising media freedom." It states that India's Intermediary Guidelines and Digital Media Ethics Code Rules, 2021, "are an example of that overreach." It says, "Unfettered powers and misuse by the government were displayed in the blacking out of channels for alleged "security" reasons."
It also makes note of "the collusion between governments and social media conglomerates" as reported by The Reporters Collective and Ad Watch, and published by Al Jazeera in March 2022. The investigation revealed how Facebook "systematically undercut political competition" in India, giving the ruling Bharatiya Janata Party (BJP) an "unfair advantage" over other political competitors in the elections" stated the report. According to the SAPFR21-22, "India was one of 50 countries where citizens were subjected to surveillance by the spyware Pegasus manufactured by the Israeli group NSO and sold only to governments." The report's 20th edition features interactive data visualisation that shows details of media rights violations from 2016 to 2022, as categorised by UNESCO's Journalists' Safety Indicators (JSIs). The report may be read here
Indian Media Bodies on World Press Freedom Day
The Indian Women's Press Corps, Press Club of India & Press Association have called for a stocktaking of press freedom, attacks on the media, growing conservatism, increasing corporatization and the extraneous and internal pressures which "have distorted the notion of a free press today."
The press bodies also expressed concerns on the fact that even as job insecurities have grown so have the attacks on press freedoms seen an exponential rise. "Journalists have been incarcerated under draconian laws for flimsy reasons and on some occasions faced threat to their lives as well from self styled custodians of law in the social media space" it stated. The media bodies, which represent and have members from across the country, and across languages have called for the media "to come together to reclaim its role towards realisation of this objective."


Related:
Replace toothless Press Council with Media Council: NAJ, DUJ
Saharanpur: Who were the 'media men' whose questions created tension during Friday prayers?
A fair media can defang intolerance
Jahangirpuri: Navika Kumar, Anjana Om Kashyap demolish media credibility further
Social media platforms finally compel extremist groups to shun hate speech, fake news
Khargone: Why is the administration ignoring the proliferation of hate on social media?