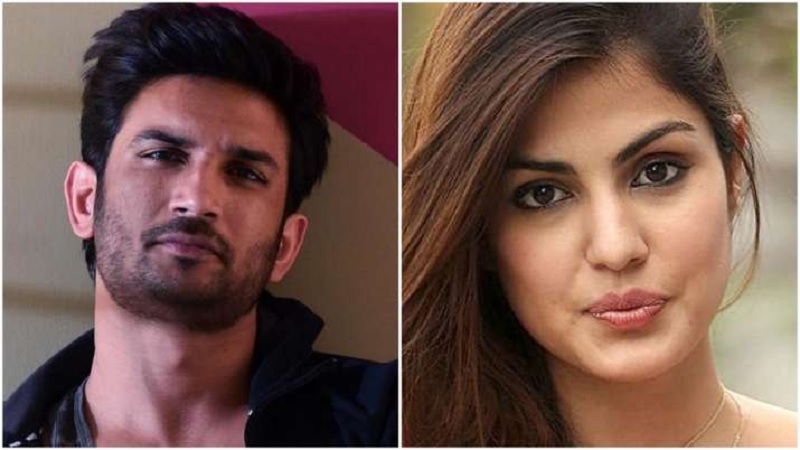 Image Courtesy:indiatvnews.com
Investigations probing Sushant Singh Rajput's death have three central agencies working on multiple leads. However, for over two months now, the frenzied mobs of television news reporters, egged on by their bosses helming prime time shows, are hounding anything that moves around the building where Singh's partner, actor Rhea Chakraborty lives. Egged on, sometimes on live TV, by those anchoring 'investigations', and hosting pretend 'trials' on prime time TV, these reporters are seen haranguing any visitor to the housing complex, demanding answers to absurd questions. It is a given that the news anchors and their reporters have declared actor Rhea Chakraborty guilty of somehow causing the death of her partner, actor Sushant Singh Rajput. The official investigation agencies, however, have made no such allegations.
Among other things, she has been called "Vishkanya" or poisonous woman, a phrase that once belonged to tacky film scripts of the 80s, but now even used by eminent personalities such as senior politician lawyer Subramanian Swamy. "Shake down Vishkanya Rhea we will get the plot of drugging SSR and murder. For that custodial interrogation required. Which means she will be arrested soon. The big unravelling for the national interest is smashing of the narcotics network," he demanded in a social media post. And then went on to say similar things to the TV anchors conducting the 'investigation'.
Shake down Vishkanya Rhea we will get the plot of drugging SSR and murder. For that custodial interrogation required. Which means she be arrested soon. The big unravelling for the national interest is smashing of the narcotics network.

— Subramanian Swamy (@Swamy39) August 30, 2020
Dr Subramanian @Swamy39 always walks the talk,he is not going to let go if India's national interest is compromised says Popular anchor @RShivshankar @TimesNow On his relentless efforts for justice to #SushantSingRajput #SSRJune14Truth @jagdishshetty pic.twitter.com/V4bxxpmKCL

— Mahesh Joshi (@MaheshJoshi_MJ) August 31, 2020
Investigations into various aspects of Sushant Singh Rajput's death are now officially being conducted by the Central Bureau of Investigation (CBI), India's national investigation agency, which it was tasked to do by the Supreme Court of India on August 19. Later the Narcotics Control Bureau, national drug law enforcement agency and the Enforcement Directorate, the national economic law enforcement intelligence agency joined to investigate specific angles that emerged. None of that seems to make a difference to India's leading television 'journalists', from carrying on a parallel investigations, often streaming, and screaming live on TV debates.
Thirty-four-year old Sushant Singh Rajput died, allegedly by suicide on June 14, and by July 25, his father KK Rajput and the family, had filed a first information report in Patna, his hometown, allegedly accusing Rhea Chakraborty and five others, of abetment to suicide. the death. For months now, multiple non experts have since then spewed half baked opinions on everything ranging from mental health issues, post mortem investigations, nepotism, drugs, and even witchcraft.
The unofficial investigation by the media, who have chosen to ignore issues of national concern such as rising cases of Covid-19, floods, starvation deaths, murders, and even the national economic crisis, and instead have decided to shred a woman's character for the voyeuristic audiences. The media trail is illegal, and unethical to say the least. The Press Council of India in fact issued a media advisory on August 28. It has asked the media "to adhere to the Norms of Journalistic conduct in covering cases under Investigation."
According to the PCI statement, it has "noted with distress that coverage of the alleged suicide by a Film actor by many media outlets is in violation of the Norms of Journalistic Conduct and, therefore, advises the Media to adhere to the Norms framed by the Press Council of India". It added that " the Media should not narrate the story in a manner so as to induce the general public to believe in the complicity of the person indicted. Publishing information based on gossip about the line of investigation by the official agencies on the crime committed is not desirable. It is not advisable to vigorously report crime related issues on a day to day basis and comment on the evidence without ascertaining the factual matrix. Such reporting brings undue pressure in the course of fair investigation and trial."
The PCI also advised media houses to "refrain from giving excessive publicity to the victim, witnesses, suspects and accused as it will amount to invasion of their privacy rights. Identification of witnesses by the Media needs to be avoided as it endangers them to come under pressure from the accused or his associates as well as investigating agencies."
It has unequivocally advised the media "not to conduct its own parallel trial or foretell the decision to avoid pressure during investigation and trial." According to the PCI, the "reporting of the alleged suicide by the actor by some of the newspapers is also in violation of the norms formulated by the Council for reporting on suicide." The PCI norms clearly prohibit publishing stories about suicide prominently "and advises the media not to unduly repeat such stories. The media is expected not to use language which sensationalise or normalises suicides or presents it as a constructive solution to the problems. The Media is advised not to use sensational headlines or use photographs, video-footage or social media links while reporting on suicide cases."
However, all of the above violations continue to be done by many mainstream media houses. Most continue to victimise and attack Rhea Chakraborty, and only two media houses, NDTV, and India Today, gave her a platform to air her side of the story. The others, prominently Republic TV, and Times Now, continue to project her as one of the prime suspects, and alleged that there are political connections in the case, as well as the involvement of the 'drug' mafia as well.
Taking note of this escalating situation, the Network of Women in Media, India, (NWMI) has strongly denounced the media trial being carried out by a section of TV news channels in the Sushant Singh Rajput case. The NWMI reiterates that the "coverage of the case smacks of crass sensationalism and voyeurism, with TV news channels setting up kangaroo courts to declare individuals guilty even as an investigation is ongoing."
It notes that "each day brings with it a new low in TV news channels' coverage, from leaking private chats to making fact-free insinuations to splashing triggering images of the deceased." The NWMI stated that while it upholds the media's right to cover a case, in the public interest, with relevant facts, the "reporting should be carried out respecting journalistic norms of fairness, balance, impartiality and factual accuracy. The media must be mindful of its power to shape public opinion and remain alert and responsible in its reportage."
The NWMI has made the following demands from the media fraternity:
1: End the media trial of Rhea Chakraborty and let investigating authorities do their job freely and fairly. There is currently a complaint against Chakraborty that three investigating authorities are probing. Journalists cannot and must not call for her arrest before the agencies finish their probe. It should be noted that at this juncture of the investigation — when there is not even a chargesheet in place — journalists cannot declare individuals guilty.
2. Respect the privacy of individuals involved in the case, including that of Sushant Singh Rajput. It is distressing to find channels leaking out details of his mental health when these details are clearly not meant for public consumption.
3. Report responsibly on issues of mental health. According to The Lancet, 197·3 million Indians suffer from mental health issues, including 45·7 million with depressive disorders and 44·9 million with anxiety disorders. In such a scenario, the media plays a huge role in shaping society's response to mental health issues. It is extremely irresponsible for channels to make erroneous statements on depression and its symptoms. TV news anchors should immediately stop the guesswork on the state of Sushant Singh Rajput's mental health and let agencies carry out their probes. In the meantime, news anchors are requested to use their reach to start a responsible dialogue on mental health issues with doctors and experts in the field.
4. Several conspiracy theories from social media are making their way to primetime news. Journalists must carry out due diligence and not mindlessly give space to conspiracy theories from social media.
5. Videos emerging from around Rhea Chakraborty's apartment complex in Mumbai bear testimony to how news reporters from some news channels have turned into full-time harassers. A delivery man and a guard at the apartment complex were relentlessly hounded by reporters, who made a mockery of the exercise of news gathering. Editors and proprietors should note that they are party to this degeneration of TV news as a medium, and restore basic human decency to the profession.
However, none of that seems to have made an impact on TV news channels yet, for whom, even badly reported news is good news as long as it gets them views.
Chronology of developments in Sushant Singh Rajput death probe.

TIMES NOW is the only channel that's keeping you ahead of others with its SIT EXPOSES, stings & breaking news.

Stay tuned to TIMES NOW.#SSRTrueStory #SSRJune14Truth #RheaLieCaughtOut #SushantCaseBreakthrough pic.twitter.com/KVQYiQ1QoQ

— TIMES NOW (@TimesNow) September 1, 2020
#ReportForSSR | After 45 days of investigative reports, there is an attempt to block Republic from reporting on the SSR case. Do you support Republic's #ReportForSSR campaign?

— Republic (@republic) September 1, 2020
Related:
Not fair to label those with mental illness as 'weak'
Media, right-wing spew venom over Sushant Singh Rajput's death