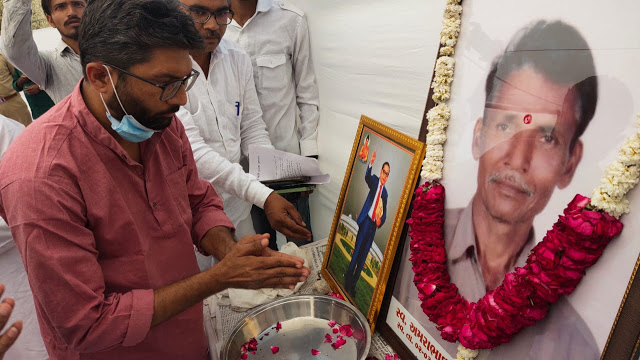 A Bhavnagar court has convicted three men for assaulting in 2013 Dalit farmer and RTI activist Amrabhai Boricha with swords. The court sentenced them to 5 years in prison. The court acquitted the eight other accused due to lack of evidence.
Notably, the three convicts in the 2013 case, Jayrajsinh Gohil, Bhaylubha Gohil and Virmadevsinh Jadeja are also accused in the murder of Boricha, who was hacked to death, reportedly, by a mob of men at his home in Sanodar village of Ghogha taluka in Bhavnagar earlier this year. On March 2, the assailants barged in with spear, iron pipes and swords and hacked Boricha to death. It is believed this attack was in response to a complaint filed in court against the Kshatriyas usurping his land.
On March 31, additional sessions judge HN Vakil pronounced the three men guilty of hatching a criminal conspiracy, assaulting Boricha issuing death threats to him and subjecting him to atrocities. The court convicted the three under IPC sections 323 (voluntarily causing hurt), 326 (voluntarily causing grievous hurt by dangerous weapons or means), 120-b (criminal conspiracy), 506 (2) (criminal intimidation) as well as under Section 3(2)(v) of the Scheduled Castes and Scheduled Tribes (Prevention of Atrocities) Act and sentenced them to five years of jail while also imposing a fine of Rs. 8,500 on each of them, reported Indian Express.
In May 2013, Boricha was assaulted by the convicts with a sword and had fractured his leg. Boricha had also testified against them in court during the trial. "We also submitted papers of his medical treatment after the attack and the doctor who had treated Boricha also testified against the accused. Thus, we managed to prove our case against three of the 11 accused who had physically assaulted the victim," Bhupendra Khambhaliya, Additional Public Prosecutor (APP) of Bhavnagar told IE.
After Boricha's death, Jignesh Mewani, Independent MLA of Gujarat Assembly, made repeated demands for the arrest and suspension of the sub-inspector accused of killing Borciha. He was evicted from the Assembly for repeatedly interrupting the address of a BJP Minister with his demands. Mewani was also detained, along with others, from outside the Assembly for protesting alleged inaction in the investigations of the case.
Related:
Jignesh Mevani among those detained outside Gujarat Assembly
Can detain activists, cannot detain anger: Jignesh Mevani
Jignesh Mevani demanded suspension of policeman involved in murder of Dalit activist