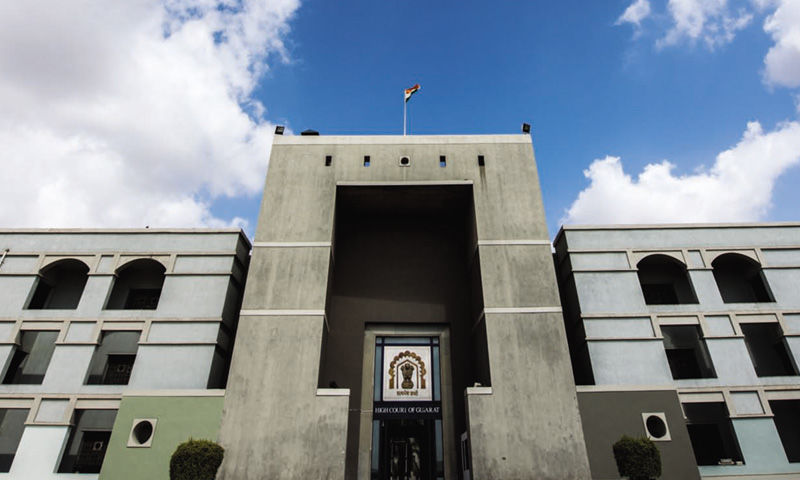 The Gujarat High Court has granted bail to the husband and his relatives in a case lodged under the Gujarat Freedom of Religion Act, as the wife filed a petition that a settlement has been reached and that it was a trivial matrimonial dispute.
Justice Ilesh J Vora observed that since a settlement has been reached and the accused husband and informant wife were in a relationship with each other since before marriage, the accused may be granted interim relief of bail. The petition for quashing the FIR will be decided soon and the next hearing date is November 29.
The petitioner (wife) Divyaben and the accused (husband) Samir Qureshi were in a relationship since 2019, and in February 2019, signed an agreement that they have agreed to marry each other by following their respective religions. Then they got married in presence of family members as per Muslim Rites and rituals. They also declared their marriage on oath jointly by way of affidavit wherein they have categorically stated that the marriage was without any force or coercion and out of their free will and the marriage was registered with Vadodara Municipal Corporation.
Due to some trivial matter, the informant left her husband's home and came to her parental home after which an FIR was lodged that the husband made forcible sexual intercourse, taking obscene photographs of the informant, causing forcible miscarriage and was compelled to forcibly convert her religion and used casteist slurs. Apart from the husband, father-in-law, mother-in-law and sister-in- law of the informant, and one other relative and kazi, were also arraigned as accused.
However, now the informant has approached the court seeking quashing of the FIR mainly on the ground that issues between husband and wife were petty and trivial matrimonial disputes which have been resolved.
The court took into consideration that the vires of the Gujarat Freedom of Religion Act, 2021 (amendment) had been challenged and that a Division bench has stayed the rigors of Section 3, 4, 4A to 4C, 5, 6 and 6A observing that the provisions shall not operate merely because of marriage is solemnised by a person of one religion with a person of another religion without force or by allurement or by fraudulent means, and such marriages cannot be termed as marriages for the purposes of unlawful conversion.
The court then took into consideration the settlement reach by the husband and wife and held that a case for interim relief of bail has been made out and thus granted bail on executing a personal bond of Rs.10,000/- (Rupees Ten thousand only) each, with one surety of the like amount.
The order may be read here:
Related:
CJP moves NCM over hate crimes against Muslims in Madhya Pradesh
Hate Watch: Street play on "Love Jihad" gets Sudharshan TV excited
Hate Watch: Vigilante groups misuse Navratri as an excuse to spread communal unrest